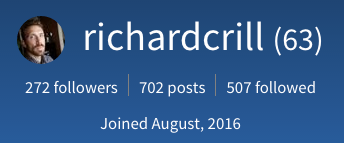 Ever since I signed up on Steemit in August, I have casually paid attention to my numbers of followers, posts, and followed. I remember several different occasions that I noticed a pattern. What I noticed was that my number of followers seemed to grow proportionately to the number of my posts and the number of people that I followed. My posts would have an obvious effect on the number of my followers, but the number of people that I follow would have a less obvious effect. It's really more to do with upvoting, commenting, and interacting with other Steemians and that's what helps get more of a following.
The pattern I have seen is one that has stayed true for the entire time I have been on Steemit. My number of followers is about 1/3 the number of the number of posts I have made and 1/2 the number of people that I have followed. I think this holds roughly true because of the interaction I have with the the people that I follow and comment on which are also counted as posts. Recently these numbers are the furthest from 1/3 and 1/2 that they have been but it can still give me a rough guide for growing my following.
I am a typical Steemit user that came here without a following from youtube or facebook or anything like that. However, everyone uses steemit a little bit differently so I wouldn't be surprised if many Steemians weren't experiencing similar proportions. I also wouldn't be surprised if some of you are noticing similar numbers. I think there is something to be said for the number of posts and amount of interaction being key parts of growing a following.