This is a quick guide to what I think are the most accessible interfaces for accessing data about your own activity on steemit (as well as data on anyone else's activity), and information on the steem blockchain more generally, explaining roughly what each tool does best. It's really written with new users in mind.
In case you're not familiar with the tools below, you simply need to add in your username to access your data on most of the interfaces below...
Six useful tools for tracking your success on steemit...

This isn't meant to be an exhaustive guide on every database tool out there, it's just a guide to the six tools I find myself using regularly to check out my 'progress' on steemit, and to occasionally stalk (other people) and gawp (at the size of some people's rewards-for-mediocrity).
Steemdb

Steemdb is the most accessible user interface for ordinary users to access the data in the steemblockain.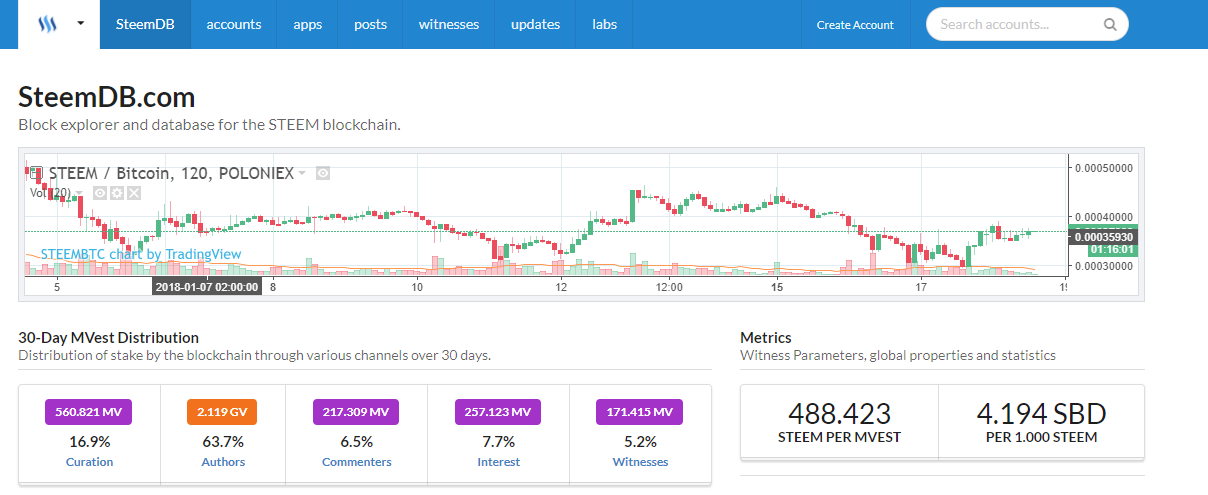 The 'main page' shows you quite clearly the distribution of steempower distributed to curators (for upvoting), to authors, 'commenters', paid out in interest and to the witnesses (Megavests are simply a measurement of steempower, with 1 Megavest being equivalent to approximately 488 steem - so from the above chart we can see that in the last 30 days, the witnesses earned approximately 88 000 steem's worth of MVESTs between them.)
Immediately below the MVEST distribution data is the 'blockchain' - quite literally a summary of the activity on the block chain in blocks.
The steemDB homepage is also useful for seeing the size of the current reward pool and the rate at which new steem is created (in the chart to the right, you can literally see steem being 'printed' live.)
If you click on the accounts tab at the top of the 'main page' this is useful for getting an idea of the Vested wealth distribution on stemit… you can also sort the 'top users' by reputation and so on, and click on any user to get their individual data up on steemDB.
Your own account info on steemdb.com (mine's here - just add in your user name instead of mine for your own.) allows for extremely easy cursory analysis of all sorts of useful data including:
A history of your outgoing and incoming votes.
Your rewards for each day broken down into posts or just comments, and further broken down into SBD and Vest (or Steempower rewards) for the last 90 days.
You can also see who's following you…..and your history of (hopefully) follower accumulation
Steemstats.com by @jesta allows you to add accounts to watch, and many users might find this more accessible than accessing accounts via steemdb.
Steemd.com

Steemd.com - (link takes you to my steemd.com page) just shows you all of your actions and interactions on the steem blockchain - every post, comment, reply, edit, upvote, follow, unfollow, transfer, all there until nuclear meltdown destroys all the nodes.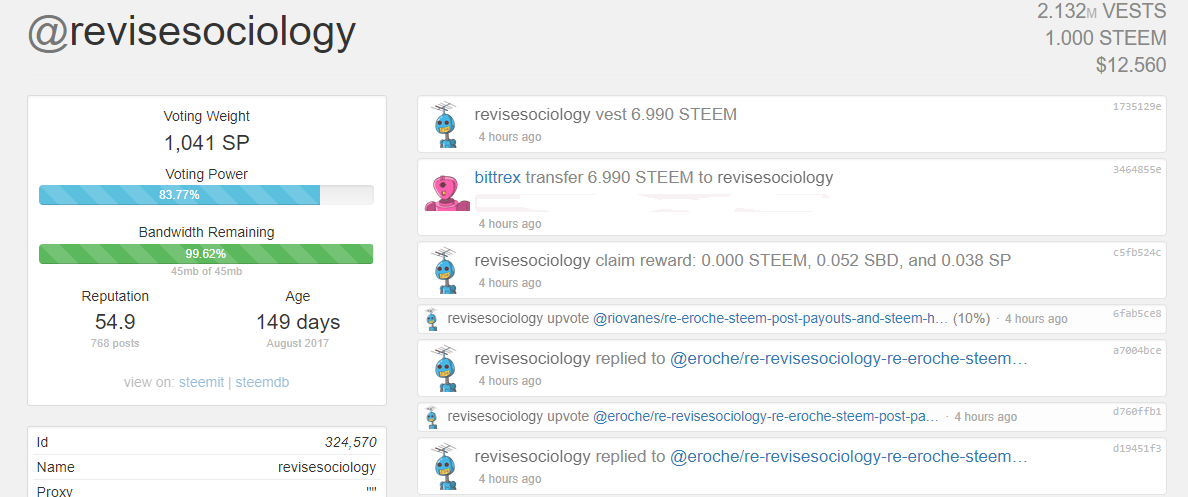 I actually use this as my go-to database explorer to find out whose replied to me etc. rather than the replies page on the main steemit site.
The left hand column also provides lots of info... towards the bottom is your 'real reputation' score, I'll let you look that one up, no time to explain it here.
Steemworld.org

Steemworld.org - focuses mainly on rewards per post: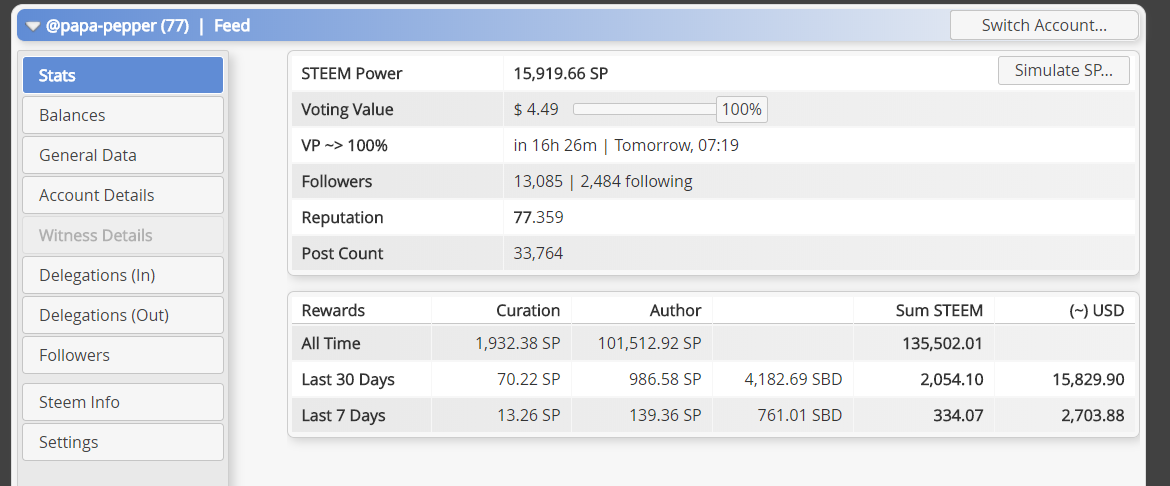 the above data is from @papa-pepper, who @ $15K/ month is probably steemit's wealthiest homesteader
Steemnow.com

Steemnow is probably the most accessible tool to get an overview of the current value of your upvote and find the following:
Who voted for you most recently
What rewards did you get for posting and curating (upvoting)
It's especially good for revealing how some upvotes yield you 10* more SP than others… which is something I'm sure a lot of people would like to explore further!

Steemreports.com

Steemreports maps out your interactions on steemit - displaying nice pie charts of you've voted for and vice versa. You can also see what your network on steemit looks like! The freeze frame below is from @joeparys data: self-confessed self-voter extra-extraordinaire...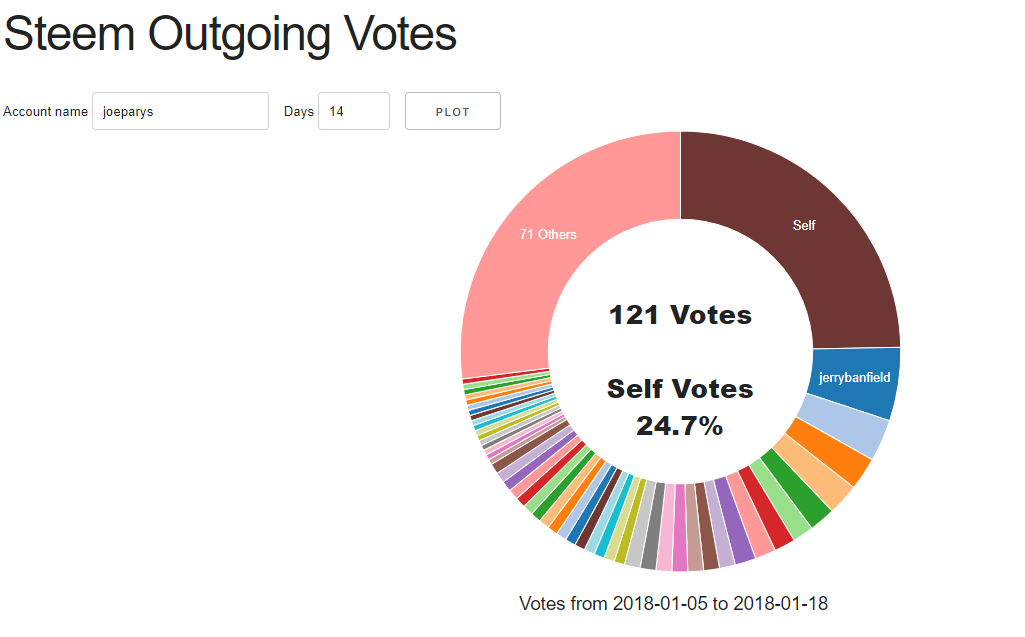 Final words

I Hope you find all of the above links useful, as far as I'm aware there's no other post out there that's quite as 'targeted' as this, focusing in on 'easy to use data analysis tools' for steemit. I certainly find these tools the most useful for 'tracking and gawping' in equal measure.
I actually wrote this as a sort of tangent to another post I'm currently in the process of putting together about all the good people who produce useful data analysis posts, some of whom were instrumental in setting up these tools - for example (but not limited to) @arcange, @penguinpablo, @jesta, all of whom are well worth a follow if you're interested in data mining the steem blockchain. - i.e. if you're interested in what's actually going on here on steemit (within the limits of what the data can actually tell us) rather than just being blown along with people's subjective optimistic euphoria or pessimistic whinging.
If I had time I'd cheapen myself by doing a vodcast walkthrough of all of these databases and what they show us (steemDB is especially interesting), but time is something I just don't have ATM!