To understand well the up voting and why my up voting value is $0.00, I have searched the internet and Google it till I have found the best up voting calculator.
So as I am still new to steemit, I want to learn and also I want to share my knowledge too.
I have found a website, very simple and easy to use , it has the up voting calculator.
I will explain here and example
My recent steem power is just 5.00
I type 5 in the marked space
Press Enter
Then my voting is ZERO…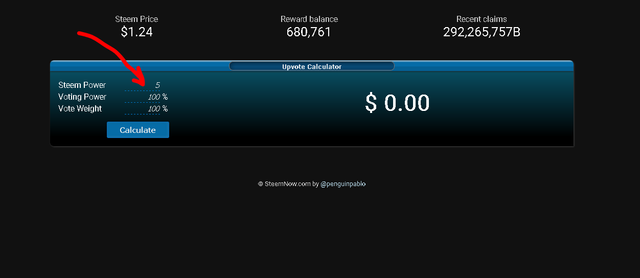 Because of that they are advising to increase your steem power.
I tried other examples: 50, 100, 150….. etc.
The results are shown here in the pictures
The newbie steemit bloggers must understand that the steem power should be more than 50 to begin gaining money by voting to them selves.
you can play in the other figure from 0% to 100%
Please if you like this post, up vote and follow me.
Thank you
https://www.steemnow.com/upvotecalc.html