Just because we are amongst a red sea in the crypto markets today, doesn't mean they are all actually suffering.
Remember, Coinmarketcap displays, by default- The values of all tokens and coins, compared to Bitcoin itself.
The USD value is down since 0.00031432 BTC is worth less. Steem itself, is down roughly 17% at the time of this blog, but above the low from yesterday which was $3.02 (when BTC was above $14k). So actually, looking at it this way shows that Steem is a safer hedge than even Tether.
Until tomorrow, we won't actually be able to judge the damage done, since we will need to compare its previous volume with this corrections'.
To make money in this market, the best advice I can offer is so go against the crowd, and keep an eye on Korean markets. Steem on the Korean site Upbit (which has more volume than Bittrex, is currently $3.95) for a total volume of 42.8%.
Anyone here on Steem sees that today, is no different than yesterday for us. Nothing here has changed for the worse- Its only getting better. @ned (@certainassets on Twitter) posted a great Steem stat tracker, which I think you will agree shows the health of the platform. https://iworldpark.github.io/steemit/stat/post/ I think the best indicator on this site is looking at the 3 month chart for posts/authors.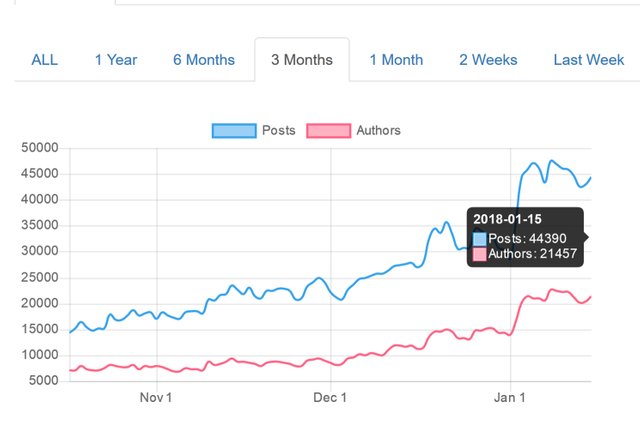 So while everyone else is panicking, don't dare to sell your Steem. Short-term we could see $2 before a new higher high. SBD's on the other hand, I wouldn't doubt if in an upcoming hardfork they figure out a better way to peg this to a USD value to protect the rewards pool.
On another note, why the heck is actual @bittrex sending SBD to boost this garbage?
https://steemit.com/kimpoo/@kimjongpoo/i-kimjongpoo