10 Weird Types Of Diplomacy You Won't Believe Exist
Diplomacy doesn't always have to be about people wearing suits and laughing with people they don't like. There are quite a few other ways to engage in diplomatic relations that you may not have expected. In fact, diplomacy doesn't even need to involve humans. As we will soon find out, there is more to diplomacy than ambassadors. Selfies, warships, animals, food, sports, roads, bridges, money, and even tweets can be used for diplomacy. Clearly, some of us have been recipients of diplomatic overtures without even realizing it.
10-Panda Diplomacy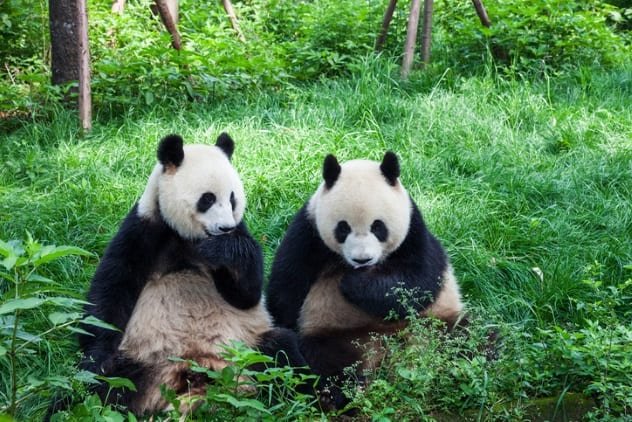 China has been using pandas for diplomacy since the days of Chairman Mao Zedong. The idea is to loan a panda to foreign governments in an attempt to foster closer relations. Getting a panda from China does not mean the receiving nation is in China's good books. It's just the first step.Analysts have noticed that lucrative deals have often followed China's panda loans. In 2011, the Scottish government signed £2.6 billion worth of contracts with China soon after receiving some pandas. Countries like Australia, Canada, and France have also sold uranium to China after receiving pandas. While the nations keep the pandas in their zoos, China uses the uranium to increase its nuclear capabilities.[1] It's no surprise that pandas are some of China's most important diplomats. The Chinese government actually owns all the giant pandas in zoos around the world, even if those pandas weren't born in China.
9-Gastrodiplomacy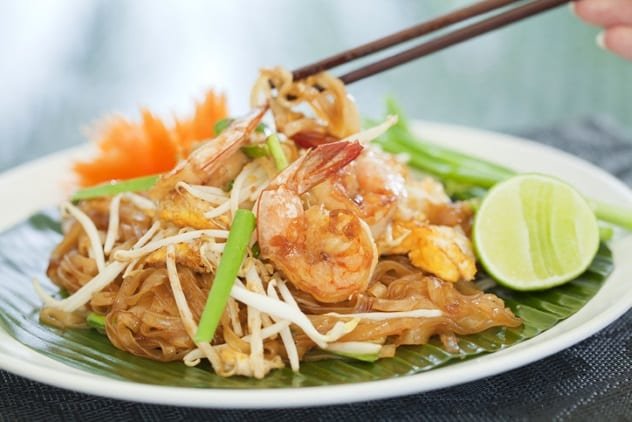 Gastrodiplomacy is the use of food to forge friendlier relationships with other countries. It is widely used in the United States, and countries like South Korea and Thailand train their citizens in cooking their national dishes before sending them to the US. Now you know why Thai and Korean restaurants are popular in the US. Hilary Clinton attempted to create the US version of gastrodiplomacy while she was secretary of state. She launched a "chef ambassador" corps and had 80 chefs cook for foreign diplomats and leaders. Interestingly, gastrodiplomacy is not new. It has been used since ancient Rome, when the Romans invited their enemies to buffets. And did we forget to mention it works? In a survey, more than half the respondents said they had more positive views of a country when they ate food from it.[2]
8-Gunboat Diplomacy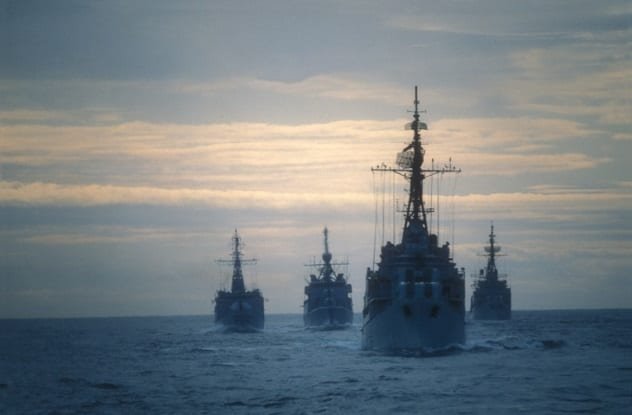 Gunboat diplomacy is the carrot-and-stick version of diplomacy. Often, the term refers to the use of warships and gunboats to intimidate a smaller rival until they agree to whatever the country deploying the warship wants. The term can also be used for a more general display of military power. Several nations, including the US, used gunboat diplomacy in the 19th and 20th centuries. President Theodore Roosevelt often used warships to intimidate the governments of smaller countries like Haiti, Panama, Colombia, and Nicaragua.In 1933, President Franklin D. Roosevelt dumped gunboat diplomacy for less threatening forms of interaction. The US returned to gunboat diplomacy during the Cold War, however, when it threatened several Latin American nations with military action.[3]
7-Debt-Trap Diplomacy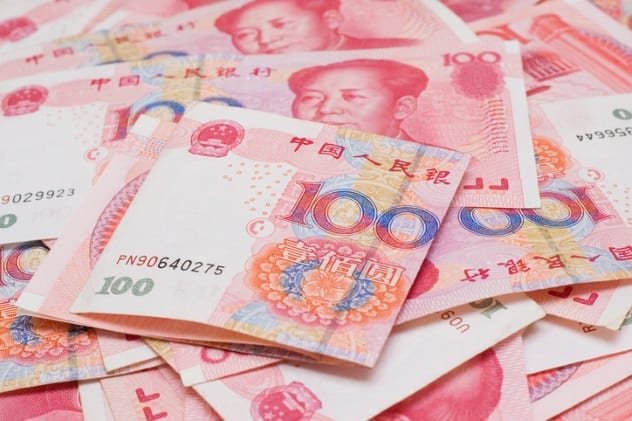 Debt-trap diplomacy is another Chinese tactic. It involves China giving huge loans to poorer nations to build infrastructure. China knows the countries cannot pay the money back, but that's the idea. Most countries jump on the mouthwatering loans and only realize their true cost when it is time to pay. In 2011, Tajikistan ceded some land along its border with China after it could not repay its loan. China and Tajikistan had both claimed ownership of the land until Tajikistan finally backed off. In 2017, Sri Lanka leased a key port to China for 99 years as payment for its $1 billion loan. Countries like Montenegro, Fiji, and Tonga are also having problems repaying their loans to China. Fiji owes $500 million, while Tonga owes $160 million, which is roughly a third of its GDP. In 2018, the Tongan prime minister was so distraught with the Chinese loan that he openly asked other Pacific island nations to reject Chinese loans. A few days later, he retracted his statement without giving reasons.[4]Several nations caught on to China's debt-trap diplomacy after China took the Sri Lankan port. Nepal, Pakistan, Sierra Leone, Bangladesh, and Malaysia canceled loans they'd planned to receive from China. Prime Minister Mahathir Mohamad of Malaysia said he rejected a $20 billion loan because he does not want Malaysia to become a Chinese colony. The only country that did not learn from Sri Lanka's experience was Sri Lanka. In 2018, it borrowed another $1 billion from China.
6-Ping-Pong Diplomacy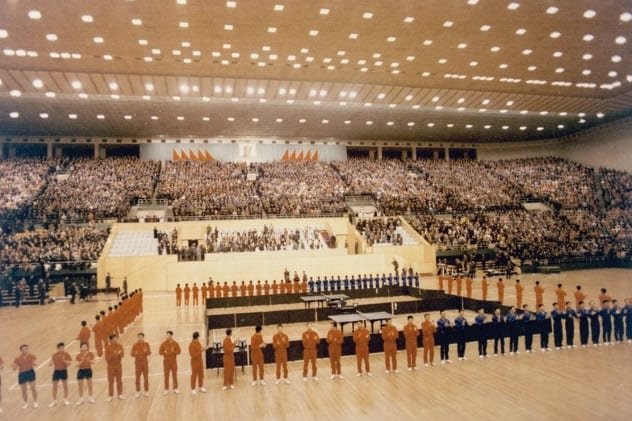 Ping-pong diplomacy is another form of diplomacy unique to China. It is even the reason China and the US started talking. In 1949, the communist government of China shut the country from the United States after overthrowing the previous government. This changed in 1971, when the Chinese ping-pong team invited the US team to tour China after they met at the World Table Tennis Championship in Japan. The US team visited China after the offer was approved by President Nixon. After the visit, President Nixon sent Secretary of State Henry Kissinger to China to plan a state visit. It was a success, with Nixon visiting China in February 1972. The US government reciprocated the gesture when the Chinese team visited the US in April 1972 to play several matches across the US.[5]
5-Cricket Diplomacy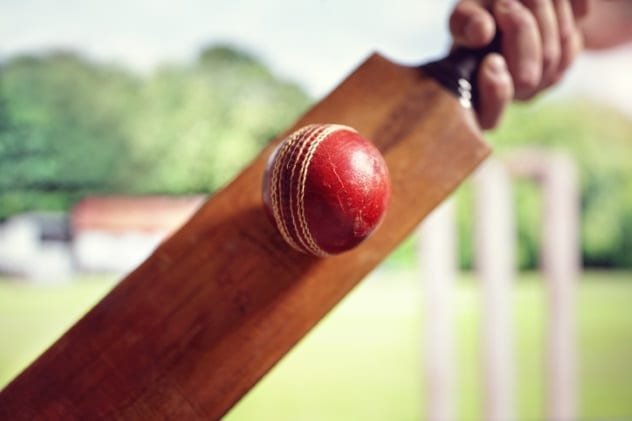 One of the few things India and Pakistan have in common is their love for cricket. Cricket tournaments between both nations are usually tense because they're often more than just competitions. It's everything from politics to national pride. Nevertheless, both nations have been using the game to improve their relations.India and Pakistan had their first cricket match in 1954, when India invited the Pakistani cricket team for a game. The Pakistanis then reciprocated and invited the Indian team for a match. India and Pakistan met again in 1961 and 1965. Further matches were suspended after a war broke out between both countries. Matches resumed in 1978, and Pakistan defeated India on Indian soil. Both nations consider a loss an insult. The insult is worsened when the home team is defeated—as happened in 1978. The Pakistani cricket team's captain added fuel to fire when he said India's defeat was "the victory of Muslims all over the world over the Hindus." Meanwhile, India accused the umpire of supporting Pakistan. India and Pakistan met in India again in February 1987. The match was attended by General Muhammad Zia-ul-Haq, the president of Pakistan, who informed India that Pakistan had nuclear weapons while the match was on. At the time, Pakistan had massed troops at its border in response to a massive military exercise held by India.[6]
4-Stadium Diplomacy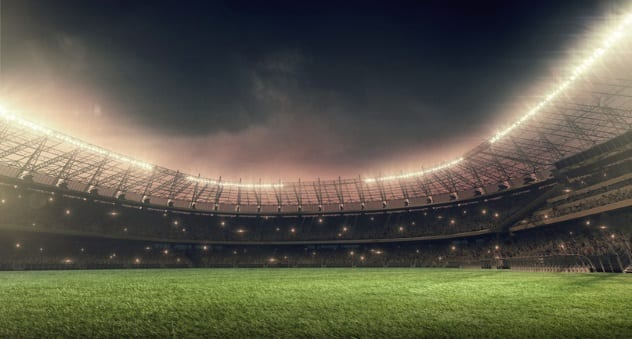 China is the largest investor in Africa. One of its major investment vehicles is what is called stadium diplomacy, the construction of stadiums and sports facilities to curry favors from African governments. In 2010, it was reported that China had already built 50 stadiums in several countries across Africa.Depending on the circumstances, China could single-handedly finance the stadium or provide a loan for its construction. In exchange, China receives undisclosed favors from the government. It is suspected that these favors include raw materials.The stadiums are often elaborate and could even be regarded as national monuments. For instance, the 500-million-yuan, 42,000-seat Mozambique National Stadium in Mozambique is the largest built since the country gained independence. Like most of the other stadiums, it is built to FIFA and Olympic standards.In 2015, China threw a well-timed jab at the US just as President Obama was making a state visit to Kenya. Two days before Obama's arrival, the Chinese government announced it planned to refurbish the stadium in which Obama was expected to deliver a speech. According to China, the project was one of the three it would finance for the Kenyan government. All three projects cost $17 million. Besides the obvious jab, the stadium was originally built by China in the 1980s and given as a gift to the Kenyan government.[7]
3-Elephant Diplomacy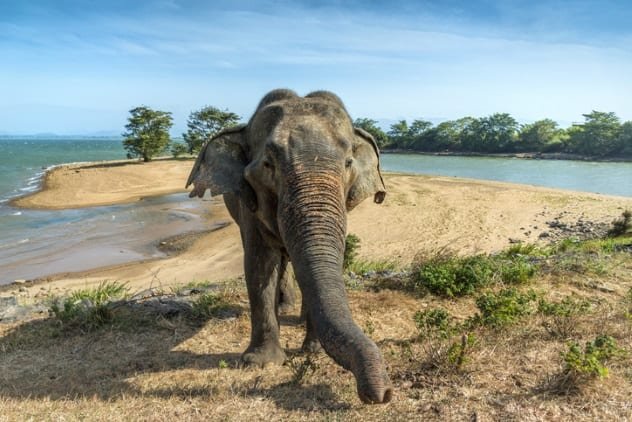 Elephant diplomacy is exclusively used by Sri Lanka. The Sri Lankan government usually gives elephants to other nations as a sign of friendship and to foster improved relations. Elephants are so important to Sri Lankan diplomacy that a top Sri Lankan diplomat mentioned that the island nation only gives elephants to countries it considers friends. In 2010, Sri Lanka gifted two adult elephants to South Korea. One was male, and the other was female.[8] In 2013, President Mahinda Rajapaksa gave two baby elephants to Japan during a state visit.
2-Koala Diplomacy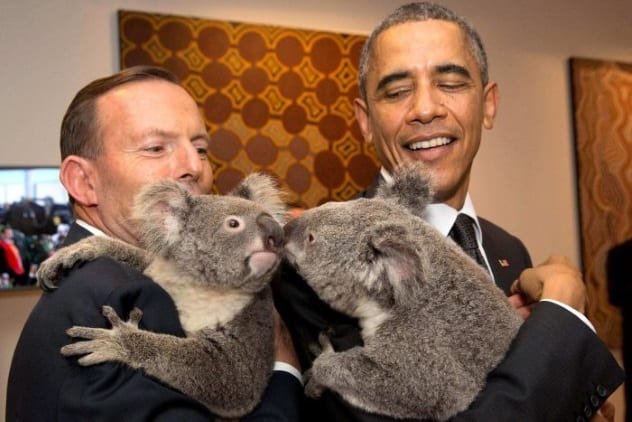 Koalas are cute and cuddly. They are also native to Australia, making them the perfect animals for Australian diplomacy. Koalas are so important to Australia's diplomatic efforts that the Department of Foreign Affairs and Trade has a 600-page manual detailing how the countries that receive the koalas should care for them. When Australia isn't giving its koalas to friendly nations like Japan and Singapore, it's displaying them at summits. In 2014, several world leaders, including Presidents Barack Obama and Vladimir Putin, were photographed with koalas during the G20 Summit in Australia.[9]Australia's koala diplomacy was criticized by the Australian Labor Party in 2016. The Labor Party said that the current government had spent $400,000 on koala photo ops since it came to power. $133,000 was spent to transport four koalas to Singapore. The money included the cost of twice-weekly flights to deliver eucalyptus leaves to the koalas. $24,000 was also spent to deliver koalas to Brisbane, where the 2014 G20 summit was held.
1-Digital Diplomacy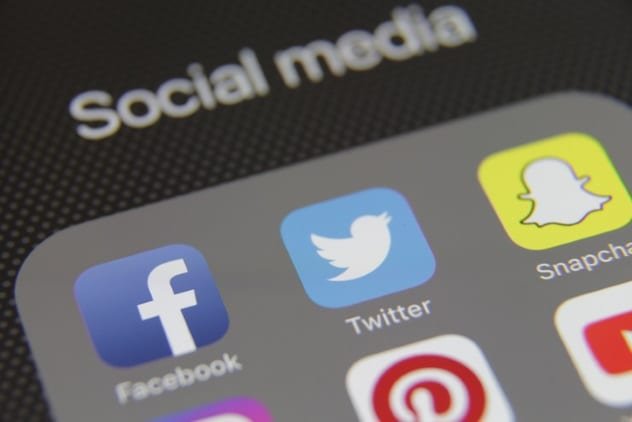 Digital diplomacy has no definite meaning. In a nutshell, it is a catchall term referring to the use of information and communications technology for diplomacy. This could be the Internet, social media, or just digital devices. It could even be actions as simple as taking selfies.Under diplomatic rules, the government of one country is not allowed to speak with the citizens of another. This has changed with the advent of digital diplomacy. Imagine the North Korean government tweets, a South Korean citizen replies, and the North Korean government replies back. That would be an example of digital diplomacy.President Donald Trump makes use of digital diplomacy when he tweets on Twitter. Sometimes, foreign governments have replied to his comments on Twitter. At other times, they react to his tweets during television interviews. Foreign governments have also tweeted in response to statements President Trump made during interviews.[10]