This should be the post that will send me over to a reputation of 62, however it won't surprise me if down votes send me backwards. But I can't remain silent on this continuing wreck that just won't stop. It would be an understatement to say I am angry and shocked at what I see unfolding, not only by the Dstors group, but by those in the community who are not holding them accountable for their choices as they rush to hand over delegations.
Return the 20k+ of Steem To @Haejin
Anyone following Dstors has been sure to see Haejin wanting his SP and the Steem being used for bidbot promotion returned to him, as it was his. I'm unsure why the money hasn't been returned. It doesn't belong to Dstors, and no amount of legal mumbo jumbo makes it so. I get many here seem not to care much for Haejin, but does that mean he is deserving of being ripped off of almost 21k Steem? I know Steem is down now, but it wasn't that many months ago that was valued at over $80,000.00. Even if it was only worth a few bucks, it belongs to him.
Despite the legal reach that is being used to justify stealing this money, by @kaliju admission the dissolution took place before the company was established. He has also taken great pains to state that the white paper belongs to Haijen and he is drastically changing course from that white paper. It is stated by Dstors that the company wasn't even established. This admission alone would aid Haejin in court. But regardless of what some person in a black robe would have to say on this, the fact is that it is not Dstors. It is Haejins. How is it that I am the only person speaking up here? Doesn't this disturb all of you who know?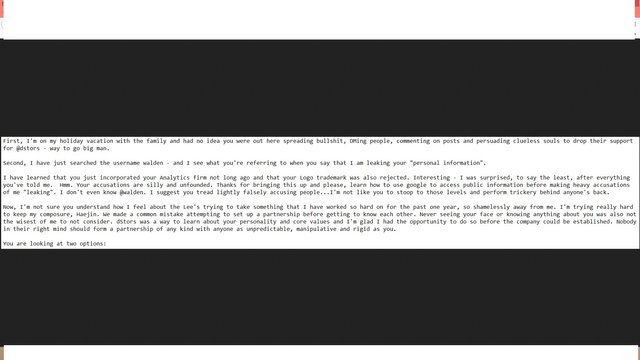 I would put this before you before I point out one more thing that seems off. If he can justify that Haejins money is his because he is angry, why do you believe he couldn't find a justification to keep sellers funds if a seller pisses him off? I know that my pants goes on just like anyone else's (including Haejin), and I will never risk my money, despite it being so much smaller to someone who can demonstrate such a serious lack of ethics.
I tried two days ago to address this with Kaliju on his post directed at Haejin, but received no response. He admits it is Haejins while playing games as you can see here.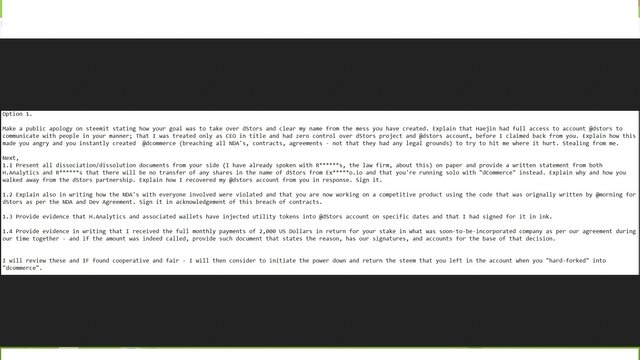 You May Not Like Haejin, But Right Is Right
I also noticed that 6 days ago, the claim in the face of the reward pool rape accusations was that there would be no up votes as they are not a fancy bid bot. Then yesterday they began passing out up votes as you can see them saying here in this screenshot from their comments to others.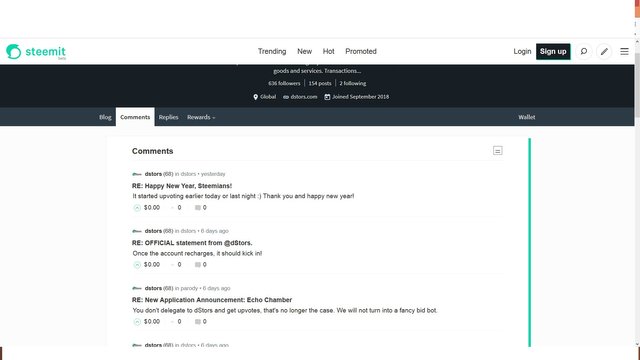 I received several upvotes from Dstors a week ago when I tried to stop this from derailing what I saw as a huge step forward for Steem. That means when they give a full upvote, at current prices .46 of value is stolen value from Haejin. I have send Haejin 3 Steem to return his rightful money that was directed at me back to him. I hope others will do the same thing as well as pressure Dstors to do the right thing.
Not sure if they will return the stake, nor if doing so will recover their honor. For myself, I have no more rope to give, and will not be able to do business with a company that has operated this way. As I remarked to Whatsup, one can never underestimate people doubling down on a thing if there is any rope left to take.
EDITED TO ADD
In quickly reviewing comments (which I will upvote tonight after work when my voting power recovers) I see it being questioned (@bashadow) that any money exchanged hands. Before showing these screenshots of Dstors own words from the two partners, I wish to remind everyone that Haejin was a silent partner and did not use his account to transfer. He transferred smaller amounts. Remember that they at first would not say who was responding to @whatsup initially until after the split.
Here is a screenshot of @derangedvisions quoting Kali admitting it on this post. https://steemit.com/dstors/@derangedvisions/the-grinch-that-stole-christmas-a-dstors-christmas-story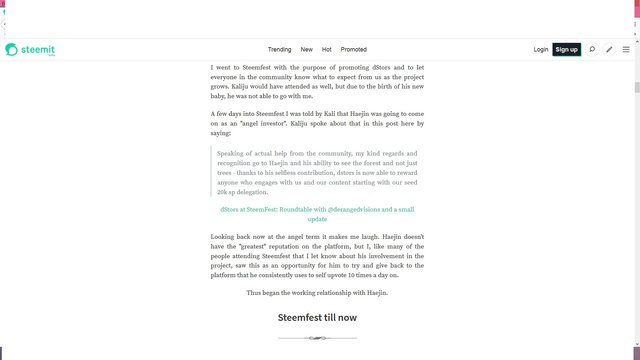 Here is the actual post where Kali admits it and the amount with screenshot. https://steemit.com/steemfest/@kaliju/dstors-at-steemfest-roundtable-with-derangedvisions-and-a-small-update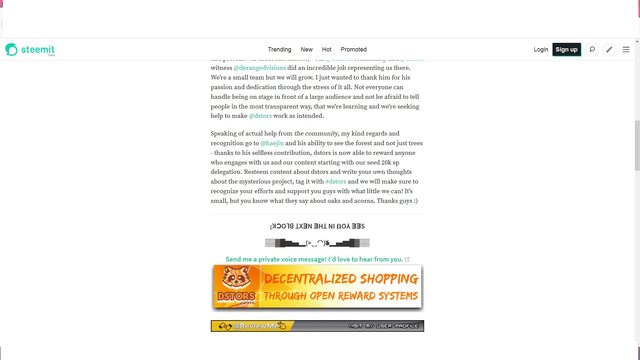 Seems pretty cut and dry. Just return the money that is ADMITTED was given. Damn.
Also, no need to wade through 39 pages. Here is the list of transfers.
https://steemdb.com/@dstors/transfers
We see this:
Starjuno 6,006.219
ichiban 7,500 (Guessing that this is connected to Haejin and his associates as the account has no activity nor funds yet transferred such a large amount)
Binance 4999.99 (Guessing this was probably from Haejin as well. No way to know for sure)
Just those 4 large transfers bring us to 18506.209. The evidence, from their words saying the angel backer, their words about maybe returning (what is to return if nothing was taken?) if certain conditions are met, Haejins persistence to recover.