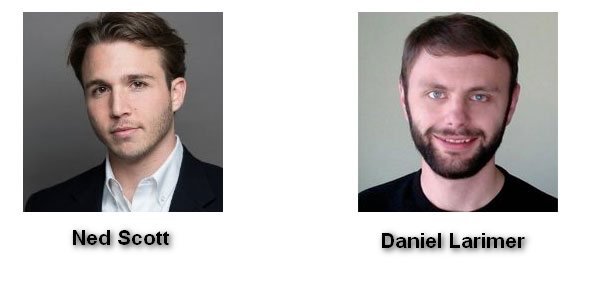 @ned Scott and @dan Larimer, visionary programmer,architect and engineer of a wonderful Blockchain(STEEM).
@Dan is one of the best gift that this generation could ever have. Daniel Larimer and Ned Scott Co-Created what I Would call best social community without boundary different from what we have known before. All social platform before the creation of teemit by these young visionary inventors and innovators Ned and Dan, lack some features that can help their users, have their limitations which this two nerds had pictured out to form something great and re-invent the wheel to a better a one.
Dan Larimer is the Co-founder of Steemit Inc together with Ned Scott and its CTO untill march,2017, when he tender his resignation letter to move on to other invention (EOS). He recieved a Bachelor of Engineering in Computer Science from Virginia Polytechnic Institute and State University in 2003. His focus is currently on Blockchain technology, decentralized exchanged, cryptocurrencies and freedom.
Steemit runs on top of a decentralized network known as Steem just like Bitcoin.What are the benefits of this wonderful community they have created.
BENEFITS OF USING STEEMIT
---
Steem has no transaction fees for rate limiting
Steemit rewards content writer, voters and those that comment on a post. all reward on steemit are paid in Steem Dollar and Steem Power
Steemit allow user to post videos, text and picture contents which is the combination of Tumblr, reddits, facebook, twitter and many more.
Steem, Steem Dollar can be traded for other cryptocurrencies including Bitcoin on Bittrex , Poloniex, Blocktrades and on many exchange platforms
Using Steemit is very secure from hacking because of their uniques password system
In Steemit there are three categories of users; Minnows, Dolphins, and Whales. it is according to your reputation. you will start from minnow to dolphin , whales.
You have more influence and curation rewards when you hold steempower representing voting power. it is just like investment yielding interest.
Steemit is for everybody.
It is growing faster in all countries.
1.You can get bonus rewards if you are a blogger, youtuber and writer of good content on any niche , if you have lots of follower on your exisiting platform like Instagram, twitter, youtube and blogs. All you have to do is just redirect all your followers to register on steemit and to follow you on the platform, you gain more rewards as they votes for you.
You have freedom of speech on this platform to share whatever you like, unlike other socialplatform with limitations of what can be posted o their platform.
Steemit Blockchain technology is fully transparent to everyone, be it registered user or not you can see anything about any user.
It is also a fast growing marketing platform where you can write contents or post about your products and services without paying a dime, instead you get paid.
You can build any app on steem Blockchain.
---
SOME APPS ON STEEM BLOCKCHAIN
1.Steemdollar: This reveal the worth of upvote of a particular account. You can check any user account by going to the # Upvote worth calculator by submitting a username.
SteemStats:check for stats about the Blockchain and Steem Users
SteemIMG: this is a platform where you can store all your images.
Steemchat: A chat room to interact and promote your contents to other Users.
Steemly: A URL shortener on steem blockchain
SteemViz: this tool displays all new votes, post, comments, transfer, trades, users and block on steem Blockchain
SteemShovel: A search engine built on steem blockchain
SteemPrices:tool to check SBD and Steem price against other cryptocurrencies
Streemian: A curation trail tool to earn rewards
Esteem: a mobile app for iOS and Android phone to psot contents
SteemCap: A tool to compare Steem marketcap against its competitors.
There are lots of app that has been built on steem blockchain, you can also check on steemtools.com
---
SOME FRIENDLY AND CURATION BOTS ON STEEMIT
@curator @cheetah @minnowbooster @lovejuice @randowhale @minnowsupport @discordia @goodbot @drotto @resteembot @complexring @bellyrub @treeplanter @booster moe will be added in my next article as I will be discussing on how to use them follow me @polaleye50 RESTEEM AND UPVOTE THIS ARTICLES IF YOU LIKE IT.
THANKS TO @dan @ned that make this possible.
@resteembot @minnowsupportproject
Source . @polaleye50