For some time now I have heard complaints about the Indonesian and Aceh communities here on Steemit.  They are scammers, they plagiarize, they copy and paste, they beg, they have no etiquette bla bla bla. And I cannot deny, that I have experienced this myself from members of this community.
But, I have also experienced this from members of other communities here on Steemit and I'm here today to tell you why you should not overlook the Indonesian or Ache communities and cast judgement because of a small few.  I want to give you some solid reasons you should support this community and I want to share with you a little data and few stats about this community/.
Let's talk about launching a social media site for a moment. What is important for its success?   At the end of the day, one of the key factors in the success of a social media site is traffic.  The more users, the more traffic, the more traffic, the more users.  Each one of these snowballs the other.
Now let's talk for a moment about launching an online business.  Let's take Udemy for example.  Udemy for those of you that do not know is the world's largest online course marketplace with over 20M students.  Launching in 2010 their site was the first of its kind.  It allowed anyone become an instructor and courses of all topics and quality was allowed.  Instructors were rewarded for bringing new student to the site by being favoured in course marketing promotions ran by Udemy.
For the first few years of Udemy existence, they did not care about the overall course content.  For a long time they supported courses that offered 'get rich' quick approaches and make money online courses.  Every our own @jerrybanfield done awesomely well out of this….These were the courses that were bringing the users, these were the courses that were bringing the traffic. And although this is not where Udemy wanted to go long term, they use this to their advantage and when they reached a growth level that could be sustained, when the snowball began to grow, Udemy changed.
From what I can remember it took Udemy 5 years to get to 10M students.  This is when they changed, they stopped supporting this courses and even kicked top earning instructors off the site.  It didn't matter because the snowball was rolling fast now and within the next 2.5 years Udemy went from 10M students to 20M at the same time improving the quality of the courses they offer and removing anything that could get negative attention.
What's this got to do with the Indonesian Community and Steemit?
The Indonesian community on Steemit is growing rapidly, check out the chart below which shows rapid growth since the end of October.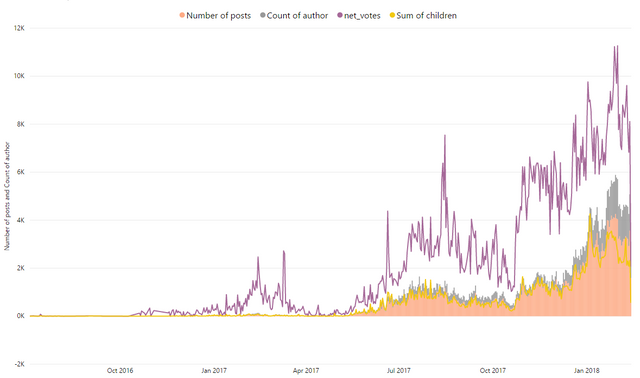 There has been a 58% increase in the number of Authors posting on Steemit since the start of 2018 to this community.  This is massive and above most other communities.  And this is because there are people on Steemit from these communities working very hard.  There are meetups held regularly, and it's easy to find posts about these and most of these posts have photos with Steemains holding the steem logo or some sort of proof there are discussing Steemit.  I have not see as many in person meetups as there appear to be in Indonesia.
The level of media attention in Indonesia is growing strong. Check out this piece of information shared on discord

This is all very important for Steemit.  Growth, Traffic, Users, More traffic, More users. And Indonesia is charging ahead.  Indonesia is helping Steemit reach the traffic levels it needs for the snowball to start rolling at speed.
One big different with Steemit and Udemy though is the self-regulation and payment system.  On Udemy, they 'used' these instructors to get traffic and then rewarded them.  On Steemit, we have the choice what posts we reward.  Let's embrace the traffic and publicity that Indonesia are bringing to Steemit.  For the growth phase of the platform both good and bad content are needed, strange as it may sound.
Let's talk about Bad Content and how we can try an improve the situation on Steemit
Steemit is littered with content that is not, well let's just say awesome.  It's littered with spam and plagiarism.  For this post, let's call all this collective 'bad content'.  Every community and every tag has some.  We will never get rid of it, nature of the online world really.
But by educating and helping, there are many authors making changes and improving.  Whats better is the visible sign of members from the Indonesian and Ache communities educating their members daily about etiquette, plagiarism and spam. Maybe it's not me, maybe I am not looking hard enough but I really don't see this happening with such focus in tags like 'Art' or 'photogrpahy'
The Indonesian community are taking the advice.  Check out this post from @imammalkimas sharing a message I have been trying to convey to this members of this community.
https://steemit.com/promo-steem/@imamalkimas/kunci-melakukan-yang-terbaik-dalam-komunitas
And then there is also @kisrael.  After being caught by @spaminator and receiving good guidance admits 
"To some extent, I didn't stand out for what Steemit is known for, Originaland Quality content.
So, I have myself to blame for the resultant effect of my actions and to the whole Steemit community, I say I AM SORRY."
You can read that full post here
https://steemit.com/steemit/@kisrael/i-m-back-bigger-better.
Let me share something else with you.  The levels of Spam and plagiarism are not as bad as you might think from this community.
Since the start of 2018 Cheetah has left 1100 messages on posts from the Indonesian and Aceh Community, spaminnator 22 and steemclearners 49.  There has been 149K posts made by this community during this time.
Conclusion
So here is what I am saying, there is bad eggs everywhere, there is bad content all over the internet.  Let's not tarn everyone from one community with the same brush.  Given Indonesia a chance and maybe even support because at the end of the day, they are propelling the growth of Steemit and soon we will see some awesome whales emerging from this community.
Looking at business models such as Udemy, Steemit needs the traffic.  I have been working with the Indonesian Community and have belief in their ability, their willingness to learn and to grow and their ability to aid Steemit reach the traffic levels it requires.  I hope more people will join me in educating this community and supporting this community and let them promote, bring new users and much needed traffic.