If you joined Steemit in April 2017 then you celebrated your Steemit birthday with 8,347 other Steemains. What an awesome achievement to see you are still posting or still curating. Congratulations and welcome to the One Year Club. 
It is commonly known that the retention rate on Steemit is rather low, so if your Steemit birthday was in April and you are reading this, let it be known that you have achieved a lot.  You are an early adaptor of an experimental platform and you deserve to be acknowledged. 
To celebarte your 1 year Steemit Birthday I have some data to present to you.  Data that proves you are special

In April 2017 7,745 new accounts registered on Steemit.  Of this 4,161 have never made a post.  That means only 46% or 3,593 accounts made post or comments on the platform.
Did you know that the % of new steemains that joined in March 17 that made a post or comment was lower at only 36%?
From this 3,593 accounts, a further 758 accounts stopped posting by day 20 and have not posted since and only 460 accounts have posted in the last 45 days. If you are one of these 620 accounts you make up only 6% of the 7,754 users that registered on Steemit in April 2017.

These 7,754 accounts own 2.07M SP between them.  They have received 493.05K SP in delegation and have given out 308.85K in delegation.  This leaves a controlling SP of 2.25M SP.  From the data above we can also see that the 3,593 accounts that posted made 427,958 posts earning 288.74M in author rewards and also 67.46M in curator rewards.
Taking the same dataset but now adding a filter to exclude any users that have not posted.  The 3,593 accounts that have posted own 72% of the SP owned by everyone that joined in April and they are in control of 75% of the controlling SP

There is however a different between the curation rewards earned on all accounts registered in April17 to the accounts with active authors.  This difference of 0.67 M or 1% of curation reward earned by accounts registered in April 17 went to curators, or accounts that have never posted just voted.
We spoke about retention, but just to let you visualized when the accounts were dropping off.  The chart below plots the number of days since last post against the no of days registered on Steemit.  The deeper the color the more users.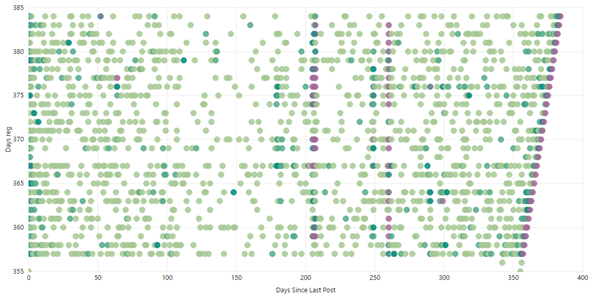 We can see on the right of this chart high population of deep colours.  This represents the users that registered and either never posted or haven't posted in 350+ days.  As we move to the left of the chart we can see the drop off slows down, with another peak around 260 days and 210 days.  There is then a further slow down in drop offs and on the left there is a high concentration of accounts posting, which represents the 6% of accounts that have posted in the last 45 days.
 The table below plots the 3,593 identified authors against the number of days active and the SP Owned. We can see most accounts have an SP of less than 1.5K until we get to accounts active 325+ days where a number of accounts have an SP of up to 50K.   We can also see a number of outliers that have higher than average SP owned.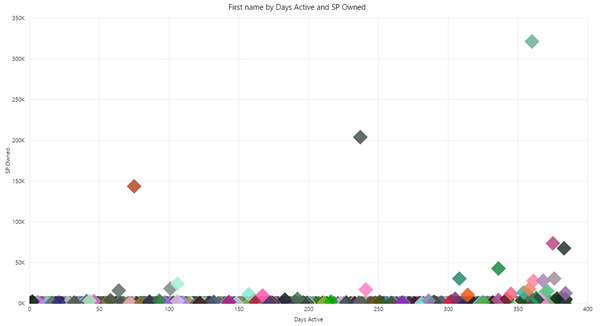 If we run the same chart with ALL the account that registered in April 17 not much changes except over on the left there is a new outlier with just under 75K SP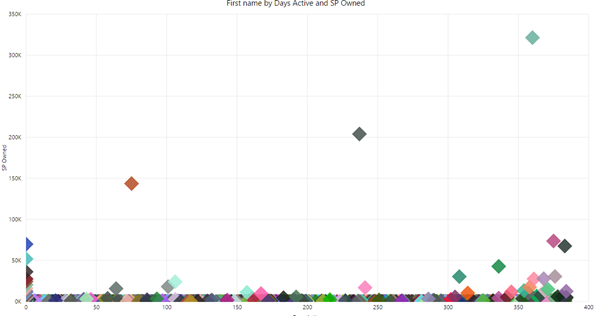 Movers and Shakers
So who are the movers and shakers that registered in April '17
First I filtering the data to show accounts that never posted.  This table was then sorted to show those owning the most SP.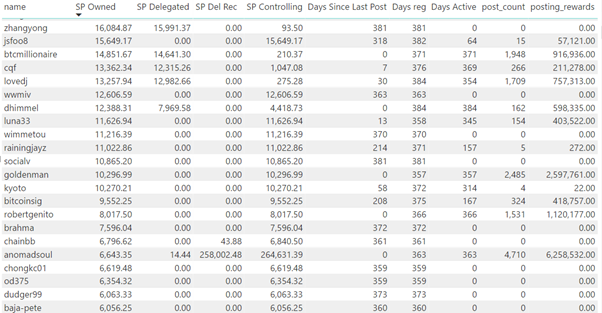 Next I have filtered the data to show the users that have been active in the last 45 days. The table below shows this data sorted by SP owned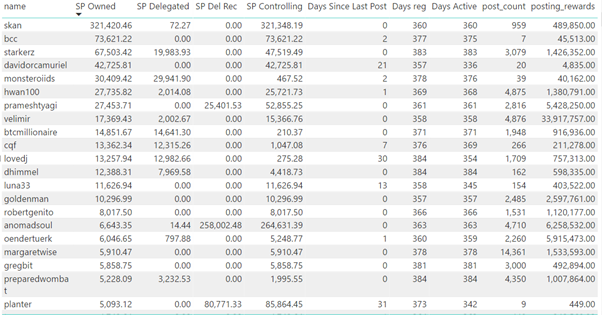 And the table below shows the same data but this time sorted the posting rewards earned (shown in vests)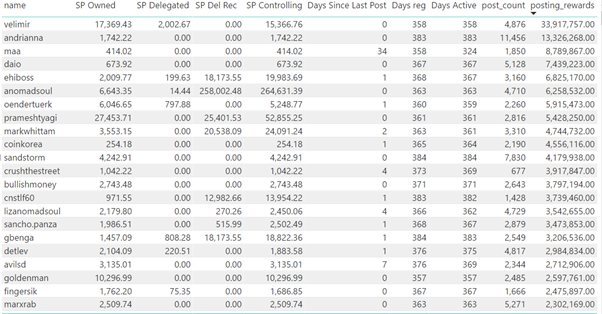 While sorting through this data I found a number of accounts that registered in April 2017 but only made their first or second post in the last 45 days.  Welcome back dudes and dudesses.  Glad you have joined us.

Looking at all April 2017 accounts now and sorting by the number of posts and comments made.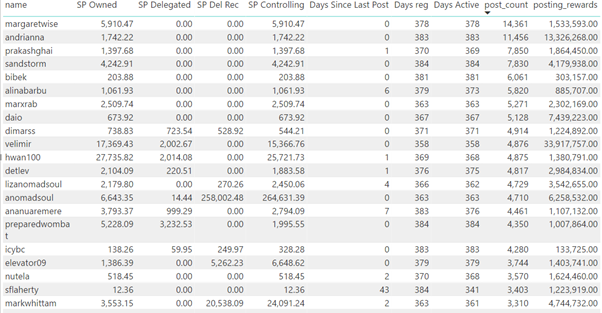 Finally I did some totting on data relating to inactive author accounts.
7,232 accounts set up in April 17 have an SP of 50 or less.  The total SP owned by these accounts is 48.68K.   Of this 4,010 accounts have never posted or commented. The total of SP owned by these accounts is 29.05K
Conclusion
The % author retention from April 17 is only 6%, however these accounts own 72% of the SP owned by all of the accounts registered that month. In the last 45 days, we seen a return of 15 Steemains to the platform that were previously considered dead fish.  Although only a small value,  it is nice to see this claw back.
How many of the accounts do you recognise?
There are a few familiar names such as @velimirm @markwhittam @skan and @starkerz  Hope you all enjoyed your Steemit Birthday!
The Data and Analysis
This analysis was prepared using Power BI to connect to Steemsql
The SQL query used was
select *
from Accounts NOLOCK
where    ( created >= CONVERT(DATE,'2017-04-01') AND created< CONVERT(DATE,'2017-05-01'))
From here I used the M language in Power BI query editor to remove any columns I did not need, before I loaded the data into the model. The data was extracted 20 April 18
From here I then carried out analysis, calculations and modelling using DAX 
The aim of this analysis was to establish the retention of authors based on users registered in April 2017 and also visualize the SP growth of active authors after 1 year on Steemit.  Its aim was also to celebrate and identify users that have remained active for the last year.
  Please do consider @steemcommunity as your Steemit witness – this is a witness team set up by @abh12345 and @paulag  (ME!)