AutoMagically Embed Previous Post by You - Web App - SteemJs API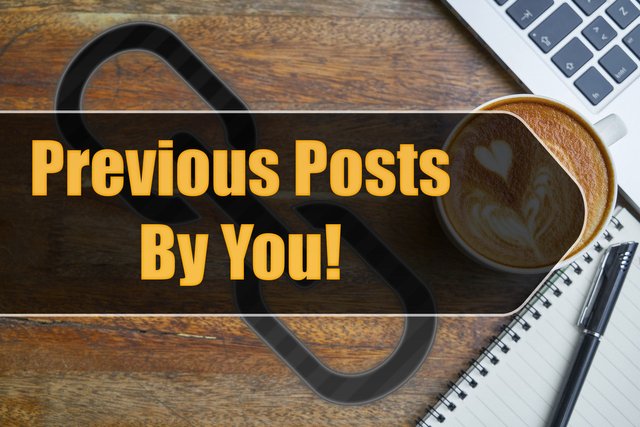 ---

---
 Have you ever wanted to include links to your previous posts at the bottom of your existing post? It's something that you see all the time elsewhere, on blogs, news articles, youtube channels, etc. But manually formatting all those links by hand is tedious and time consuming, that is, until now!
---
Drum Roll...
 I have created a simple web app using the SteemJs api. My script allows you to easily do this very thing. It has a form with different options to tailor an embed code that can be pasted into your post. It's pretty straight forward to use and gets the job done with a few clicks! Saving you time and removes much of the hassle.
---

---

"Having links to other posts will help you further engage your readers. Presenting your content more efficiently and thoroughly. I made this to help everyone & I hope it brings you success!"
---

---
About Me
 I'm learning as I go, this was my first ever project using javascript! I have always been an "idea person." This was me trying my hand at making something! Here is the Github repo where I'll post any future Steem Js Projects:
Steem-JS-Lab
 Finding solutions to help with everyday tasks is what I love to do! If you have any suggestions or ideas that you want to bounce off me, join, "Secret Ninja Dojo," my discord den for all my current Steemit Tinkerings.
If you have any questions or would like to talk to me:
𝓗𝓲𝓽 𝓽𝓱𝓪𝓽 𝓾𝓹𝓿𝓸𝓽𝓮! | 𝓡𝓮𝓼𝓽𝓮𝓮𝓶 ! | 𝓕𝓸𝓵𝓵𝓸𝔀 𝓯𝓸𝓻 𝓜𝓸𝓻𝓮!