Hallo steemit .. back again with me @neobarrack
A beautiful Indonesian natural story. Some people outside Indonesia there certainly do not know our tourist attractions that can be said including the beauty of the world, here I provide an overview along with tourist attractions in my country.
Harau Valley (west sumatra)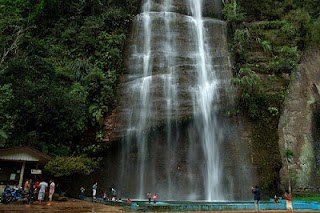 The charm of a narrow valley or better known as the Valley Harau, is not second to none. Like a fairy tale, all its beauty is plastered in front of your eyes. Extraordinary...!!! So the expression is ejected when you first visit the Harau Valley.
Harau Valley is one of the attractions found in the province of West Sumatra. Harau Valley is located in Lima Puluh Koto District, about 15 kilometers from Payakumbuh or 47 km northeast of Bukittinggi, West Sumatra. This location is easy to reach by public transport.
Tourism Objects in the Harau Valley is a steep cliffs that slope almost 90 derjat with the surface of the ground or there may be 90 derjat. During the journey, we can find unique granite cliffs that loom between 80 to 300 meters, and we will find a huge chasm with a diameter of 400 meters. Surely ... we will find many stunning beauty along the way.
Natural stone walls like the Harau Valley are very rare in the world. Many people like to compare the Harau Valley with the Grand Canyon in the United States. Though these two tourist sites have much difference. Although both have similar natural wonders, but the Grand Canyon does not have a flat valley that adorned the rice fields.
Entering the tourist attraction located in District 50 City, West Sumatra, we seemed to be brought to another world that really amaze. At the base of the cliffs, the stretch of rice fields and lush green trees make the charm of the Harau Valley more stunning. Rice is yellowing between two cliffs. Plus the fresh air and the peaceful nature .., make anyone who visit will be more fascinated. Beautiful to illustrate ...
Harau valley is also divided into two areas of tourism namely Sarasah Bunta and Aka Barayun. In Sarasah Bunta there are 5 waterfalls, and in Aka Barayun cuman there is 1 waterfall. The waterfall in the Harau Valley is very clear and cold, and there are also small fish. For waterfalls in Aka Barayun already a pond, with clear water so that if we do not come "nyemplung" or at least soak the feet and swim, we will lose. How comfortable and cool the feeling lingered around this still very natural waterfall ... hmmm ... SO FRESH ....
While in Sarasah Bunta waterfall shelter is still natural so play in the waterfall so much fun. If you feel bored with waterfalls doank, you should choose the location to the Root Swing because there are more complete facilities and there is also equipped by Cottage / Resort.
Both of our eyes will not budge and move unseeing looking at the beauty and majesty of Allah's creation. Really. Our little taste in the presence of His great creation. The waterfall, amazingly tall and beautiful. Do not want to feel the foot go home leave this waterfall.
 Gayo Highlands of Central Aceh "Lake Laut Tawar"

Aceh  tourism especially the highlands of Gayo Central Aceh, known to save a  lot of panoramic beauty, especially around Lake Laut Tawar. Of the many attractions, only a few are already known and frequented. One of the unpublished is Atu Tingok area, located in Kampung Dedalu  District Lut Tawar or parallel to the south side of Lake Lut Tawar and  mainland of Takengon City.

It  is called Atu Tingok because of the existence of some big boulders  lying in the area of ​​Bur Telege (now called Bur Gayo and called Bur  Peteri Bensu). The Tingok is located on a very sloping and steep  mountain with a size of about 4 x 3 meters rather prominently out Such as getting stuck so that for visitors who want to stand on it  will feel anxious, worried will be a burden for the stone and rolled  down.

From Atu Tingok will look a vast expanse of Takengon city. Part of the town of Tan Saril, Bies, Belang Gele on the western side  along the embankment of Boom - Mendale Kebayakan exactly parallel and  stretch of Lake pride of the people of the country Between on the east  side.

A gentle breeze strikes the pines with natural music surrounded by the sound of small birds and the shriek of an eagle's voice. While visiting there, there is even a whitish eagle commonly called the Gayo residents as Kalang Siki wriggling in the air.

Towards  Atu Tingok is actually not very difficult, compared to other altitude  places in Central Aceh such as to Pantan Terong in Bebesen Subdistrict,  west side of Takengon City. In addition to the near eye only about 2 kilometers from downtown  Takengon also access roads that more than two thirds can be accessed  with all types of vehicles without having to rely on the maximum engine  power.

With four-wheel vehicles, visitors can safely park them on the climax of the exact ramps around Telege (Gayo: well) Bur Gayo. The existence of a well at the top of the mountain makes this mountainous name called Bur Telege. The name was later changed to Bur Gayo because a few years ago there  was a planting of pine trees that deliberately formed the words "Gayo"  which once was clearly visible from the city of Takengon certainly when  the trees are still small.

Fascinating  trip to Bur Telege, the whole side of Takengon town and upon arrival in  the back of Bur Telege will be enjoyed panoramic village of Pedemun and  bay One-one filled with floating net cages owned by residents who  diperindah with baground Bur Birah Panyang, a mountain that is most  typical and Beautiful that fenced off Lake Lut Tawar with a stretch of rice fields dikakinya.

To reach Atu Tingok, proceed to walk about half a kilometer. Can be selected on a concrete ladder or on a dirt road. Visitors can rest disebuah shelter built Central Aceh District Government a few years ago. Around the shelter, usually roam the horses, buffaloes and cattle belonging to the surrounding are released free to roam. The existence of pets at the height of the mountain would be the main attraction for visitors.

The journey becomes a little difficult in the last 50 meters, there is no access path so it tends to be somewhat scrubby. However, the unhappiness of the journey that is only tens of meters will certainly disappear when you are in Atu Tingok. Millions of flavors of beauty will soon lull and make us sedated to feel at home for long. Upset, if you do not bring a camera.

One more, if lucky, it will find a monument or monument building around Atu Tingok. A  monument that according to Irsyad, community leaders Kecamatan Lut  Tawar built in the early days of the independence of the Republic of  Indonesia in 1945 with a height of about 2 meters and 1 meter wide. Some call this monument as Tugu 45 Bur Gayo.

This monument was built by the then Aceh Governor H Ali Hasymi and named Atu Tingok area with Bur Peteri Bensu.

Unfortunately,  the exact location of this monument is unknown because it is covered by  a bush despite being searched several times with people who have  already visited it. Presumably, there are enough reasons for the related parties to open  access and maintain the monument which is one of the witnesses of the  history of Takengon.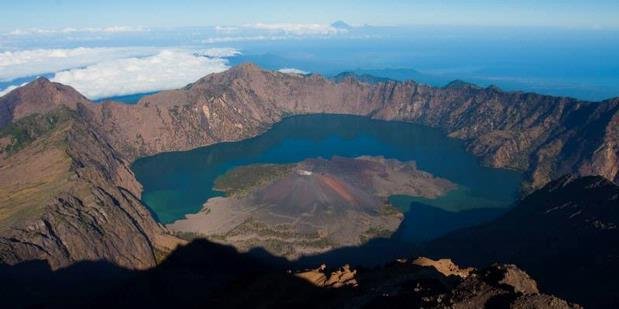 For  hiking enthusiasts, the journey from Atu Tingok can continue towards  Ujung Baro, Renggali Takengon hotel location with the ridge. Need gloves and long sleeves if you do not want to get hurt by thorny bushes because there is no official road there. It is advisable to bring a machete to open the path and lotion for protection from Pacat attacks that await your blood fresh.

The other path to One-One bay without having to go through the original road. With a dirt road about 2 kilometers will immediately enjoy Gayo coffee, warm fried food and grilled fish.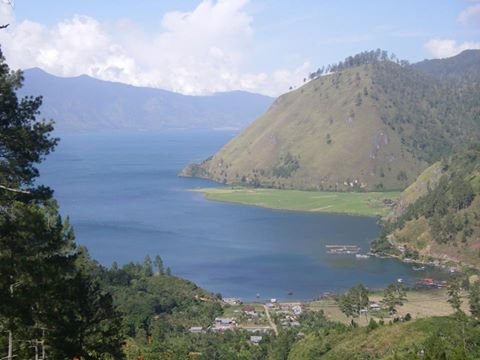 That is all from me.
Thank you