We all know that Steemit has this problem. And we all know it's a big problem. Some know it more than others. But the extent is kind of hard to comprehend, like the age of the Universe.
I wanted to make a post investigating the extent of spam being trawled across the Steemit ocean, but I'm no coder, I have no skills in automatic curating algorithms or whatever. I don't even know what the means.
All I can realistically do is click on stuff. So I did this for a while and I started feeling a little sick in the soul.
Initial attempt
At first I was going to start an Excel document finding a trail of users directly linked to @a-jeffrey. I believe this user has multiple accounts, more than I can find, and is posting sexy girls and claiming the photos as his/her own. I found that this user is doing the same thing on facebook (with somewhere over 250,000 followers), an even Steemkr.com (because that's apparently a thing).
With the help of @fingolfin, it turns out that @ajeffrey is the same person (or directly affiliated with) @mrhappy, @a-alice, @a-angel, @vargapauline, @steemitblogs and who knows how many more. I didn't want to dig any deeper in the end, because these accounts seem indifferent to any cheetah bot or downvotes, simply going inactive and popping up elsewhere with the same content theft and signature.
A-jeffrey
So I looked into @a-jeffrey's follower list and it was like opening Pandora's box!
I began from the top, going alphabetically: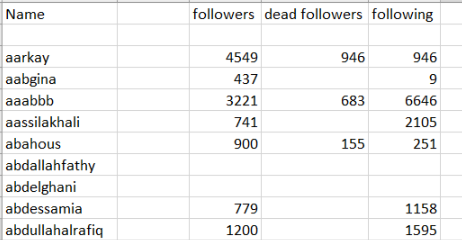 Then I got bored on an already boring weekend. So I decided to spice things up by going into the J's and the T's and the Z's. Every single account I clicked on was a plagiarism account, with the exception of 3 or 4 which were resteeming accounts.
That's not to say that every single account WAS spam, but that the percentage was so high that the chances of clicking on a legitimate account was insignificant.
So I started looking at some of those resteemers, and this is where it gets ugly.
aaabbb
So I looked into @aaabbb, and their resteem service suggests to 'customers' to send the money to @acat222. @acat222 tells their customers to send money to @aaabbb.
Together, that's potentially 6,000 accounts being spammed, with a combined 17,000 followers. But the reason that's so bad is that these re-steemers aren't even in the big league! These are just your average re-steem spammers. Enter Mr Jones
jones420
Here we have a user offering a 'resteem service' to 6,000 accounts, whilst following 85,000 accounts.
Other accounts are more unusual:
ebargains
This account came to fruition a full year ago, and has a decent reputation of 55, and 828 followers. But even here you get the same spammy message:
'Dear Followers, We now offer a GREAT RESTEEM service for your Steemit posts to over 120,000 of our followers on our Steemit/Facebook/Twitter/Tumblr/Pinterest accounts'
This is interesting for three reasons:
ebargains doesn't have 120,000 followers but doesn't mention another account
They appear to be using other social media sites, like anybody would care about those here for monetary gain
An account so old in these circumstances makes me suspect it was either stolen or bought. I'll get back to that in a minute.
On ALL of these accounts, every single account I checked, you can go into their wallets and it won't be long until you see the infamous:
joanaltres
This user has been plaguing everybody's wallet feeds, with massive statistics of 16,418 followers and 66,449 following. jo 'anal' tres informs you to send money to @carlobelgado, another giant account with 10,161 followers while following 33,239. (though, with a dead-follower count of 2,500!)
I also noticed this amusing account in jo anal's wallet: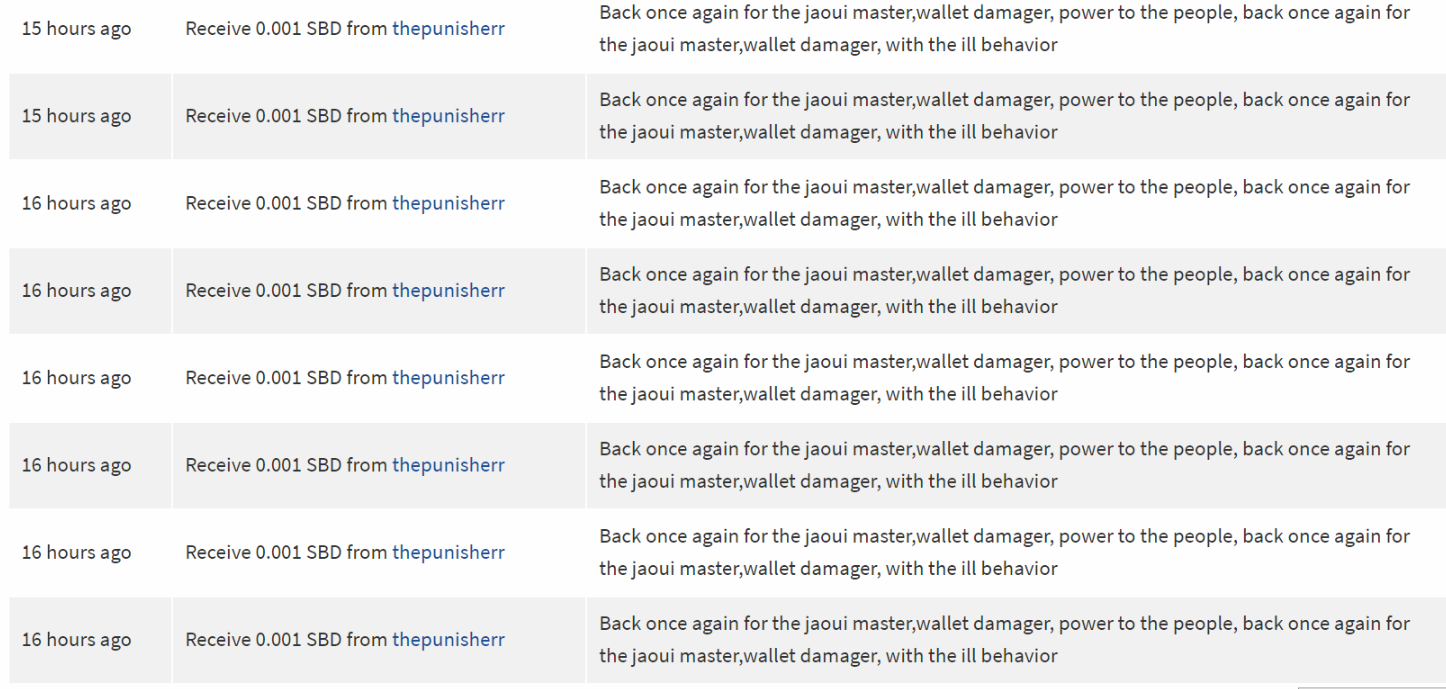 (This is the only activity the punisherr account has committed to)
Scrolling down these wallets, it didn't take too long to come across:
My old buddy, bilalhaider
I didn't tag him because he's mentally unhinged and I'd rather reduce the risk of my lovely science-y account being ruined by some whale he might be in contact with, but even so, his damage to the community at large has not gone unnoticed, with 5.696 followers while following 85,736 accounts.
Due to bilal's history of spamming steemit.chat and stealing people's identity, his account was reduced to -1 reputation, so it appears he is using other accounts to bypass that deficit: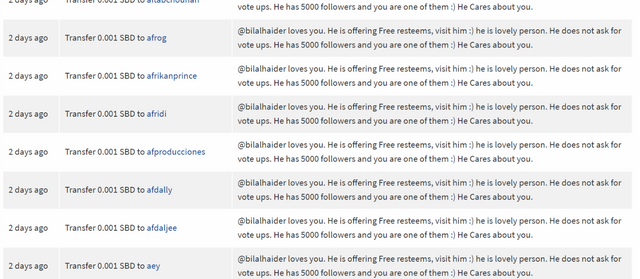 One thing I found amusing here was the apparent war of words between bilal and @jones420
The irony in this comment is golden.
Another interesting detail in Bilal's wallet is a user offering to buy his dirty, -1 reputation account and thus his followers to promote their own resteem business, the seemingly innocent looking @vominhquoc
vominhquoc
This user is odd. They want to buy off bilal, but they themselves don't have too many followers, though they do send a variety of spam from their wallets, with hundreds of 'Return my earning to my followers :) !!! Don't forget to check out my profile everyday to get newest tricks.' in the last 30 minutes or so alone.
What does this mean?
Well, for a start it means nobody here is safe from spam, but in particular, it means Steemit can proudly and honestly say, with 100% guarantee, that your account will be spammed by merely 5 users on this website, since they alone manage to cover potentially hundreds of thousands of accounts as time goes by.
It also means that reputation means nothing to them. Even if they don't bypass with other accounts, they just chug away at an alarming rate anyway.
Further, it appears that these users don't see this as a bad thing. They're taking the approach of an honest, hard-working business. You can tell because occasionally when mistakes are made or people send the wrong amount of money, they manually return it with an apology, or they thank individuals with custom memos. If nothing else, they shouldn't advertise 10,000 followers when often a good quarter of those are dead accounts that haven't made any activity in well over a month. But hey, who cares about honesty when you have 'honesty'!
But, most of all, it means there is likely nothing that can be done to stop it. I don't know what @sherlockholmes, @spaminator, @sadkitten and all the other cleaner-uppers (myself included) can really do when the outreach of the spam army crosses the entire website, but if somebody like @elfspice has a solution, i'd certainly enjoy hearing about it.
But the way I see it, Steemit has allowed bots, and bots it shall have.
What do you think?