You Got Sponsored !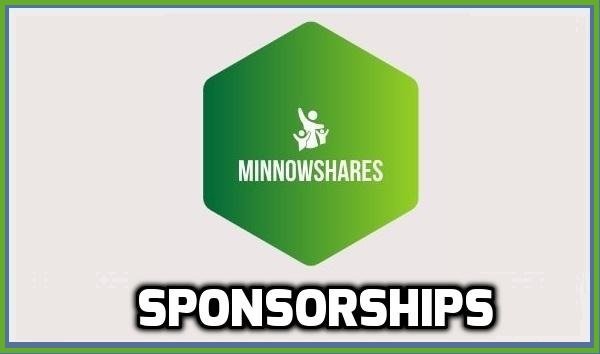 This post is aimed to give more information to Steemians that got Sponsored one or more Minnow Shares ...
---

The @minnowshares account is inspired by @steembasicincome which is a program on Steemit that allows you to support yourself and forces you to also sponsor someone else. In a similar way, every Share from the main project @upvoteshares comes along with 1 Minnow Share that can be sponsored to a minnow.

If you were Sponsored 1 or more Minnow Shares ou will get:
In the auto-upvote list of the @minnowshares account for a limited amount of time. (This is expected to be somewhere around a month in between Upvote Share Levels). It can take 2 weeks between the moment you got Sponsored and you start getting Upvotes from the account.

The amount of Minnow Shares you get sponsored add up, right now 6 can be traded for 1 Upvote Share which will give continued daily upvotes from the @upvoteshares account. (The amount will go up over time)
---

The @minnowshares account will always have 500SP+ into it and will be set to spread 40% or higher upvotes with the the voting being pauzed when the account gets below 80% Voting Power. 50 Minnow Shares are available to be Sponsored during each level which is the maximum amount of accounts that will be on the upvote list. Accounts that got sponsored multiple Minnow Shares will not get bigger or extra upvotes but instead increase the upvotes for everyone else on the list.
---
If you are interested in being sponsored to get on the upvote list, make sure you follow the @minnowshares account because every Contest that gives away 1 or more Minnow Shares will be resteemed!
---
A post will be made before the account will start giving out upvotes with a complete list of all shareholders and the amount of shares they have. For more info on this project read the Terms & Conditions