Mimeebot and never miss any news
Hello Steemians!
Futureshock again. This time we would like to introduce to you the most human and interactive bot of the Steem ecosystem, the one and only Mimeebot.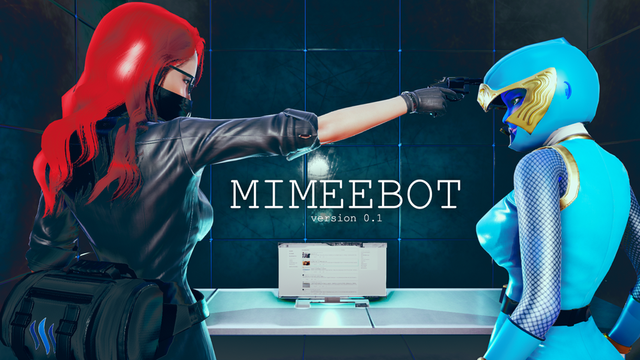 We know that after the break up with You-know-who, you are all sad and nostalgic, but don't worry Futureshock got your back.
So will Mimeebot talk to you when you need a friend?
Unfortunately not yet...
Features
But Mimeebot can notify you when:
Your favorite content writer post an article (user)
Someone writes an awesome article about your favorite subject (tags)
Someone talks good about you or your friend (mention)
Someone gossip about your least favorite person on Steem (mention)
Someone writes your favorite word on his post (word)
When there is some moves in your top communities (community)
Additional features:
Add someone in your blacklist so you won't be bothered by his/her publications.
Show your settings
Receive compliments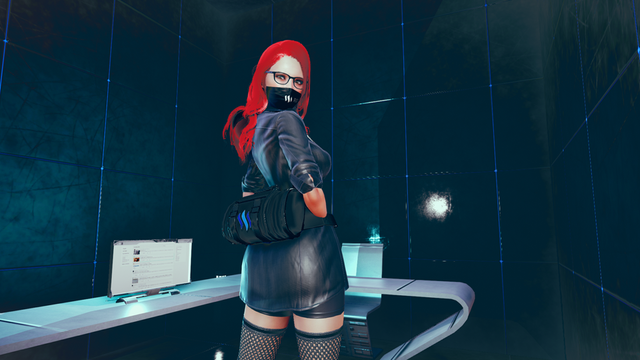 Features being developed (coming soon):
Upvote directly from the mimeebot
Send your compliments to others (if they are not using Mimeebot, they will receive it on Steem)
Ask and wait for Mimeebot reply
Receive useful notifications for witnesses
Follow & unfollow
Resteems
Vote for a witness
Receive useful informations about the development of Steem
Customize your link website
For business and entrepreneurs on Steem:
Send your newsletter directly to your customers through the Mimeebot because hey email is so 2002
Get new customer and increase your conversion rate
We reserve the right to not accept any weird promotion.
Commands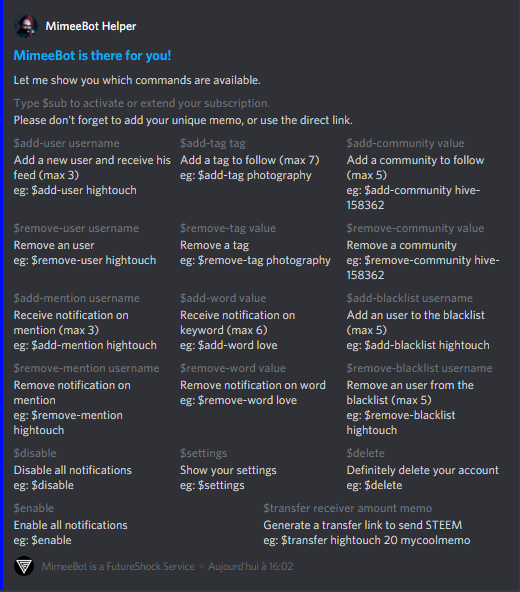 You are witnessing the make of a better future
Access
Get access to all the Mimee features by subscribing to it. You need to join the Mimeebot Discord Server first, https://discord.me/mimeebot then DM Mimeebot with $help to obtain a list of the commands or in the channel subscription enter $sub . Mimee will generate a link for you to proceed with the transaction. And that's it, it's that simple.
You can also use any commands directly with DM to Mimeebot
After that, it is up to you to add and remove, by using the channel #commands or to do it in direct message with mimeebot.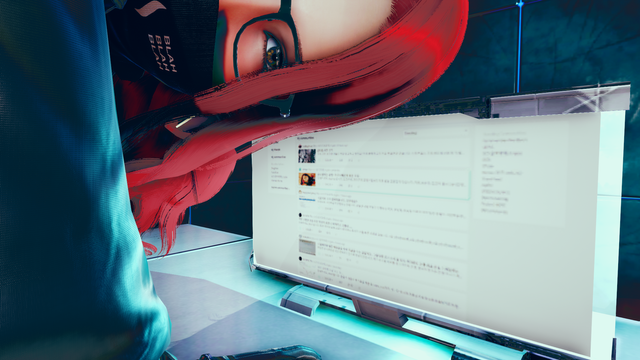 If you have any features suggestions for the Mimeebot, comment below or use the Mimeebot discord server. Also if you encounter any bugs, don't hesitate to notify us and we will fix it ASAP.
By the way, Mimeebot as a tool from Futureshock we suggests you to vote for the future.witness in order to see more tools like this and support the development of this kind of tool and Apps.
Futureshock, because the future was yesterday. @futureshock