Hey all,
Just expressing a recent frustration of mine .
Whether it is writing a full story or just posting a neat photo, I put effort into all of my Steemit posts.
I like receiving replies and hearing what others have to say related to my post, anywhere from a quick comment that they liked reading it to offering further discussion on the post content.
More often in not in the past few weeks, Ill get excited for a reply notification only for it to be something like...
"I follow you and you should follow me"
At first I thought 'Cool, they must have liked this post' but now I'm like, are you kidding me?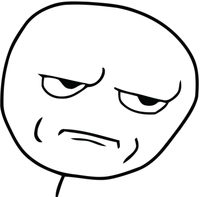 (I do not have copyright on this cartoon)
If you like the post, great. You can upvote to show it and/or follow to see more from me. If you have something to say about the post (or my posts in general) replies are welcomed and often will lead me to check out your blog.
But, if the point of the reply is just to get me to follow you, completely unrelated to the original posts... nah...
I don't mean to be mean or selective but, really.. too many people comment just for follows. Often I suspect they didn't even read the original post.
Putting time into posts just for people to use the reply section as self-advertising platform is frustrating, please stop!
Enjoy the day, find/write posts that invoke thought