We all know that steemit is getting more popular every day. But let's see some stats.
http://www.alexa.com/ provides commercial web traffic data and analytics. According to its website, Alexa provides traffic data, global rankings and other information on 30 million websites.
Steemit.com is the 44,293 most visited website in the world and 18,003 in the US .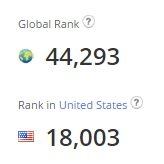 Yes we are not at the top yet but don't forget that we are a new website.
The top 5 countries steemit users are form are the following:



So ,the most users here are form Usa.
Let's see how engaged are steemit visitors:


The daily pageviews per visitor is 7.90 times ( i would have bet more we all are checking our wallets every minute !)
and the the daily time spent on site is 11 mins and 14 secs.
Steemit stats are not bad for a new website . I will do a post every week to compare the stats. I'm sure that will increase rapidly over the next weeks !