Skyway transport of new generation
String Transport (also known as "SkyWay", Yunitskiy String Transport and Rail Sky Way) is a concept of an elevated light rail transportation system using prestressed rails with prestressed cables ("strings") and concrete inside them. It is designed for both freight and passenger services and has two main types of track structure and rolling stock — standard and suspended.
Theoretical foundations and models
The project was conceived by Belarussian engineer and inventor Anatoly Yunitskiy from the beginning of the 1980s. The first 1/10 scale models of track structure and rolling stock were constructed in 1990-s. Different models were built either with one or two strings. The dynamic and wind behaviour was tested by using a single-string 1/10 scale model in 2006-2007.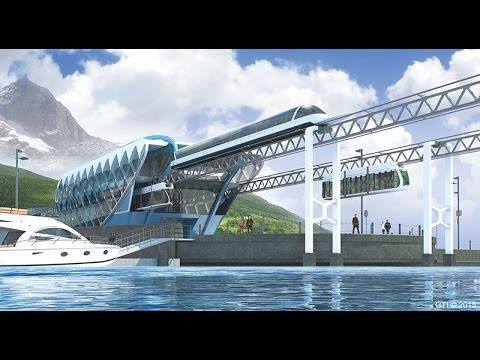 In 2016 the Expert Council under the Russian Ministry of Transport evaluated the SkyWay string technology and called it "innovative but only in theoryhere were no any information about the result of this acknowledged and/or any Government Purchases or contracts with SkyWay.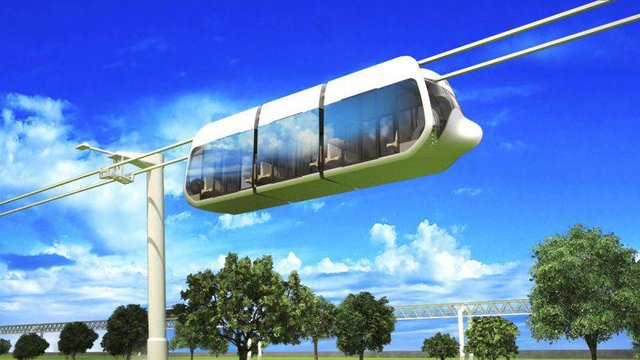 The first full-scaled string rail test track was constructed in Russian town Ozyory (Moscow Oblast, Russia) in 2001. This test track had tube rails supported with a wire rope and spreaders, unlike the monolithic string as proposed now. The length of this test track was about 150 meters. Due to lack of funding the inventors did not produce any railcars for this test track, but used a modified truck ZiL-131 with steel wheels instead of normal road wheels. Later this test site was abandoned and deconstructed.
A prototype test site with three test tracks (light rail, cargo rail and high-speed urban rail), is currently being built in the town of Maryina Horka, Belarus since 2015 and is due for completion in 2018. Later from the end of 2016 the tests of these railcars have started with low speeds.
The track structure design is based upon the use of strings built with high-tensioned steel wires inserted into a concrete/resin core and enveloped within a steel shell.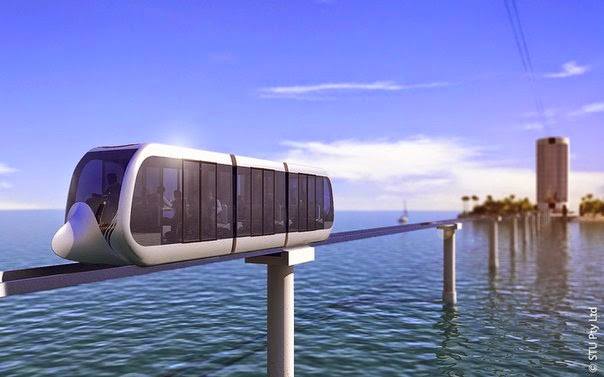 It differs from traditional cable ropeways by using a perfectly flat rolling way to limit the wear, rolling resistance and noise. The functions dedicated to rope tension and rolling way are handled by separate parts. Narrow span intervals (~50m) coupled with tension much higher than common ropeway allow for low sag, permitting high speed operation.
The string attachments are fixed and there is no tensioning system. The steel thermal expansion over the seasons is absorbed by the modification of the tension stress in the string. As such there are no junction gaps in the rail except for switches, which are built similarly to railway switches. According to inventors, the system can utilize the most direct possible route, but it is possible to create curves by using intermediate supports which locally replace the string with steel structures.[citation needed]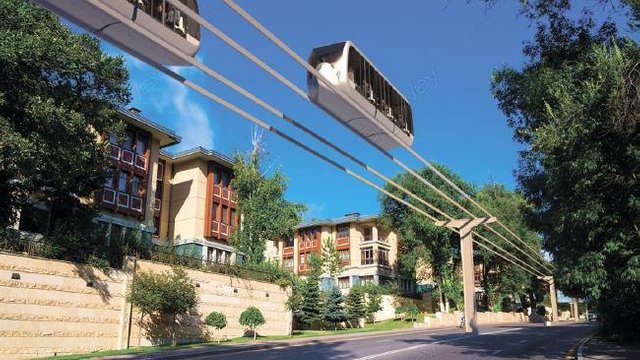 Fatigue handling of the rail, which is an integral part of the string is being studied. As for pre- or post-tensioned beams mixing steel and concrete, fatigue studies are also being carried out. The designer proposes low overall fatigue, considering that the variation of the string tension due to vehicle weight is relatively low.
More information u can get on the oficial site -
http://rsw-systems.com/