Just wanted to give a big shout out to everybody for all your support today and helping to get the word out about the cointelegraph interview being published. In case you missed it these are the links relating to the main publication.
Its been a stressfull few days believe it or not, knowing that a good part of the Spanish bitcoin community is going to be reading what you have to say about Steemit was quite scary, I didnt want to screw this up and I hope that I managed to represent our interests the best way possible.
Its been  a busy day of replying to comments, receiving messages all day from bitcoiners all over and making sure that I retweeted 50 times just in case... :)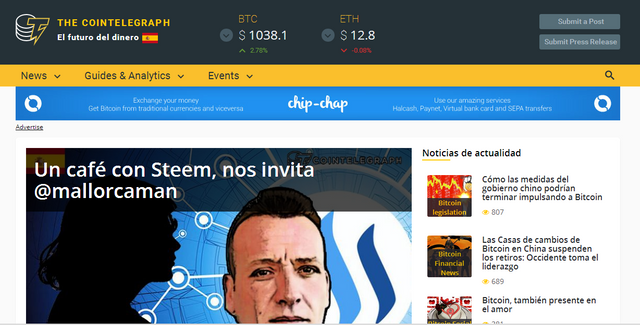 The title of the article : A coffee with Steem mallorcaman is buying
After today I got a whole schedule of people who I have to speak to about Steemit, If I was busy before imagine now!
Also and I know this sounds a bit silly, but I have dreamed about getting a cointelegraph image for as long back as I can remember, if you had told me this was going to happen a week ago I would have laughed in your face!
Good night Steemit!