Steemit Community Charity Initiative - Raising Donations For Scarlett's Battle With Neuroblastoma | My Challenge: 50 Press-ups 50 Sit-ups 50 Squat-Kicks For 5 Days - DAY 1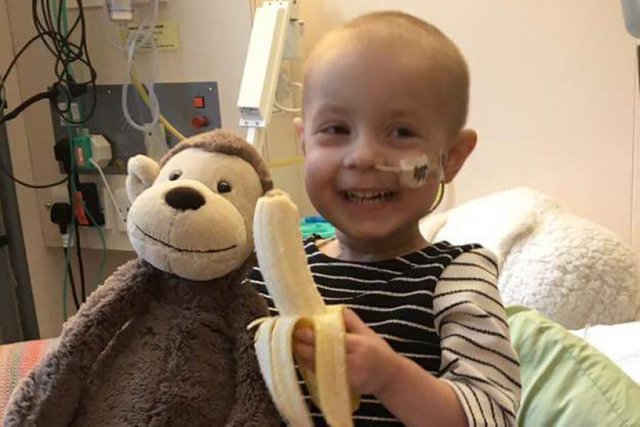 I decided to start another Steemit Community Charity Initiative. This time for little Scarlett's battle with Neuroblastoma.
ALL Steem Dollars and Steem raised from this campaign will be donated to Scarlett's cause.
Scarlett urgently needs to raise money for the treatment for immunotherapy that can cost at least £400,000. I do not know Scarlett personally but her appeal broke my heart, so I wanted to try to raise some funds for her case.
The campaign has been there for last 6 months so far has raised about 10% of the amount.
This time I also decided to challenge myself for the cause. I did not want to ask for help while not doing anything myself, so I am going to do 50 press-ups 50 sit-ups and 50 squat-kicks for 5 continuous days.
My Day 1 video is posted in the end of this post.
Scarlett's campaign is posted here on gofundme.com.
Here is what it says:
Our names are Andrea and Jamie Gray, we're the proud parents of a brave 3 year old little girl, Scarlett. We NEED to raise funds for life saving treatment .

Below is a basic overview of the last 8 months, in total, 20 days of which have been spent in our family home, the rest of the eight months have been spent in hospital.

Aug 2015: Scarlett was diagnosed with Neuroblastoma Stage 4 , an extremely aggressive, rare childhood cancer. We were able to enroll Scarlett onto a clinical trial within the NHS that would ensure access to the latest treatment (within the UK) in tackling 'High Risk Neuroblastoma'.

Aug 2015-Jan 2016: (Induction phase) This was the start of an incredibly intense journey. Seven rounds of aggressive chemotherapy were given to Scarlett over the course of 6 months. She suffered so much throughout, continuous infusions of morphine and ketamine helped with pain management, she has suffered countless infections due to the lack of immune system, a wide array of antibiotics have been employed to manage each infection until Scarlett's immune system recovers. Needless to say, this period was extremely difficult. Tests and scans throughout this process monitored Scarlett's progress. Scarlett's little body didn't have much time to recover from each chemo before the next round was due. This consistently knocked her back and made the progressive rounds of chemo tougher and tougher. The result of which has seen the bug, C.diff thrive, heart failure, colitis and countless days battling mucositis (a truly awful side effect from chemo). Scarlett regularly receives nutrition through her veins as she's unable to tolerate oral food or feed via her NG tube - each comes with its added complexities.

Feb 16: After completion of the induction phase, we received information that Scarlett was able to advance to the next stage, surgery. We were transferred to London for the operation. The aim of this was to remove as much of the primary tumor as possible, sized at 10x8cm. (wrapped around major arteries).
The surgery took 8 hours, the longest 8 hours of our lives. Every minute of that day was painstakingly difficult. After a day's worth coffee fueled corridor pacing, we finally got to see our beautiful daughter again. Only 30% of the tumor could be removed, more importantly though, she made it though the operation. However, she was almost unrecognisable. She was incredibly swollen and puffy, so much so she couldn't even open her eyes, tubes and wires were everywhere! This was heartbreaking to see, yet at the same time we had an overwhelming sense of relief that our daughter was alive and made it though such a dangerous surgery.

Feb – Apr 2016: Post operative complications! This has held Scarlett back, chylous ascites ; a build up of lymphatic fluid within peritoneal cavity (stomach) as a result of disruption to the lymphatic system in surgery.
This added complication has resulted in further surgery to reduce symptoms of rapid breathing and shortening of breath (a drain was inserted). Further surgical intervention is now needed in the form of a 'shunt' to redirect the fluid back around her body.
The clinical trial we have mentioned above had a strict time line to follow. Due to this additional complication, Scarlett no longer has direct access to the clinical trial immunotherapy phase. We're in the process researching every avenue we can find, ensuring Scarlett receives the treatment she deserves and so desperately needs.

To that end, WE NEED YOUR HELP. Immunotherapy treatment is the difference between a 45% survival rate from this terrible childhood cancer, boosting our hopes up to 65%. This is so incredibly important to us. Unfortunately, this treatment comes at a price.

It's so sad when money can stand in the way of our daughter receiving treatment that could save her life. She's 3 years old!
There 'could' be options open to Scarlett within the NHS to receive immunotherapy treatment, however this is NOT guaranteed.

How your donation would be used?

Private treatment for immunotherapy would cost up to, and exceeding £400,000. This would be the avenue we would NEED to utilise if further clinical trials for immunotherapy were not available to Scarlett.
If Scarlett is granted a placement on an additional trail (NHS) for the much needed immunotherapy, we would lock down the funds raised for 5 years. (The first 5 years after remission is the highest danger time for relapsing). Again, we would then utilise the saved funds so Scarlett would be able to receive the best treatment available.

Should we be lucky enough to no longer require the funds raised for immunotherapy, we will donate ALL of raised funds back into charities that have helped Scarlett and hopefully assist on the eradication of all childhood cancers.
This is our story to date (14 Apr 2016), Scarlett will receive high dose chemo and radiotherapy over the next few months. We don't have long. We need your help. Please. £400,000 is a massive target, we can't do it without YOU.

Thank you so much for taking the time to read Scarlett's battle with Neuroblastoma along with any donations that you have made. If you would like to keep up to date with Scarlett's battle, here is a (LINK) for you to follow.

---

Here is my first challenge video from today:

Pleaaaase, send donations directly to gofundme campaign or upvote this post.
I really appreciate all your generosity.
I will submit a receipt of donation in follow-up post.
Thank you!