Steemit and the Web of Trust: A Potential Love Story
Yesterday the Powers That Be posted the request for public commentary on the Steemit 2018 roadmap, their list of ideas that they would like to implement over the next year, enhancing both the steem block chain and the platform Steemit, itself.
From the position of a relative newcomer to Steemit, there are a number of issues which make it difficult to become an active and useful member of the community, from the relative paucity of on boarding process to a simple failure to speak to an essential question: "What can I do here that is meaningful?"
Meaningful Choices With Impact
That's a powerful question when applied to the areas of user interface and social media that I'm from, particularly as regards games. Sid Meier, one of the pioneers in video gaming and an extraordinary designer put it best and I'll paraphrase him here: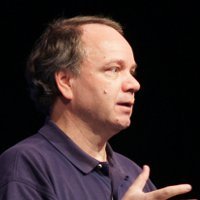 A good game is a series of meaningful choices made by a player.|
Note that these choices must be meaningful to that player, not just in the abstract. The results of those choices need to be clear and indicated in order for the player to feel as though they are receiving enough understanding to make a new cycle of good choices.
Social media architectures function under the same requirements. The user needs to know why they're there, what they come to do. They need to be able to affect the "world" (as defined by their visible interface) in meaningful ways which make it better for them. Their modes of interaction need to be flexible enough and sufficient in number that they can convey information to the system so that the system can provide them even more meaningful choices. This is the feedback loop that keeps people going to Twitter, going to Facebook, going to Google+ – that makes social media a real thing.
Getting Out of the Coin-Box
Which brings us, in a roundabout way, back to my comments of yesterday to the Steemit Powers That Be. I'll go ahead and quote that content here so that we have a basis to proceed on.
I'm going to go out of the box, way out of the box, and suggest an orthogonal technology:

We really need some sort of "web of trust" system which will give individual users more control over what they view and what they interact with on Steemit.

As an example:

I find someone that is a very good curator. I follow them. I get their content in the content that they think is good, and everything is aces.

I find someone who consistently produces absolute garbage. Maybe they're a bot. Maybe they're completely insane. Maybe our tastes are simply deeply divergent. I want to see less of them – but I don't have any way to tell the system that as far as I'm concerned they should be less often in a stream that I'm exposed to.

In a web of trust system I would invest some "trust" into the first person which would automatically distribute some amount of trust into the people that they trust, with the assumption that I consider their judgment good. I would invest some "distrust" or negative trust into the second person, and from my perspective that person and all of their trusted people would become less prevalent in my stream; they would evaluate as "less valuable."

And for the people who both of my targets share in common? They would be adjusted by the relative strength of trust/distrust moving through the network out away from me.

This would result in an orthogonal sorting mechanism, informed by chronology (because many people may have very similar trust levels from my perspective), but with content that I am most likely to want to see at the top and content that I am very unlikely to want to see at the bottom.

If I find a bot who keeps getting into my stream? Distrust it. It and all of the content that it touches becomes less valuable. I see less of it, naturally. People who trust me, because of the quality of my posts, or comments, or just good curation, likewise see less of it – because I distrusted it.

A good web of trust system would go hand-in-hand with the 2017 roadmap's increased focus on subset community building, because I don't necessarily trust everyone equally on every subject. That, however, is something that can be put in place after the basic handling of trust comes into being.

Maybe this is best handled as some other form of token currency which doesn't touch Steem, I leave that to others who have more experience with the block chain that myself. (I'm an old-school symbolic AI and computation guy, myself.)

This would solve a lot of problems that we are seeing with bots, spam, and pollution of the streams in general. It certainly something worth taking a look at.
Who Do You Trust?
Classically, the "Web of Trust" refers fairly specifically to something that predates the block chain but has certain similarities, the Pretty Good Privacy public key infrastructure. The idea being that keys existed in the world but you should only trust that you had a key associated with a specific entity if you can trust all the entities who were in possession of that key between you and the person of concern. Since it was essentially impossible to meet and verify every person/entity engaged with key signing, a certain level of trust was necessitated.
The question then: who do you trust? How much do you trust them? Is there an unbroken chain of people whom you trust, and the people that you trust trust, and so on back to the originating entity?
That's a big deal for distributed public key crypto without a central organizing body. And it worked. Not only did a large body of trusted intermediaries build itself up from individual actions but isolated islands of mutually trusting entities without contact with the main body also spontaneously arose, sometimes even intentionally, which defined trust pools.
Web of trust is a larger concept than that, however. The idea that by defining to a system what sources that you consider valuable and what sources that you consider value-destroying, then letting the influence of both sets spread out across a network of sources with the result being an ordering of all those sources, presumably based on a recognition of what you consider valuable and trustworthy – that's an important tool.
The Dawn of Time and Jaanix
Back in 2008, well before the social media landscape actually existed as you would recognize it now, there were people like myself working on the problem. One of the actual systems that got implemented and effected on the net was called Jaanix. (It no longer exists; take this as a fair-sky warning for folks pioneering in socmed.)
Mashable, Feb 27, 2008:
Jaanix is a new social bookmarking tool that offers you personalized recommendations based on your interaction with the site. It's kind of like Pandora's preference system being applied to a del.icio.us bookmarking service. What you get is a real-time look at the bookmarks in jaanix, according to your personal preferences.

You can add your own items, vote others' items up or down, tag and save items, and also leave comments. Individual users' bookmarks can be viewed, as well as those that have been recommended to you, based on your site activity. There are sliders that appear along the right-hand side of the site that let you change the filters for the current page in real time.

The top three sliders let you filter by recent and popular submissions, as well as by comments. The rest of the sliders let you filter by topic, so if you're looking at my submissions, you can narrow them down by various topics like art, math, funny, YouTube, or programming, to name a few.
3,545 days ago
I'm a founder of jaanix. Just a bit of background - jaanix is not a regular social news site. First of all everything is personalized - and not just by tweaking some settings or selecting your favorite tags, but in a machine learning way - the system tries to guess what you will like and acts accordingly. It uses implicit feedback too, so it tracks your clicks and tries to learn from it, but you can always see how it learned and what it thinks about you in the sliders.

[...]

The main purpose of the site is to let you find stuff that you will not find on other popularity based systems. I find stuff that is on the front page of digg or reddit almost 100% noise, at the same time, the posts that I care about are buried or ignored by the majority. jaanix is not a democracy, it is more of a trading place for links. Your reputation matters, your feedback matters, the quality of the links matters. In return jaanix will try to give you stories just for you.
It's interesting to look back on some of the commentary about Jaanix, and how much of it is talking about exactly the same issues that we see coming up in every other social media site since.
I was a regular user of Jaanix back in the day, ironically because I was a huge believer in the power of folksonomy – what evolved over the years into the modern concept of "tags" and seems to have found a place in every single possible facet of human/digital interaction. The web of trust ideas were nice, but not my interest. Eventually, because of the strong focus on folksonomy and the fact that it truly proved itself as an organizational tool, Jaanix went the way of so many of the strong social media precursors.
Web of trust never really got to play it deserved, and were living in a world shaped by the fact that people still believe that there is an identifiable quantum of "quality" in all things which merely needs the mob to see it and judge it, and that level of quality is quantifiable for everyone, all the time, forever. That's the basis of the idea that the blockchain can and will save the world by democratizing access to ideas, currencies, and media. "If only enough people see and judge and curate, the best stuff will float to the top and those creators will be justly rewarded."
Who Do You Trust And Who Trusts You?
It's an interesting idea, as far as it goes. But it is inherently authoritarian. It's inherently a top-down imposition of value on all who interact with a given architecture. It ignores the one thing that web of trust systems make central.
To wit: I don't trust you. You don't trust me. We have no reason to trust one another. You don't have any reason to trust my judgment in media and I don't have any reason to trust your judgment in media. You have no reason to trust that I will make things that you like. I have no reason to trust that you will make things that I like. And no matter how many other people that I don't know and don't trust decide that they like what you make or the decisions that you make about what's good – none of that is applicable to me.
The blockchain is a very good at imposing the will of the masses. It's extremely efficient at providing a marketplace within which individuals can trade for their own interests.
It's absolutely terrible at giving me what I want.
This is of huge importance to anyone who cares about the new user experience on Steemit (and more broadly the new user experience with cryptocurrency in general, but we'll leave that for an entirely other day).
Social Media Hinges On One Question -- Okay, Maybe Four
As a new user, the most important thing for me to know is "why should I be coming back?" What is it that I get out of visiting your community? Why should I come back tomorrow, or even later today? What meaningful decision will I make that will improve my experience after I've made it?
Steemit provides one possible response to those questions: "you have the chance to make (some) "money" if you create things other people vote up or if you vote up things people have just made and shared." And that's really it. We know that the new user on Steemit really has no power to affect the things that they are presented with; the fact is absolutely institutionalized in the very nomenclature used on the site. Steem Power. It's right there in the name. You are told you start with none except a little bit that's loaned to you and if you cultivate that tiny little bit just right and play to the lowest common denominator as hard as you can, maybe one day you can be a rich whale.
Is it really any wonder that most users who stay focus on creating effectively ephemeral, throwaway content which is intended to garner votes quickly, require little digestion, little attention span, and have little longtail value?
That's what we are encouraging. That's what the system of rewards actually rewards. There is no advantage for curators to look for content which has evergreen value. They will never get rewarded for surfacing content older than a week. If they care about the author being rewarded they have under 30 minutes to find the content and upvote it.
We get what we reward, and only that.
I don't have the numbers from the site, but I wouldn't be surprised if 90% of new users who come by Steemit bounce off in the first day or two and go do something that's actually more rewarding, like post to Facebook or Twitter or Google+. Or anywhere, really, where there are enough people that the network effect is strong and they can actually get ahead of gratification for reaching an audience they're interested in.
Enter the Web of Trust
Web of trust provides a mechanism for new users and long extant users to interact with the system, interact with the community, and actually get meaningful advantage, meaningful effect, personal gratification, from the meaningful choices that they make, every time they come and interact with the site. In some sense it could operate as an orthogonal axis of scoring, along with Reputation and Steem Power, except that it is an inverse relationship with the greater world. While the steem token economy exists as a pool of power external to the user which they are vying to get more of, Trust (which we'll use a capitalized form of to refer to trust-as-a-resource) is vested first in the user and intentionally spread outwards in the form of a directed graph which distributes Trust away into a broader network. Users and user-like entities acquire Trust for downstream distribution naturally, simply by existing and through being trusted mechanically by others.
The ultimate intended result is for there to be another metric for content to be presented to a user, ordered both by Steem Reputation and by amount of Trust from the user and those whom the user has trusted, diminishing as you go down the chain of Trust between user and media.
I get the feeling that some diagrams might be useful.
Sample Universe (With Porn)
Let's start with a very constrained universe. We have four Users and four Media postings. They exist independently of each other in the world, in a state of discovery flux. Some Users have posted content (marked by black arrows). Alice has posted porn, Bob posted a picture of his dog, Carl has posted that he's selling Steem and a music video he's liked, and Dougie is just surfing for cool stuff.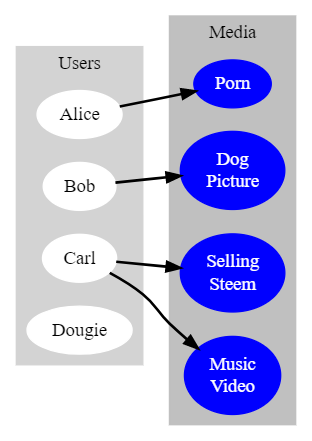 Now, no one trusts anyone to any particular degree at this point so the universe of Media elements is presented to everyone in an effectively arbitrary order (randomly or reverse chronologically are the usual suspects).
Dougie is reading along and he really likes Carl's music video, so he pops some Trust on him. He also likes Alice's porn (maybe it's homemade), so again, pops her some Trust.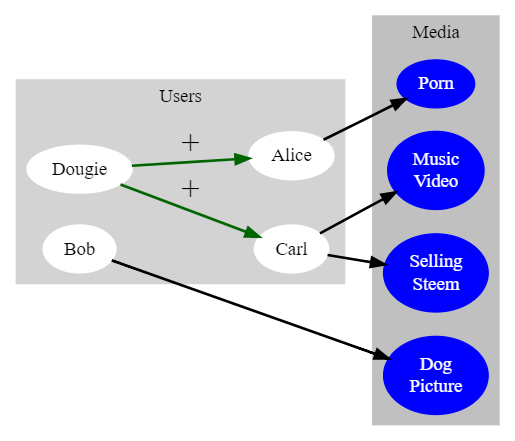 Now Bob comes along. Since Bob has no web of trust connections, we present the content to him just as we did to Alice (with the same arbitrary ordering). We could just as easily order by overall inherited Trust but in the long run that's not a winning strategy because it breaks the agency of the individual model.
Bob loves Alice's porn, so he kicks up her Trust. But Bob is a hardcore anti-capitalist who opposes trade on general principles, so he dings Carl's Trust from his perspective.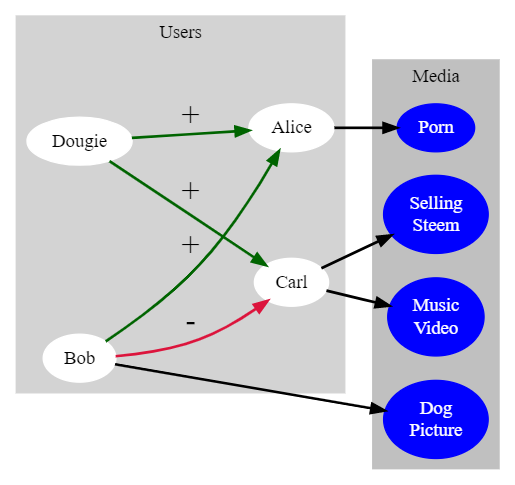 Here comes Carl. He doesn't have any extant web of trust connections so he, too, is presented with an arbitrarily ordered list of Media elements. Carl, though, hates everyone and everything except trying to pump up his own relative value, so he disTrusts everyone he sees.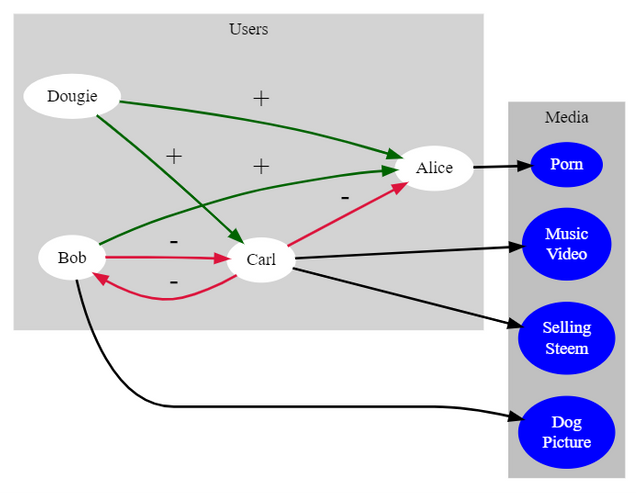 Alice drops by to skim for stuff and she's really into Bob's dog picture, so bumps his Trust. Nothing else really appeals to her, so that's her only bump or cut.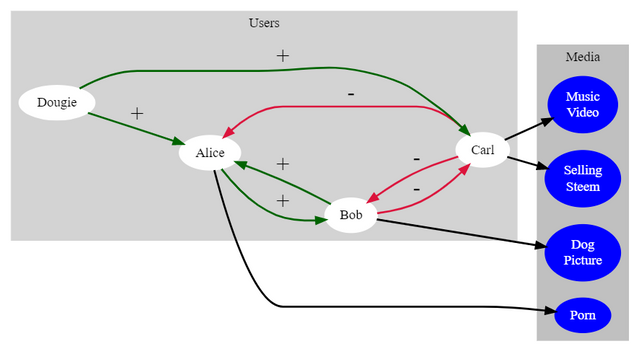 Day Two, Dawning Blue
An arbitrary day passes. Some people post new things. Alice posts more porn. Bob posts a cat meme and a screed against capitalism. Dougie gets bold and posts a long and complicated article about web of trust systems.
Things are starting to get a little complicated, but bear with me.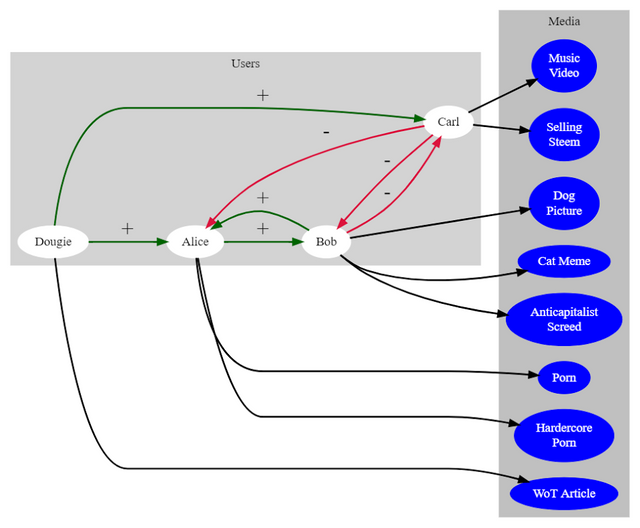 Bob comes back to check out the day's wonders.
Now we get to talk about presentation order. Bob has bumped up his view of Alice's goodies but told us he doesn't trust Carl to be providing good content for him. Thus Alice's posts are bumped toward the top and Carl's are pushed down the stack. For the sake of argument, we'll assume that the arbitrary ordering is reverse chronological because it makes things easy to recognize. Bob also doesn't see his own posts; that'd be silly.
From Bob's point of view, here's the Media order:
Alice's Hardercore Porn
Dougie's Web of Trust Article
Alice's Porn (seen)
Carl's Music Video (seen)
Carl's Selling Steem (seen)
The stuff he's most interested in seeing has lifted to the top.
Bob decides he really likes Alice's porn and pops her another bump of Trust. That's two boosts for Alice from Bob. That's the only nudge he makes.
Carl logs in. Because Carl has only given negative Trust and that equally to everyone, the arbitrary order is the only ordering pressure on the Media. He sees:
Alice's Hardercore Porn
Bob's Cat Meme
Bob's Anticapitalist Screed
Dougie's Web of Trust Article
Alice's Porn (seen)
Bob's Dog Picture (seen)
He decides he really just hates everyone again, but despises Alice's sex-positive flesh-trade most of all and dings her Trust. Now he's double uninterested in Alice's goodies. If he dinged everyone again, there'd be no real impact to his overall Trust distribution. Only relative differences are meaningful. (In that sense, dinging everyone on Day One wasn't actually helpful or useful, but Carl's kind of a douche. It wouldn't have even been necessary to enter it into the database, given it applied to all members.)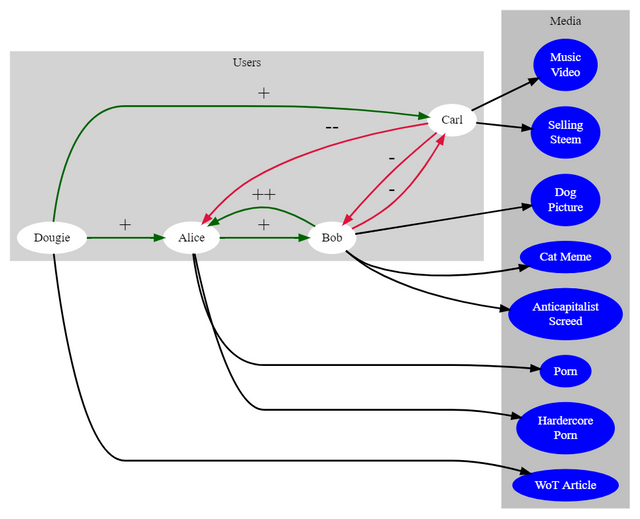 Alice comes to check out the new hotness. The only meaningful Trust relationship she has is with Bob, so the Media presentation for her is relatively simple, too:
Bob's Cat Meme
Bob's Anticapitalist Screed
Dougie's Web of Trust Article
Bob's Dog Picture (seen)
Carl's Music Video (seen)
Carl's Selling Steem (seen)
Again, the things she's interested in float to the top.
Alice decides she likes the cut of Dougie's jib, so bumps his Trust, but Bob's rant was just too off-putting for someone that makes their living selling a desirable product to willing consumers so she reluctantly cuts her Trust. Because it's only one bump, it dissolves entirely. Carl's music video grows on her so she bumps his Trust up, too.
It's getting a little messy, so let's change up the style of presentation.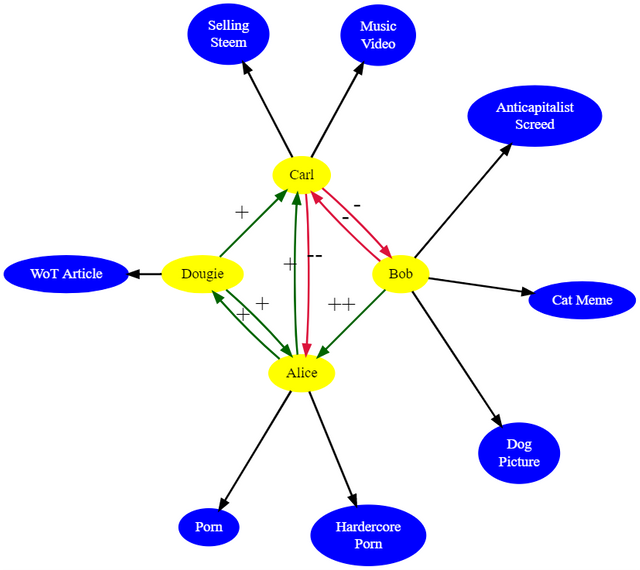 Here comes Dougie. This is the first time the issue of inherited Trust comes up, and it's a big deal. He has a positive Trust relationship with Alice and Carl, while Alice also has a positive Trust relationship with Carl. That means that Carl is actually most Trusted to be providing the best content at the moment.
Here's Dougie's ordering:
Alice's Hardercore Porn
Bob's Cat Meme
Bob's Anticapitalist Screed
Carl's Music Video (seen)
Carl's Selling Steem (seen)
Alice's Porn (seen)
Bob's Dog Picture (seen)
If Carl had posted something in Day 2, it would have been at the top of Dougie's reading list. As is, it did percolate to the top of the Day 1 list, and if he'd not actually seen it then, he might see it now.
Dougie decides he really prefers Alice's naked-time to Bob's ranting so increases her Trust and decreases Bob's.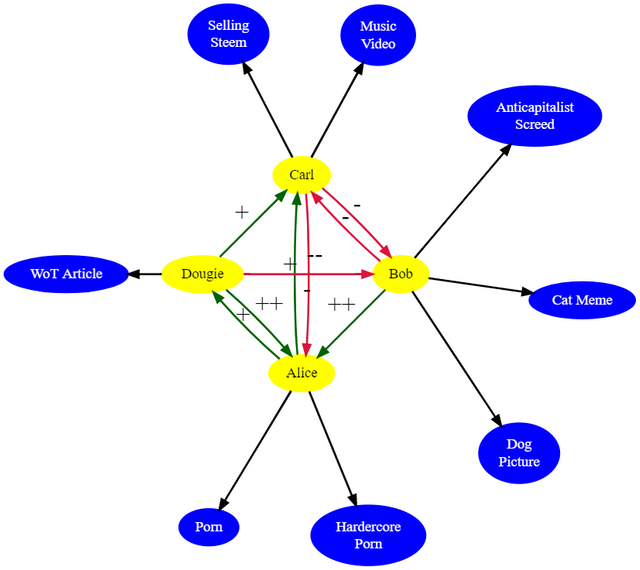 At the end of Day 2, that's how the Trust relationships stand. Alice is the most Trusted to provide good content and Carl the least -- but that doesn't matter to any individual's view of the content. In fact, nothing globally matters to the individuated view of the universe of Media. Almost every action by an individual user has a direct impact on their experience in an observable manner.
Zed's Not Dead
Let's on-board a new user. Meet Zed. He's a friend of Dougie. Because he comes on knowing Dougie, he has an established Trust relationship when he starts, with all that implies about an established web of trust. Because Zed doesn't have any other ties, even though Dougie's influence is diminished, in absolute terms it's identical. They're friends, they probably like similar things.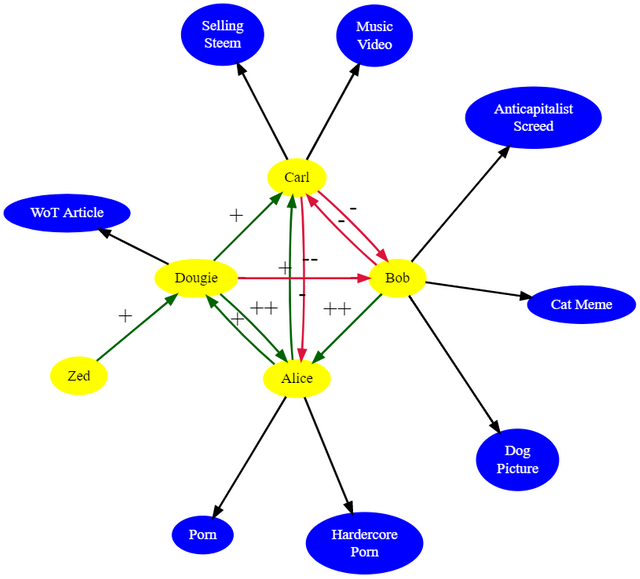 Zed's initial view of the Media universe is the same as Dougie's, the same ordering. But after he joins up, Zed decides that Bob's cat memes and dog memes are cooler than his screeds are annoying and he bumps his Trust. Things are now somewhat different.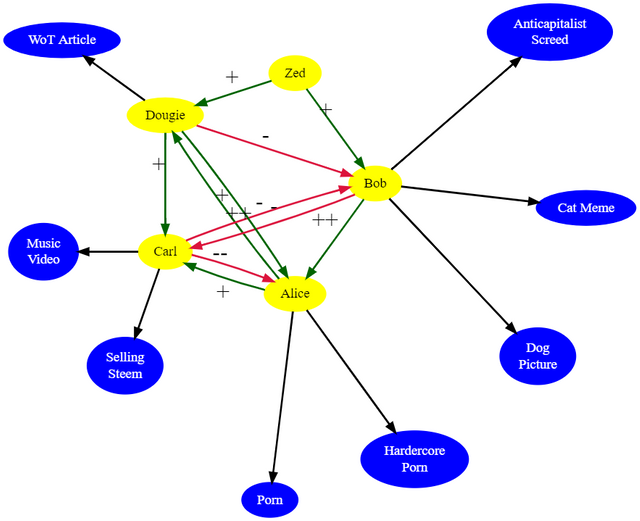 Let's consider the network from Zed's position alone, tracing the links.
Dougie has a full Trust.
Bob has a full Trust.
Carl has a an inherited Trust.
Alice has an inherited Trust.
Bob has an inherited negative Trust!
Alice has a 2nd order double-negative Trust!
Bob has a 2nd order negative Trust.
... You know what? Walking a directed cyclic graph by hand is kind of a pain. Let it suffice to say that computers are far faster and better at doing these things than humans, along with having far better methods of doing so than a straight walk, including cell-based spreading energy activation networks and so on.
Do Androids Dream of Electric Trust?
Nothing says that all of the participants in the web of trust network need to even be humans. Any arbitrary entity which is capable of being associated with Media can be a member of the web of trust. Imagine a software agent representing a particular tag or taxonomic cluster which users submit content to as they post it and which likewise links to that Media. Ascribing positive Trust to that agent would mean that content submitted to it would naturally be presented before other content. Likewise, ascribing negative Trust of that agent would mean that content would be de-prioritized.
This naturally suggests bots could be a useful part of the web of trust ecosystem, as long as some user finds them useful. It also means that bots which individual users don't find useful, either because they don't actually link to good content or because someone just hates bots, don't actually have the opportunity to be disruptive for long.
Consider the degenerate situation in which an entire swarm of bots attempts to subvert the web of trust by Trusting each other. Until and unless a user Trusts one of them, they can remain an isolated mutual appreciation society forever. Their only impact is that they consume some resources doing whatever they do, interacting with the rest of the network. Should people deliberately adjust their Trust of one of these isolated bot island members, this too is self adjusting and self-correcting. If even a significant minority of the user base distrusts the bots, they all have significantly more difficulty getting their content seen.
Not Quite Square-Cube Law
The most important factor to keep in mind is that every step away from a primary Trust contact reduces the impact of that user's Trust contacts. The Law of Diminishing Returns guarantees that as long as we bail out of the recursive descent when changes become incrementally small, we don't get stuck in an infinite regress. (Again, recursive descent is probably not the ideal algorithm for calculating the result but it's useful for discussion as the most brute force method of getting results. A flood filling algorithm might be the second most brute force method of getting results.)
There are two incredibly important issues that a web of trust solves which currency-based solutions simply cannot:
Every user receives an experience which is customized to their needs and desires. Their choices make an immediate and notable change to the environment.

Because new users can rapidly hook into the web of trust and began getting results which are incrementally better the more they engage with the system, on-boarding is easy to communicate and self-sustaining.
I referred to arbitrary ordering of Media content for presentation rather than something particularly specific because that arbitrary ordering could be replaced by anything – including Steem Power or Steem Reputation. Web of trust systems can sit over cryptocurrency solutions and provide an orthogonal layer of individual presentation.
Conclusive Conclusions
The current organization and presentation of Steemit is providing a serious hindrance to the growth and intensity of the community. The current focus on "working the system" in order to maximize income rather than working to get compelling content in front of users with the reward system being a helpful adjunct is actively toxic.
Something has to give.
Steemit has an opportunity to get in front of the problem and do something more than other social networks are able to achieve. The tools and the expertise are there. They simply need to be employed.
As always, every problem is an opportunity for those willing to put in the work.
---
(Thanks go out to @illuminaughti on Steemit.chat for her inspiration and guidance in motivating this article and to Joe Petviashvili, original creator of Jaanix.)