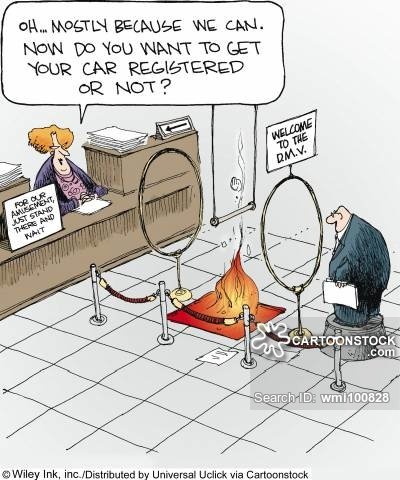 Ok, so I do not usually (ever!) rant on anything but here we go! I am putting this out there as I am certain it will interest (hopefully somehow benefit) a future party in this multiverse who is financing a move to Pennsylvania!
So we all know the level of frustration (incompetence?) when we visit the %$#@! DMV . . . I moved here 6 weeks ago and have been there FOUR times - way over-prepared mind you.....and every single time the angry ____ lady has concocted a reason to flatly deny me. Of course the lady could not make out my name on the insurance card so I literally had to email that to her on my phone - hey have you tried connecting to the internet lately inside the DMV?! Crazy.
I wanted a personalized plate that said "____-___" . . . but that would have cost me an add'l $79! Anally...err, I mean annually!!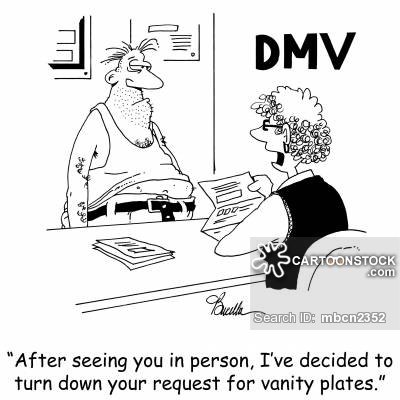 The final hurdle (I thought) was proof of purchase that I have owned my vehicle more than six months.
Well I had left the bill of sale back in North Carolina where I moved from so you can imagine the debacle obtaining that. PA desperately wanted to double tax me on something I was already double taxed on!
You see, in North Carolina you pay sales tax to the car dealer then they turn around and demand 'property' tax (which they categorize a vehicle to be) when you register, amidst a bevy of other non-refundable or properly prorated fees...
So take a LQQK at my receipt today - ONE HUNDRED TWENTY DOLLARS to register my car for a year in PA - the lady had the nerve to offer me the option of paying an extra year in advance for a $5 "discount"!
"Title Fee": $53 (unexplained)
"Lien Fee": $25 (unexplained)
"Registration or Processing Fee": $37 (unexplained - but thanks for the option!)
"County Fee": $5 (whelp. You know they gotta get theirs . . .)
Total (1 yr): $120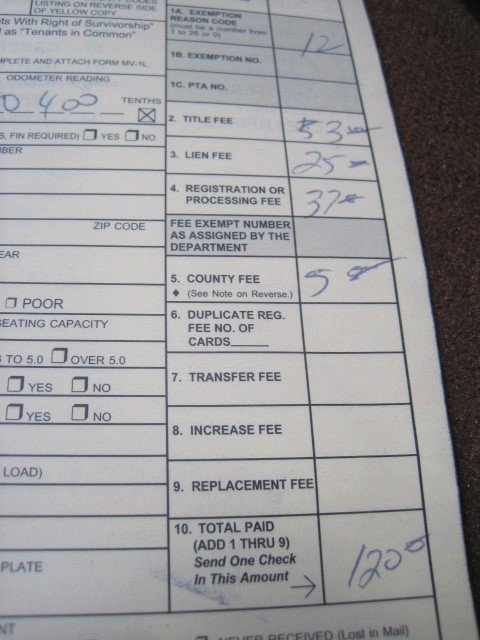 What is the world coming to . . . . Lord save us!
Thanks for listening . . . (upvoting and re-steeming!) lol

I Still Love Y.O.U. - And Everyone In This World! Even Those R@t-B@st@rd Dummies @ DMV !! HA