10,000 Upvotes For Y.O.U.! Thank You @steemitboard !!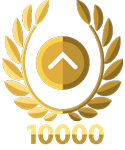 Hi!! A celebration here and 'Thank You' to @steemitboard for helping this self-professed; "world's biggest ~crypto-dummie" enjoy and participate on this platform in some small way over the past TWO joyous years!
It's been TEN THOUSAND Upvotes later and I know mine is still worth but a single lonelie .01 pennie but I'm workin' on it and will continue to Upvote you ALL and thank you for your support! (every comment here gets my Upvote - you get an Upvote! And You get an Upvote! And Y.O.U. get an Upvote!!!)
Why is that you may ask?! All who know me know the answer . . . .
Because every one of you is
♥¸.•°"˜˜"°•.✫ B★E★A★U★T★I★F★U★L ✫!¸.•°"˜˜"°•.♥
and... I Love Y.O.U. and Everyone In This World !!!
Thank you and now go make a person happy happy happy today !!
~ Always your brother



https://steemitboard.com
STEEMIT Tools:
Steem Voter Bot- https://steemvoter.com/
Steem Help- https://www.steemithelp.net/
Steem Welcome- https://steemit.com/welcome#Upvotes
Steem Whales- http://steemwhales.com/?p=1&s=reputation
Steem Payouts- https://steemviz.com/pendingpayouts
Steen Emojis- https://steemit.com/emojis/@blueorgy/steemit-emojis-master-list