International Women's Day and the ladies I'm following on Steemit!
Hey, Steemit! It's a balmy 35º here in Minneapolis. I spent the morning snow blowing our most recent accumulation off the sidewalks […in March!], and now I'm at @caffetto for the duration of the evening. Hopefully enough time for a round up of editing, drawing and Magic: The Gathering. I've been on the receiving end of some @tarotbyfergus beatings in Modern, but I'm feeling a shift tonight. 
I'm only 200 followers from a 4,000 follower milestone. I've been on Steemit for just over two years. Not "…the first", but at the scale Steemit has grown since it's launch, I'd say I'm in the earliest 10%. A long time ago, I did a few "Steemit ambassador" posts and I thought this would be an appropriate time for an International Women's Day edition. The female Steemians that bring art, thought, strength and perspective to my feed.
Prior to ten of my favorite female Steemit users […in no particular order], I want to take a moment to soap box as a male in a predominantly male space. Almost two years ago, I brought friends to Steemit in droves, both men and women alike. The women that joined endured some trolling in almost every occasion […on the internet, no way!]. By the time this post concludes, you'll see a snapshot of just a small percentile of the value these talented ladies bring to Steemit.
If you, reading this, are a male, it is your job to support and encourage our Steemit sisters to stay, post and prosper…like we do. Over the last year, I've noticed less misogyny. Maybe that's because of an increasingly effective flag system, or maybe I'm just being optimistic, somewhat ignorant to the misogyny that does go on because it's not directed at me, but I "hope" women feel comfortable being here and that we, as the men of Steemit, are doing our part to ensure that to be true.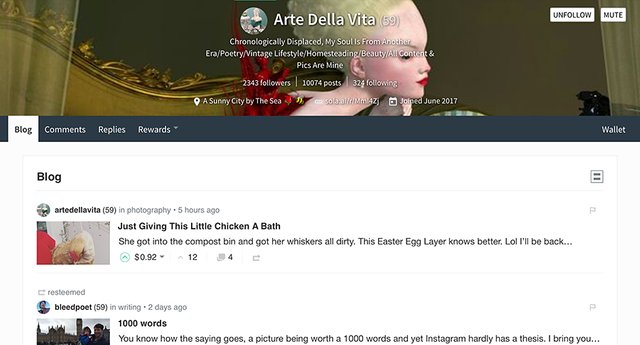 @artedellavita has become the subject of great attention within our @caffetto circle, which is impressive considering she isn't a Minnesotan. She has a gravitational field of influence that'll pull one of us from our MTG games with a comment like "WHOA! @artedellavita just made a post!", followed by all of our phones coming out and scrambling to her page. She captures her beauty in selfies, her heart in poetry and we're all privileged for everything she's willing to share.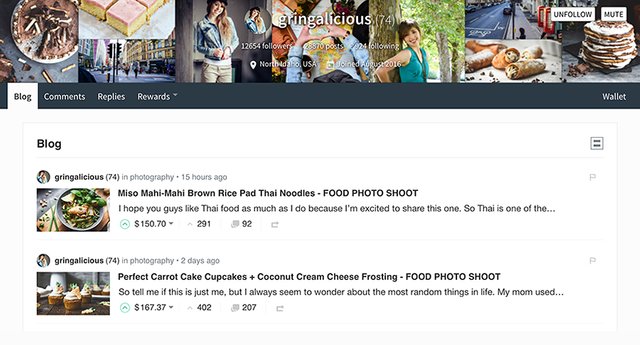 @gringalicous was one of my earliest follows here on Steemit. In fact, I can remember a time when my list of followers was @gringalicous, @thecryptofiend, @mada, @lovejoy, @pfunk and about 10 others. We were both little baby Steemians and her rise throughout the blockchain has truly been inspiring. Currently, a 74 reputation with over 12K followers, and a tireless, prolific artist. Her food posts have become one of the crowning jewels of Steemit and an example for all of us that if you're passionate, consistent and kind, there is no limit to the heights you can reach here.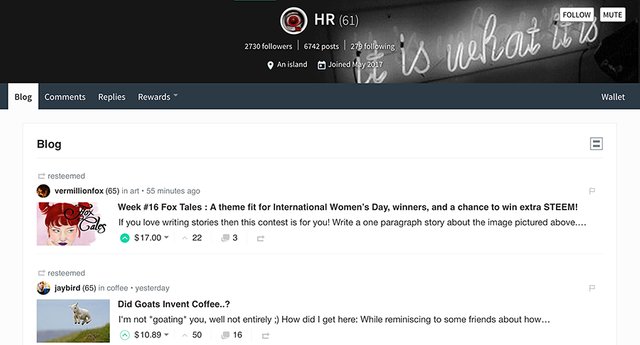 @artwatch has become one of my favorite accounts to follow here. She is a ferocious, liberated, talented artist and writer, completely in touch and in control of her sexuality. She is an example to women joining Steemit that sex isn't something to be embarrassed or ashamed of. Sexuality can be shared as little or as much as you feel comfortable with and what is shared can be done unapologetically. I love her initiatives to keep smut alive on the blockchain, her participation in art and writing challenges, sponsorship and support of others' contests. Honestly, I don't know how she finds the time, talent and inspiration to do it all, but Steemit would be a very boring place without @artwatch!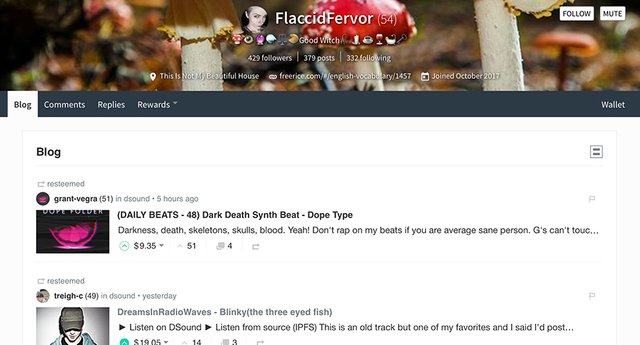 @flaccidfervor is part of our @caffetto family. I've known her for several years and life iterations. What I didn't know, until recently, is just how much of a brilliant geek she is! Just over a year ago, @tarotbyfergus mentioned that @flaccidfervor was an avid MTG player. Cue several games of getting my ass kicked with her "Evolve" deck. More recently, she introduced me to @ginabot, which has infinitely improved my Steemit experience. Lastly, if I may continue my @flaccidfervor endorsement, she has incredibly eclectic taste in music. Other than the owner of @caffetto, she is easily the most frequented person I approach and ask what song is playing because it's too obscure for Shazam, but too good to let disappear in to the ether.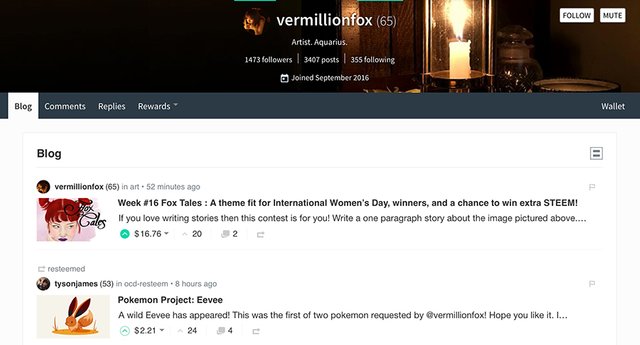 @vermillionfox is my sweetheart! I could do an entire post several times the length of this one about how much she betters and enriches my life. She joined Steemit a few months after me and I encouraged her to use our community to grow her art. Over the last year and a half, I've watched her develop in to a sound, unique artist with her own voice. During those nights I crash on the couch and spin through my Steemit feed, @vermillionfox's work immediately stands out, even without seeing her name of knowing whether or not she's made a post. Her exponential growth as an artist constantly wants to make me pursue my own goals as an illustrator. She's also brought her beauty and sensuality to Steemit with photo series like "Musings" and "More I Less". I'm absolutely biased, but @vermillionfox is one best representations of how impactful and important a woman's contribution to Steemit can be.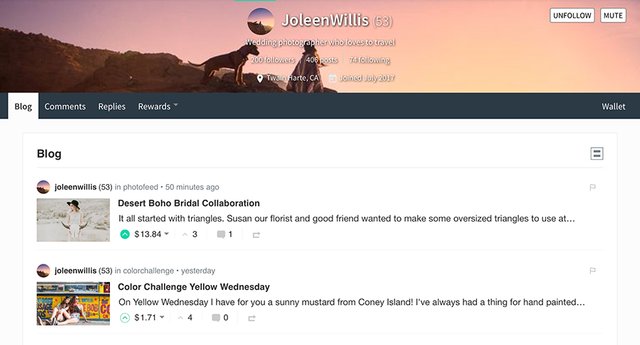 @joleenwillis was brought to my attention courtesy of my brother @customnature. She'd photographed his wedding in Iceland and, as a photographer, I was in awe of her raw talent and voice in the images. She's been here just a couple months, but I've already seen her show up multiple photo contest awards. I always save some voting power for @joleenwillis and you should follow her to bring more art and color in to your Steemit feed.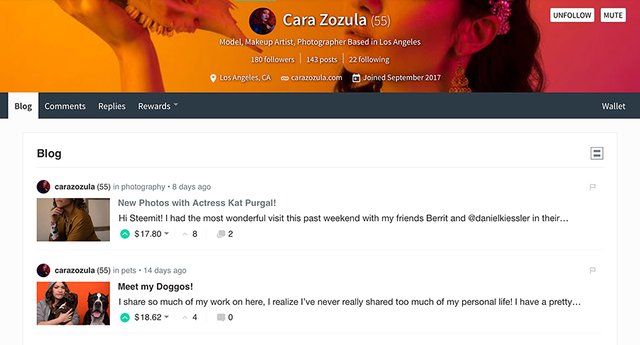 @carazozula and I go back to my first days in LA. Way back to 2013. We'd become Instagram pals and after years of chatting, we overcame the social network times and met in real life during one of my many west coast trips. She is entirely a full spectrum artist. Someone that can illustrate, animate, do make-up and hair, photography, model and edit her own imagery. I urged @carazozula to join Steemit and after a cryptocurrency crash course at our friend Berrit and @danielkiessler's, she full committed and has been posting her brilliant work regularly.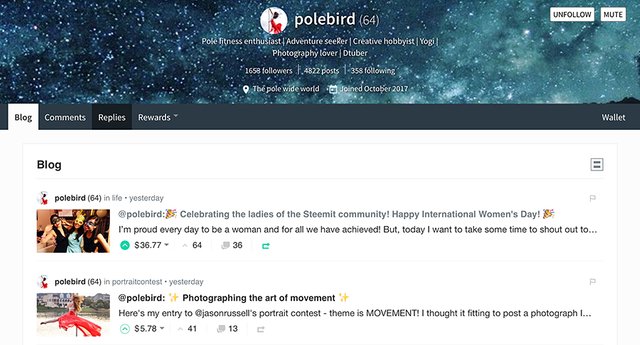 @polebird to best honest, I have no personal interest in yoga or pole-dancing. That is what makes @polebird so special. From day one, she has been kind, thoughtful and sincere in her posts and comments. It is through her sheer commitment and investment in our community, I've suddenly found a deeper appreciation for art, strength and passion. If Steemit was created to foster positive relationships and engagements with new people and their lifestyles, @polebird is the quintessential Steemian that embodies those values.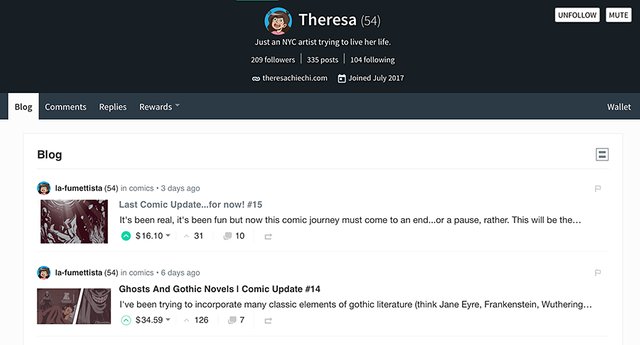 I stumbled across @la-fumettista's work during her various comic collaborations @drwatson. As I've mentioned on several occasions, my dream job is to be a comic book artist. @la-fumettista's illustration, style and storyteller have become regular inspiration for my own crypto-comic. The art of comic book design is one of my most respected, elusive mediums because it requires so many talents to achieve an effective story or page. I would go out on a limb and say that @la-fumettista is currently the best sequential artist on Steemit […in my humble opinion]. As a comic enthusiast, I am so glad to have her here.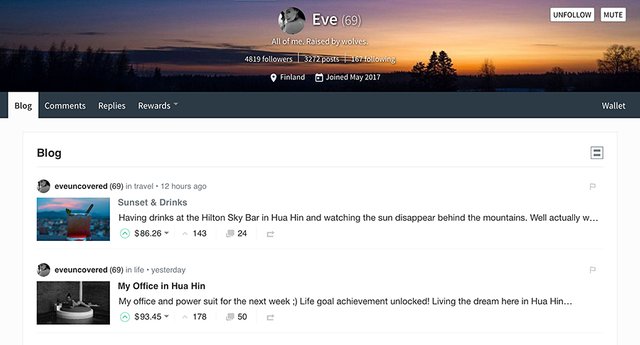 @eveuncovered is a force of nature. I could gush for pages about her invaluable worth to Steemit. I discovered her shortly after one of her first posts and immediately said "…you are going to be HUGE here!". She is! Her art, her body and her mind are uniquely "@eveuncovered". A thoughtful, complex and intoxicating woman who's commanding presence and creativity have launched her in to the "Who's Who" of the elite Steemit alumni. In the years to come, @eveuncovered will be known as one of only a few women that lead by example in demonstrating the power of an intelligent, creative and beautiful woman on Steemit. 
Thanks for reading! I post often. Even with the crypto-market is in complete pandemonium [currently]. For more thoughts on life and Steemit, photography, art and comics, follow me here @kommienezuspadt.