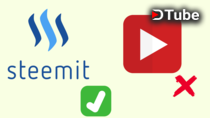 ---
Steemit is an exciting new application to social media that not only rewards the Content Creators, but also the viewers as well. YouTube has had a monopoly for far too long and its algorithms for trending videos as well as monetization have been severely flawed. Consider the Logan Paul suicide video. The video was trending at first, was upvoted by 500k people, and was essentially rewarded with YouTubes algorithm. With such a clear bias for certain content creators, Steemit is like a breath of fresh air.
Steemit is a true free market and allows for true democratic popularity. The power is in the user, not the advertisers. The platform is decentralized, meaning that there is no censorship or advertisements. This allows creators and viewers alike to produce any content they desire without fears of being demonetized or flagged for "inappropriate" content. Steemit also rewards the viewers with curation rewards based on how engaged the viewer is. In this kind of atmosphere, Steemit is a freer, more profitable YouTube.
This is why I have decided to take Steemit more seriously and will begin to build up my Steemit profile to encourage others to adopt this technology and also teach them how to thrive from it.
Subscribe to my channel for more daily content and analysis!
---
▶️ DTube
▶️ IPFS