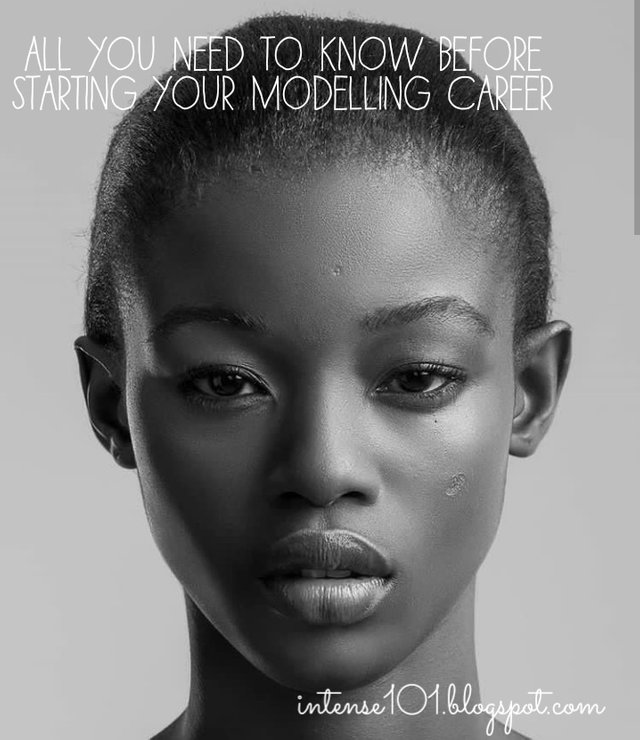 Do you dream of becoming the next Gigi Hadid or Mayowa Nicholas, gracing the cover of Vogue?
You'll need a lot more than just a pretty face if you desire to be a model.
Modeling as a career has become a much vaunted choice now with thousands of aspirants chasing the dream of becoming the next super model.
Although some people are fortunate enough to be plucked out of shopping mall crowds by scouting agencies, most aspiring models need to work hard to get themselves noticed by agencies and clients.
Becoming a model now involves discipline, perseverance and effort. You need a plan, you need to prepare and follow a strategy to stand out and get noticed.
Here's all you need to start your Modeling Career in the right way and aim for success:
Qualities
Apart from having the right look, aspiring models need to have a certain set of qualities to make it in the Fashion Industry.
Good people skills: Models need to make a good impression on a wide range of people as part of their work, so you'll need to be polite, prompt, professional, disciplined and respectful to progress in the industry.

Confidence: Confidence is one of the most important qualities of a model. As a model you'll meet a lot a top personas, standing in front of casting directors alone isn't an easy thing. You'll have to have at least an average level of self-confidence to walk the runway (especially in bikini) and be in front of a camera.
There's no need to be scared if you're the shy type, you'll get a lot of praises from your agency that'll boost your self-confidence.
You need to be organised: you'll need to be able to arrange photo calls, interviews, and travel schedule when you're working out.
You'll also need to be photogenic. If you freeze up in front of camera, no matter how attractive you are, your career won't be going very far. It is important to learn how to be relaxed and comfortable in front of the camera.
You also need to be smart, hardworking, patience, slow to anger, flexible and able to embrace rejection.
Get a stunning modeling portfolio
Your modeling portfolio is the first thing that agencies and client will look at, and it's important to make a great first impression.
All aspiring models need to have a portfolio of photos that showcases their range.
This doesn't have to cost a fortune, it's advisable to take natural shots because natural photos, without makeup or edits, provides the best indication of a model's potential.
Don't fall for scams from fake firms offering to build you a wining portfolio in exchange for large sums of money.
"The basis of a good book should show a model who is comfortable in front of the camera, one who has a range of expression and movements." Aaron Newbill, Director of scouting at Ford Models, once told Marie Claire Magazine.
It helps to have both an online version (your modeling portfolio website) that you can send to anyone via email, and a printed version that you can show when you meet people face to face.
Find the right Modeling Agency
Every fashion model needs a Modeling Agency.
The first step to get signed by a Modeling Agency is to get seen by a Modeling agency. Getting signed requires a very simple submission: snapshots of yourself. These snapshots are generally referred to as 'digitals' in the industry or 'polaroids'.
The better the reputation and skill of your agency, the more jobs you'll be able to get. Research websites and publications that are devoted to modeling to find agencies with the best reputations, then send digital versions of your portfolio to as many agencies as you can.
Remember you have to look natural in your snapshots, with natural hair and make sure you look clean. Also the background needs to be clean and not distracting. Keep things simple and natural, that's exactly what modeling agencies want to see.
Check online for information about open calls and auditions you can attend.
Always visit agencies with a parent, guardian or trusted adult if you're under 18. If you're older, take a friend along with you.
Make yourself constantly look better
Standards are high in the fashion world and competition is fierce. You'll need to be dedicated to keeping yourself in shape and looking your best at all times if you want to have a successful career as a model.
Take care of your skin, hair, body and health. Like it or not, Modeling is an aesthetically-driven industry, and beauty/appearance is highly important.
It is important to eat well, excersise regularly and get plenty of sleep.
Always stay hydrated. Drinking at least eight cups of water a day does wonders to your skin, and also burns fat.
Avoid food and lifestyle choices, such as, heavy alcohol consumption that will have a negative effect on your looks and prevent you from staying focused on your career.
Practice posing and walking
Practice runway walking, study and understand posing.
What separates a pretty model from another pretty model is going to be their posing ability and their walk.
The super models you see in gorgeous magazine photos did not just sit in front of a camera and got lucky when the photographer took a picture of them, they worked with the photographer to create a masterpiece.
The photographer will use his knowledge of aperture, lightning, framing, etc to bring everything to life on his end.
Posing and walking on a runway is awkward at first. You need to practice, have a friend or relative take pictures of you to get comfortable with posing, both in front of a camera and another person.
Visit link below for more
https://intense101.blogspot.com/2018/12/starting-your-modeling.html