The RACIAL WEALTH GAP is at its PEAK and is only getting WORSE!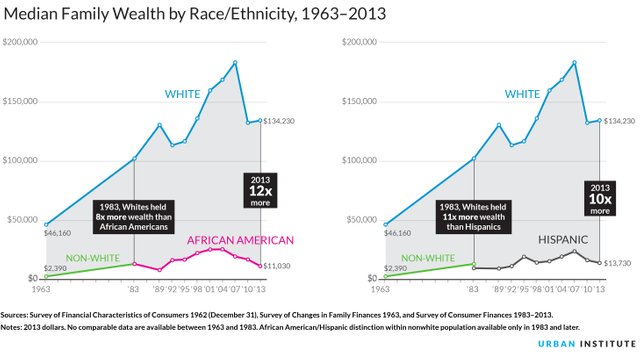 The United States is becoming more ethnically diverse, but is becoming more and more unequal in terms of income and wealth. According to a report by the Corporation for Enterprise Development (CFED), it will take  black families a whopping 228 years, and Latino families 84 years, to achieve the average wealth white families possess today. 
The contributing factors mentioned in the report are: lower returns on income, lower entrepreneurship rates, greater rates of unemployment, and non-existent retirement savings.
Let's look at other factors individually.
Homeownership is one of the biggest sources of the average American's wealth. 45% of black households, 47% of Hispanic households, and 73% of white households own their homes.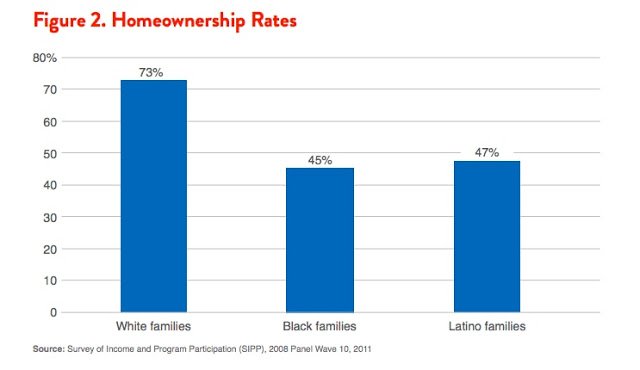 Through inflation, the report predicts, the wealth gap will increase EVEN MORE till 2044. White household wealth will rise substantially and top out around $1.2 million. On the other hand, Latino households would reach $165,000 in average and black households will reach $107,000.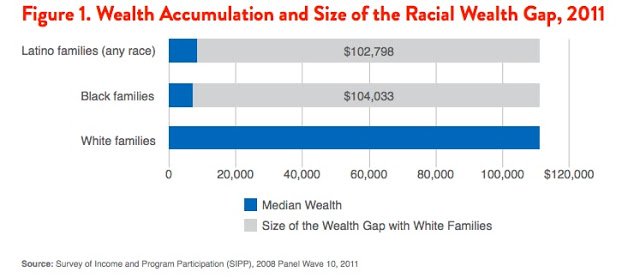 Another contributing factor is the labor market. Significant inequality in the labor market makes for 20% of the wealth gap, and unemployment another 9%.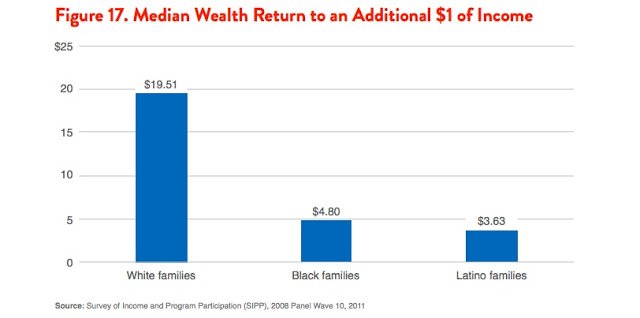 The report says that "while the divide may only seem a problem for some sections of the country, it will actually lead to political and economic instability for the entire country. The economy will be more volatile and susceptible to recessions."
Another contributing factor is education.  In 2011, 34% of white students completed a four-year college degree, but only 20% of blacks and 13% of Hispanics were able to do the same. 
However, the return on investment in college is much higher for white people. A white, black, and Hispanic family have return of $55846, $4,846 and $4,191 respectively.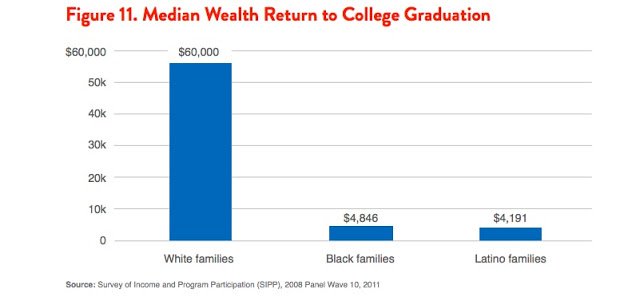 While the wealth gap exists, the world is becoming more equal in terms of ''e-opportunities." A lot more people are working from their laptops these days. People are becoming full time day or swing traders, and even setting up online businesses. 
With the arrival of things likeSteemit, a lot of people are even making great income from their homes! It will be important to see how technology shapes up, how robots replace different jobs, and how many people work from their laptops by the time we get to 2044. Will the wealth gap grow further or narrow down? What role will Steemit and other technologies play? Let me know what you think in the comments section. 
Like always, all comments will be upvoted. All followers will be followed.
Thanks,