How Steemit Can Change the World...
How Steemit Can Change the World...
This is what Steemit's user growth looks like.
Yes, that is insane. Steemit has more than tripled its user base in less than a month (from July 10 to Aug 7).
And this is a chart to show how more and more users are joining Steemit day after day. There should be no doubt in our minds that with only 50k users on Steemit at the moment, Steemit is still in its infancy and has a lot more room to grow exponentially.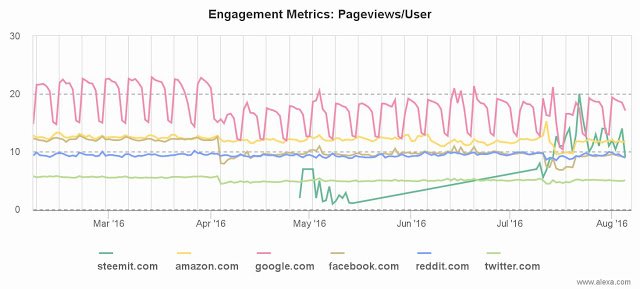 Now, this is REALLY important. Notice how the pageviews per user for Steemit was more than Twitter, Reddit, and even Facebook for most of July! The peaks even beat Amazon, and in fact, one of the peaks of the Steemit data even beats Google! Also, time spent by each user on Steemit is more than both Amazon's and Twitter's. In fact, Steemit's time spent by user is almost twice that of Twitter's.
WOW! If a new kid on the block begins to beat the giants in their own game, that has to be impressive!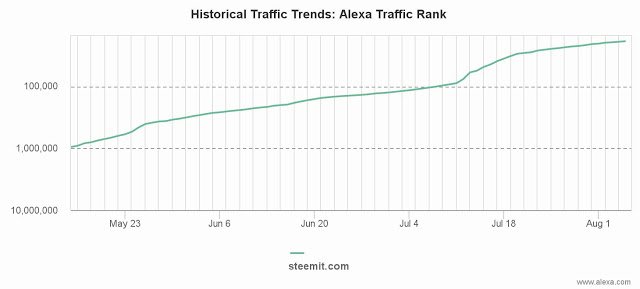 This is the traffic trend of the website as seen on Alexa.com. Impressive, right?!
It might be even more interesting to know that Steemit is now in the top 10000 most traffic generating websites in the USA. It's ranked 9714 in the country and 18635 globally. The global reach for the website has gone up by 25000% in less than 2 weeks and the global pageview percentage has shot up by 73000% in the same time.

As you can see, almost half of Steemit's traffic is generated directly. As more and more users join Steemit, it is inevitable that Steemit will become more prominent on social websites.
Steemit is a website which gives the user a chance to showcase his or her views to the world and be paid for it too! It has leveled the economic playing field once again and has put the control of the user's economic future and life in his or her hands. There is no wealth gap or the one percent on this website. So in the future, maybe you will find that Steem dollars are worth more than the bitcoin, who knows! Spread your ideas into the world and be rewarded for it!
PLEASE upvote and comment on this post if you like it, so I can keep putting up more posts on Steemit! Thank you! ☺