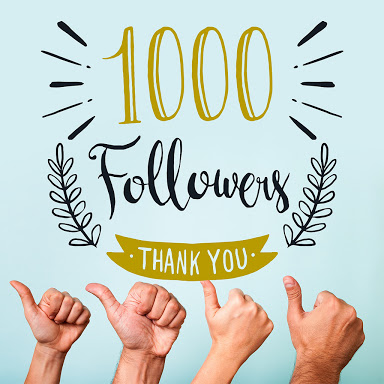 Hello steemians,
I have been very busy for the past couple of days that I haven't really had the time to make a post but here I am with the post
It's exactly 2 months since I joined this wonderful platform to help drive my passion and to interact and meet with wonderful people. Still fresh in my head how I sat to really construct my first ever post on steemit down to making my first ever 10dollars on steemit. 2 months down the line am here celebrating 1000plus ( exactly 1040 as at the time of this post) followers on steemit.
A little story about my journey, just like every newbie, I joined this platform with so much enthusiasm and with so much to offer and alongside earn some couple of bucks. I remember seeing people with huge audience and and am like wow, hopefully I get there one day. So fast forward, the journey have been great, I have learnt alot from this platform, I have met people from all works of life and have interacted and engaged with them. It's been a wow experience for me. Little bit of my struggle starting out as a newbie was lack of audience, most times I put in hours developing a post only to have max 5 views and a couple of upvote that ain't upto a dollar, it was demoralizing, it was frustrating, but here is the thing, i let my mind off it and decided to just have fun on the platform, learn as much as I can and give out as much as I can. Here I am today celebrating my own 1000+ followers.
This wouldn't have been possible without the help of certain individuals who I specially want to thank and acknowledge @davemccoy who specially took time to mentor me and encourage me on this platform, I learnt alot from him as well as @goldendawne who was very nice to me when I first joined as a newbie and took time to explain to me what and how the system works down to the least details. Amazing the great work ya all do with #newbieresteemday project @newbieresteemday to help newbies and minnows find their ground on this large steemit ecosystem. To all those whose contest I participated on, want to thank you all, those whose resteems helped me all the way up, they help give me the needed exposure to my articles, and to my loyal followers I want to specially thank you all, this wouldn't have been possible without everyone of you.
Going forward I want to continue to have fun on this platform, continue to learn as much as I can contribute as much as I can if the big bucks start coming along the line that's great ad well. Hoping to do this again at 2000followers and beyond.
I have been off hook abit with my post for the past 3 weeks largely due to my busy schedule with studies and exams hope to be up and posting regularly soon.
And to end it all I will be doing resteems for everyone just to say thank you and also help those who once like me find themself not having that exposure to their articles.
The little rules would be
You must be following me
Make sure you resteem this article so others can see and participate
Comment with a link to your article and I will upvote and resteem.