The other day, Derin Cag was quoted mentioning Steemit.com as a way for users to earn "their fair share" on social media.
Specifically the quote was read as following:
"Although the mainstream social media platforms make billions each year from advertising revenues, they do not reward their users financially. Blockchain technology is transforming this by paying people their fair-share to post things, such as in the case of Steem.it. The next frontier in terms of Blockchain technology developments in mass communications will most likely be in decentralization."
Awesome! But, did you notice the typo? 
I wish I could tell you that was my mistake with the typo of Steemit.com, but unfortunately that is exactly how it appeared in the Cointelegraph article.
Ugh! Facepalm!
Hopefully it was their typo and not wherever they pulled it from...
The entire article can be seen here:
https://cointelegraph.com/news/the-emergence-of-digital-reality
Who is Derin Cag you might be wondering?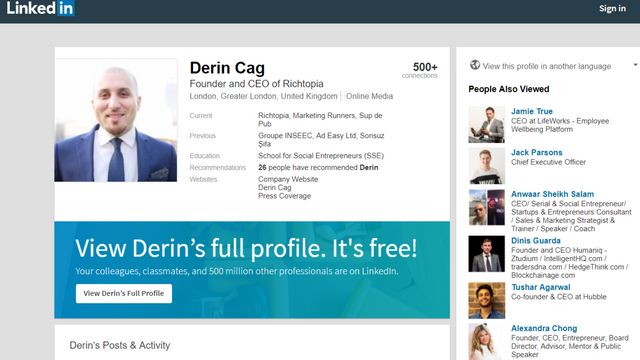 His full profiles can be seen here:
And here:
https://uk.linkedin.com/in/derincag
Basically...
He is the Founder and CEO at Richtopia. He is a huge proponent of blockchain technology and a decent sized influencer.
It's a bummer that they couldn't spell our name right, but any time someone is mentioning us in the media and thinking of us as the go to site for decentralized social media, it is a good thing.
Stay informed my friends!
Sources:
https://cointelegraph.com/news/the-emergence-of-digital-reality
Image Sources:
https://uk.linkedin.com/in/derincag
Follow me: @jrcornel