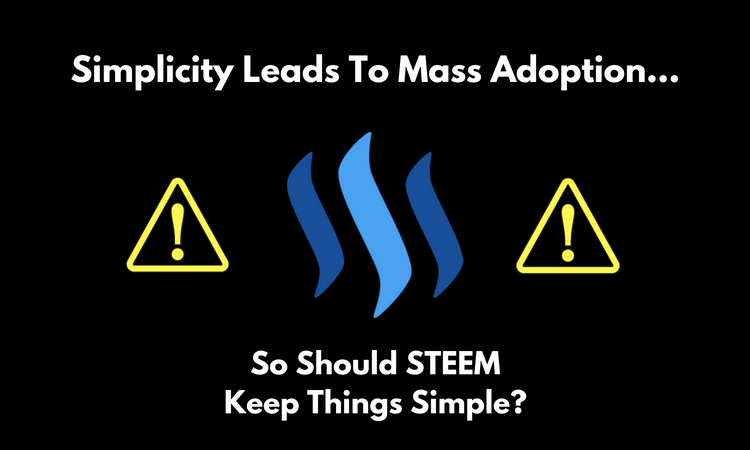 A few interesting facts about me....
I'm pretty much an idiot when it comes to anything technical related. Sure I can make a post or two and figure out HTML or even some simple coding to make my posts look decent...But when it comes to anything technical I turn into a turtle and hide in my shell.
It's not just with online stuff either....Part of the reason I've been a massive Apple fan boy over the past decade plus is because....Their products are idiot proof. I can't mess them up no matter how bad I am at pressing one button.
And whether you hate Apple or not, that is a big reason they are one of, if not the most, valuable companies on earth....They have perfected 'idiot-proof' products and have kept technology...Super simple!
Now I can see some eyes rolling already...
Blockchain isn't meant to be idiot proof!
It's a special place where the smartest people on earth get really excited about 1's and 0's and the entire culture of cryptography. I get it. I'm nowhere near experienced enough to critique the amazing and hard work that goes into this stuff.
I'm just a marketing guy with very little knowledge of how things work on a technical side...
But I do know what makes people embrace new things... And that is simplicity!
"There is no greatness where there is no simplicity....." - Leo Tolstoy
People love to touch things. They love to see things and make sense of them quickly. Sure that's not all people, but what I'm trying to get across here is mass adoption. The masses actually USING something because they understand it and enjoy using it.
And here is the biggest benefit we have with STEEM?
People USE this blockchain every single day. There is no speculation if a social media platform can thrive on a blockchain. It has right here and for around 2 years now.
So we have USERS and a real value proposition for anyone that is interested in combining the excitement and newness of the blockchain with proven social media engagement.
The issue is....Keeping things simple!
I smile from ear to ear when I think of that because of what it means....People are looking for blockchain and crypto to have real world uses rather than just speculation...And here is STEEM...Showing and proving that while it's yet perfected, it works.
So what can we do.....
I would argue, we need to remember to keep things simple and maybe that's with hardfork 20. The onboarding and allowing more people to experience the amazing apps on the blockchain, the communities and the potential rewards for engaging daily.
Cater to the HUMAN side of things while keeping things simple and BAM.... You've hit a homerun.
I'm not naive to think it's as simple as pressing a few buttons and presto - you have onboarding figured out and everything is peachy. However I do think that should be a HUGE priority for developers on this blockchain.
Remember...People love to look at something! Press a few buttons and start to use it.
I know I do...And I'm more patient than most and will stick around to figure things out if I'm hooked....But if we want mass adoption of this blockchain...We need to keep it simple!
---