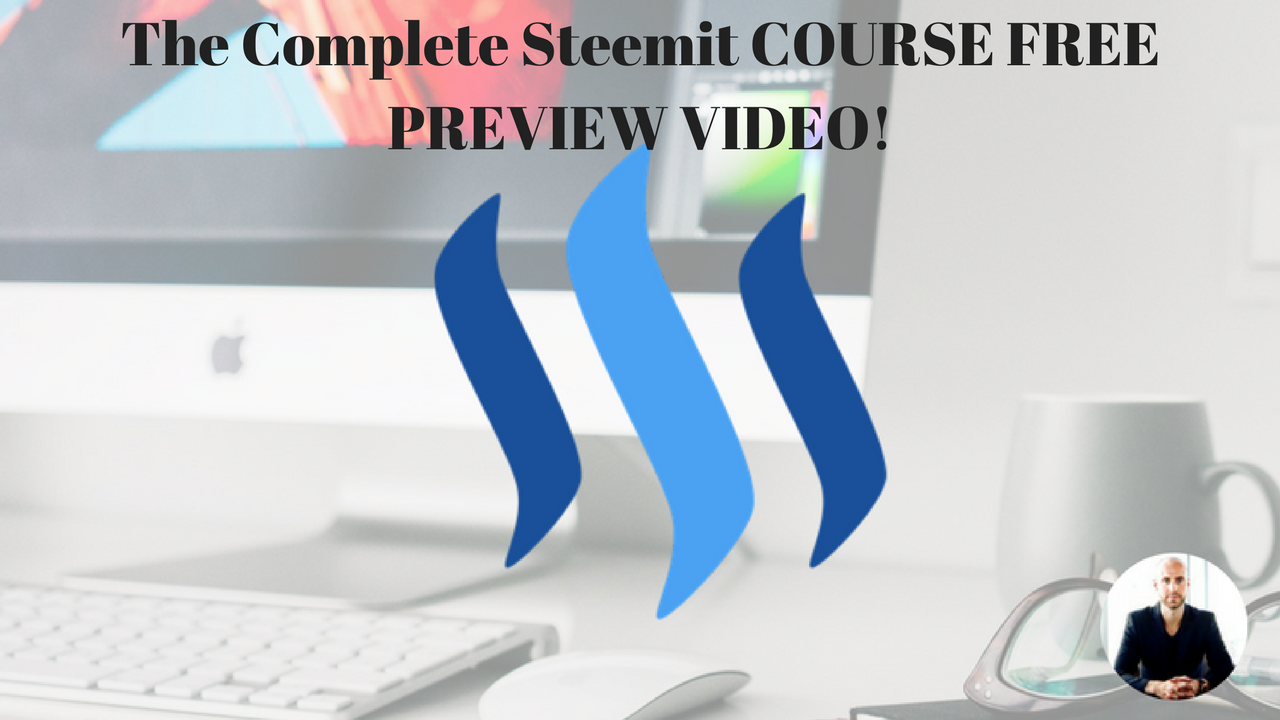 Want to learn ho to earn thousands of dollars getting paid to blog on Steemit For FREE?!
Then my more than 1+ hour tutorial video is going to really help you!
Welcome to Tutorial Tuesday #2: Get Paid To Blog! The Complete Steemit Cryptocurrency Course FREE Video!
Every Tuesday I will be posting a FREE Tutorial Video on a variety of different subjects!
This week you receive FREE tutorials on STEEMIT!
Watch The FREE 1+ Hour Video Below :)
After being a part of this amazing Steemit Community for more than a month, I decided to create an online video course to help raise awareness, share my blogs, and help more people join this platform! In fact, this course now has more than 6,000+ students and I have gained more than 500+ new followers because of this course!
If you liked this post would you please help by upvoting, resteeming, and commenting below!
This will help share my FREE preview video here to help this community even more!
For more videos and blog posts like this make sure to follow me @joeparys
In our complete course you will learn how to get paid to blog, even if you have no experience!
In our course, you will start from the beginning be opening your Steemit account. After that we teach you step by step how to get started blogging, building a follow, and starting a career as a professional blogger! You will also learn all of the essentials to buying and selling cryptocurrency, STEEM, Bitcoin and so much more!
Now, if you ever have any questions, all you have to do is post in our course discussion to receive help! Not only only will you learn with more than 2.5 hours of HD video, but you will also learn by doing and creating your very own content!
By the time you are finished with our complete course, you will understand how to get paid to blog using the newest social media website Steemit!
But thats not all...
The benefits to our course an absolutely unlimited!
You will learn useful skills about topics below:
How To Blog Professionally
Steemit Basics
Setting Up Your Steemit Account
What is Cryptocurrency
What is Bitcoin
How to Buy and Sell Cryptocurrency
How To Get Paid To Blog
How To Build A Following of Raging Blogger Fans
How to Create Engaging Content
Social Media & Networks
And SO MUCH MORE!
Want More? Click Here To Join The Full Course: https://www.udemy.com/steemitcourse/?couponCode=YOUTUBE10 or visit my website http://www.joeparys.com
Everything you need to get started with Steemit is in the FREE 1+ hour preview tutorial!
Have you always wanted to start a Blog, but you just don't know where to start? Or maybe you have started your blog, but you just don't know how to attract a following..
Then our Complete Steemit Cryptocurrency Course is for You!
We are looking for students eager to learn how to get paid to Blog using the newest social media website, Steemit! And the best part, you do not need any prior Blogging or design experience to get started! We teach you from scratch, step by step, how to start your blog on Steemit today!
Get Started With Steemit By Using The Time Points Below!
2:29 Welcome To Our Course The Complete Steemit Masterclass Introduction
4:38 Become A Professional Blogger With Steemit!
8:27 What Steemit is Part 1
10:22 What Steemit is Part 2
18:32 Get FREE Steem By Opening Your Steemit Account Today!
24:13 How To Upload A Cover Photo and Profile Picture On Steemit
27:14 Moving Forward With Steemit - How To Use The Website and This Course!
28:55 What is STEEM, STEEM POWER, and STEEM BACK DOLLARS (SBD) Part 1
34:04 What is STEEM, STEEM POWER, and STEEM BACK DOLLARS (SBD) Part 2
38:38 Blog, Comments, Upvotes, Replies, and Rewards Explained on Steemit!
42:51 How To Create A Blog Post On Steemit By Submitting A Story!
47:19 How I Made More Than $300 For Only Blog Post On Steemit! Part 1
51:23 How I Made More Than $300 For Only Blog Post On Steemit! Part 2
59:08 The 5 Laws of Steemit Success - How To Start Seeing Success on Steemit!
PLEASE LIKE & SUBSCRIBE! Thanks for watching :) Click the bell icon to turn on my post notifications!
FOLLOW ME:
@JoeParys
Snapchat: JoeParysAcademy
Facebook: (https://www.facebook.com/JoeParysAcademy/)
Website: http://www.joeparys.com