I finally hit 2,000 followers. It took forever, but thank you to each of you. CELEBRATION TIME!
After 1 year, 5 months on steemit, I finally have 2,000 followers and some info how that happened.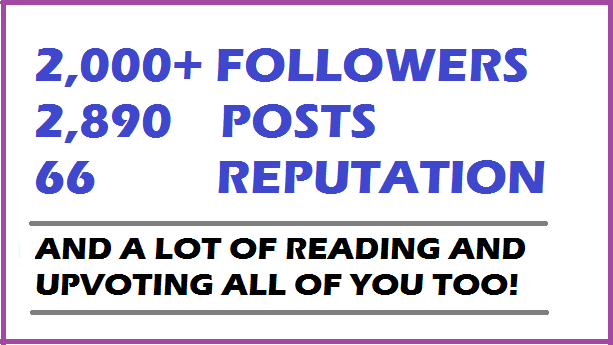 It feels like it has taken forever. Over 500 days on steemit.com and I'm finally at this milestone!
...and in standard @intelliguy style, I'd like to give you some good information and advice that you can use with your own growth on STEEM for yourself too.
One of the best ways of getting followers is to rarely ask. -- Asking is the worst way to obtain true followers, and I'll tell you why.
Asking for a follow, means many people clicked "follow" because you asked. Not because they really felt the need to do it.
I've done that in my earlier days. I've followed someone "because they asked". But when they show up on my feed, I don't even know who they are.... they aren't memorable to me, and that's a problem.
If I just follow "just anyone", I lose sight of who they are, or why I'm following them, and eventually I unfollow them.
The 2,000 followers I have today aren't the only followers I've had on this journey. I've had lots of followers that follow me for a little while, and then drop off, and follow someone else.
So my follower progress looks like this: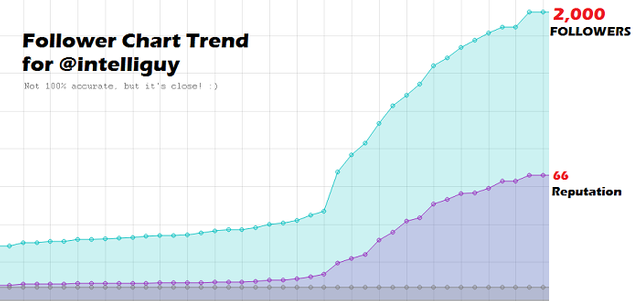 So what trendy information can you glean from this?
As your reputation increases, and so do the quality of your posts, your followers will naturally increase too!
If you organically grow, the normal way this platform is intended, it will yield great results.
Every now and then, I use my reputation, and my follower list, to bring a spotlight down on new steemians who are just starting out. I feel there is a community and social responsibility to help others and give back, and I do that often.
( just see my blog and you'll see evidence of those things I do every now and then)
(Click the video and enjoy the song)
Let's celebrate
There's a party goin' on right here
A celebration to last throughout the years
So bring your good times and your laughter, too
I am very lucky to have met so many good people here. I'm not that special. You guys/gals are !! Long live STEEM !!