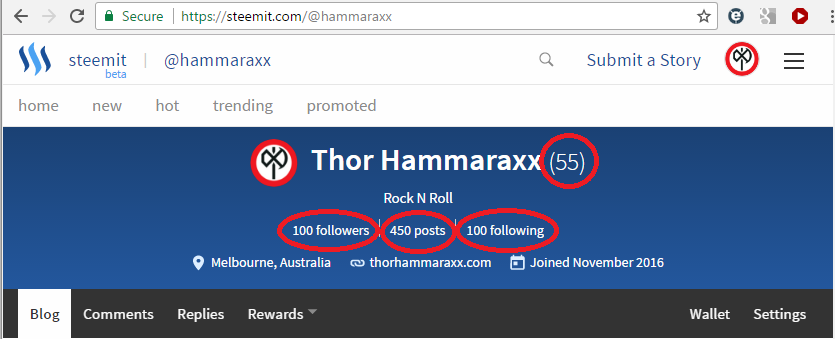 I'm not sure who started it, but the trend of displaying milestones can be inspiring for others.
It's good to set some goals and then celebrate once you reach them.
My first goal here at Steemit was to gain 100 followers, I can now tick that one off.
A little while ago, perhaps only a week or two ago, I had just over 50 followers and I was pretty happy with that. I've been a lot more active here on Steemit in the past couple of weeks too and pretty much doubled my follower count. It now sits at an even number, 100 followers while following 100 others.
I have a current rating of 55 and total post count of 450, this post will be post 451.
My next goal is to make it to 500 followers and to get to a rating of 60.
I'm having so much fun here.
Thank you to all of my current Steemit friends and also to all my future Steemit friends too.
Cheers
Thor
@hammaraxx
Rock'N'Roll From Melbourne, Australia




---