Hello Newbies! Welcome to this community. This post is only for you. Hope you will get something useful from it.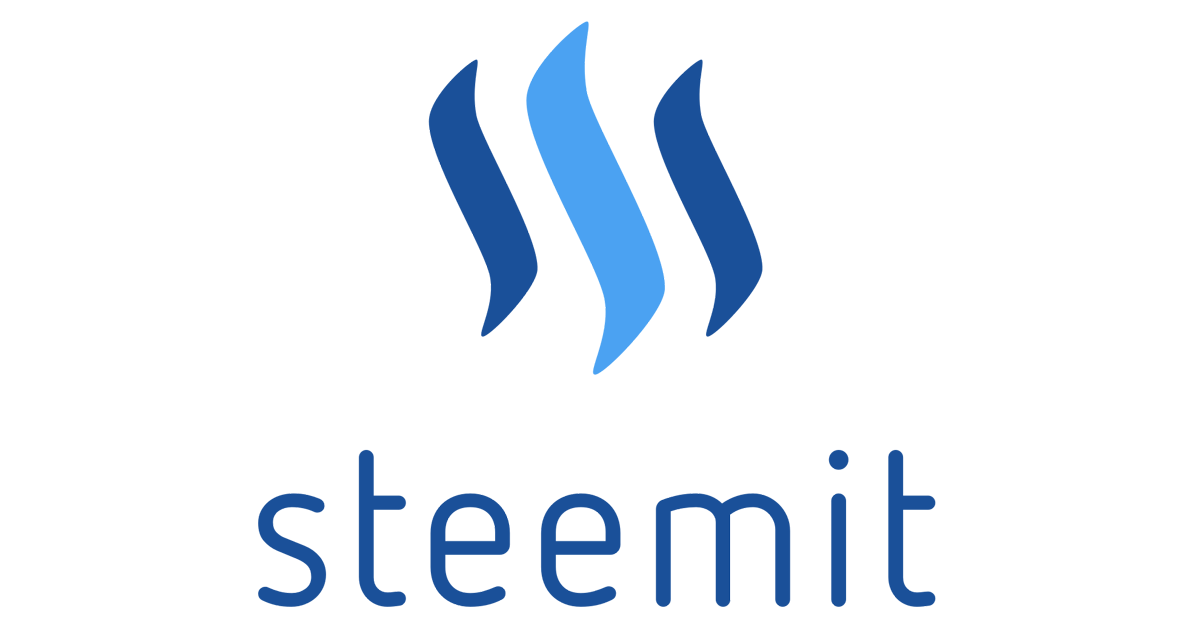 image source
When you are using this platform via steemit.com, by default you have to upvote a post or comment with 100% of your Voting weight. You have no option to upvote with a fractional voting weight, e.g. 50% or 30% Voting weight. When you will reach 500 SP (steem power), the slider will appear at the time of giving an upvote and you can choose a fractional vote.
---
Some facts you should keep in mind about upvotes:
Voting weight & Voting Power
Every time you are upvoting with 100% Voting weight, it is costing you 2% of your total voting power. Means if you give total 10 upvotes over a 24 hours period, it will cost you total 20% voting power. In another way, if you start your day with 100% VP (check here) and give 10 upvotes with 100% voting weight each, after 10th vote your voting power will be 80%.
Voting power will be refilled automatically. In every 24 hours, your VP will increase 20% only. Means, after your 10th vote with 100% voting weight, if you stop voting, after another 24 hours you voting power will reach 100% again
---
Though initially, your upvote doesn't carry any rewards (or carry very negligible rewards), every author will appreciate an upvote on their post. So if you give an upvote along with a relevant and good comment, there is good a chance of getting return upvotes on your comment or the author will return back to your posts. Sound good, isn't?



source You can check the value of your vote from the link
So if you upvote on 50 posts along with a comment from steemit.com within a short period of time, after 50th upvote your voting power will be near zero or zero. You might get upvotes on your comments or some authors will return back to your post but you have to refrain yourself from upvoting in next few days (precisely it will take 5 days full to refill your VP from 0 to 100%). That is not what you expect, right?
What if, you can upvote on same 50 authors but it will cost only 50% of your Voting power? Yes, it can happen if you give an upvote with 50% voting weight. (There is another issue on using the platform excessively; bandwidth problem. Tha is not todays topic) Or can upvote on even more authors post if use much lower voting weight.
As mentioned earlier, from steemit.com fractional upvote is not possible until you have 500 SP. But there are alternatives where you can do everything same as steemit.com. In addition, you can give an upvote with voting weight less than 100%. So far I know about 3 alternatives. Here they are:
From setting you can choose your desired voting weight. You have to enable slider. But you should keep in mind that at the very beginning very lower voting power (less than 20% or such) can't be used because your SP is very less at that time. In addition, if you post from busy.org and use "busy" as one of the 5 tags, you will get a sweet upvote on your post.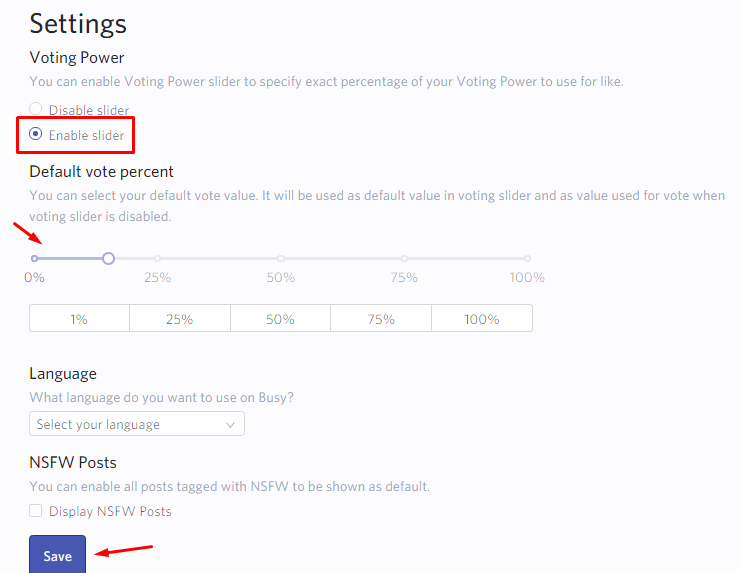 screen shot taken from busy.org setting page
---
eSteem mobile app for Android and IOS
It is developed by one of the witnesses named @good-karma . Like busy, if you post from the app, you might get upvotes on your post as well.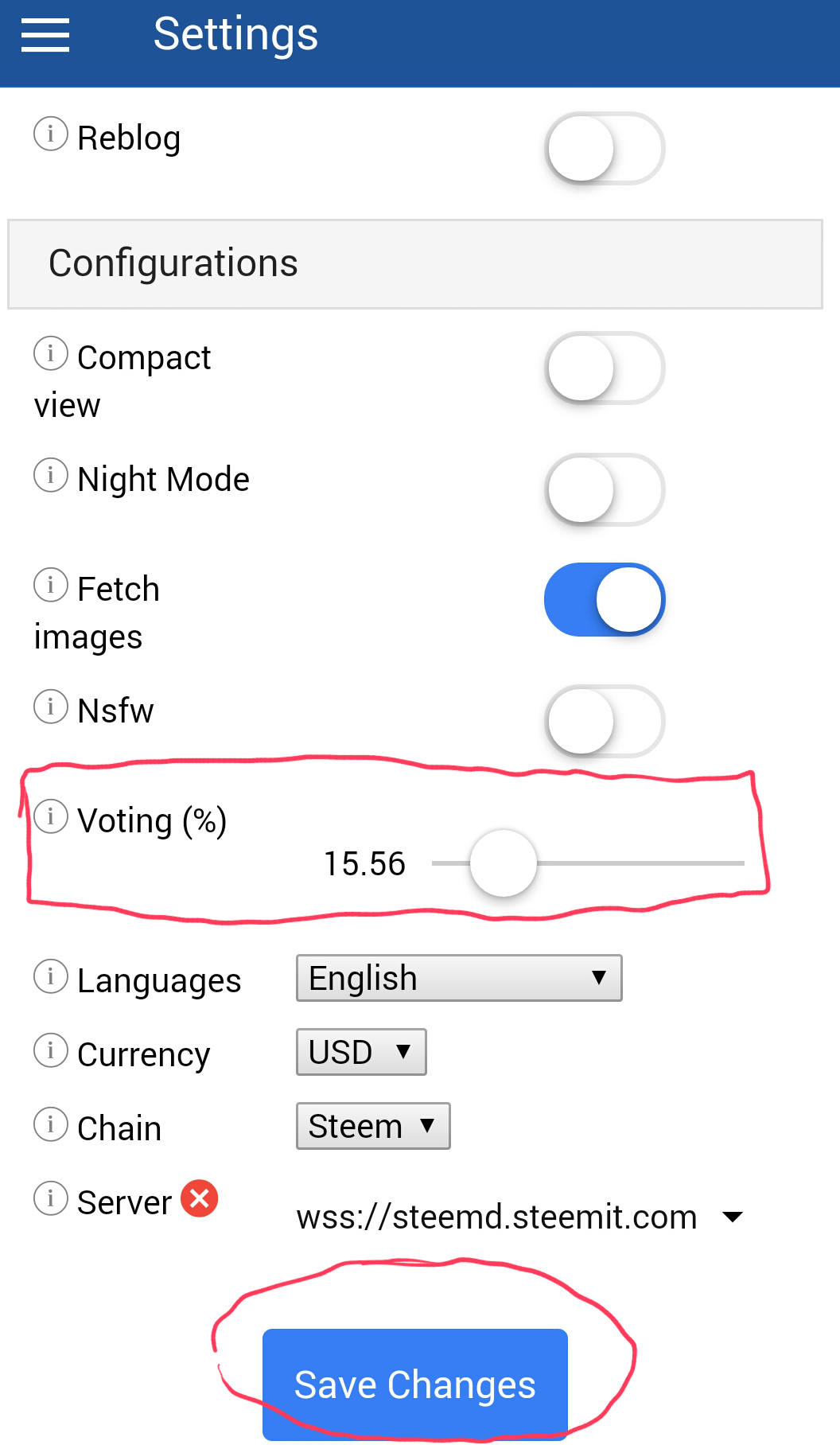 screen shot taken from my mobile
---
It is developed by the top witness(at the time of this post) @jesta . It is a steem blockchain based forum. Unlike busy.org you don't have to enable any slider, it is ready there. Every time you attempt to make an upvote, you can adjust your voting weight. You can see some additional features too (see the picture below). I don't know if we are getting any upvote or not from @jesta after posting from the forum!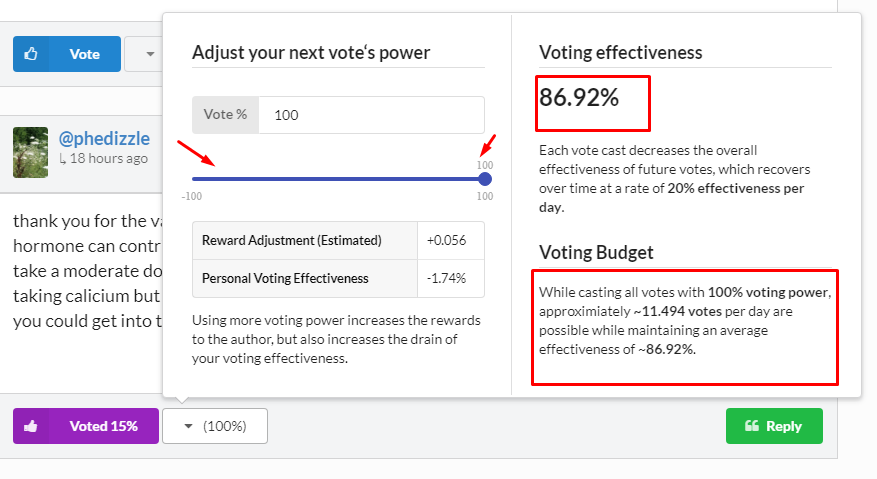 screen shot taken from browser
---