Recently been thinking about user experience on Steem apps that I have been developing (eSteem mobile, desktop wallet app, SteemPoll, etc.)
User experience is very important topic and it contributes to user retention greatly. In this post, let's do some experiment about Steemit.com and how is your experience with it... One of the main focus of UX developers is to guide user through the interface with ease and without additional cognitive loads. Also Marketing and UX experts mostly think about things like does user's attention goes to right places, where user is looking and how long, what part of interface they miss.
There are numerous eye tracking studies that show how effective it can be and how to improve it. You can google eye tracking studies to learn more but in this post let's explore and get your input on few things.
Experiment 1
Open new incognito window on your browser (Ctrl+Shift+N/Cmd+Shift+N)
Open https://steemit.com
Notice first thing you see and where you concentrate before and after page is loaded?
Write comment answering above question
---
Experiment 2
Open any post
Where did you look first and why you have changed if you moved your focus to some other place?
Write comment answering above question
---
Experiment 3
Open new incognito tab (Ctrl+T/Cmd+T)
Open https://steemit.com/@good-karma or any other user's account
Where did your attention go first?
Write comment answering above question
---
Let's see if we can manage to find uneasy spots collectively!
Example
Order of focus is defined with stripes from dark shade to light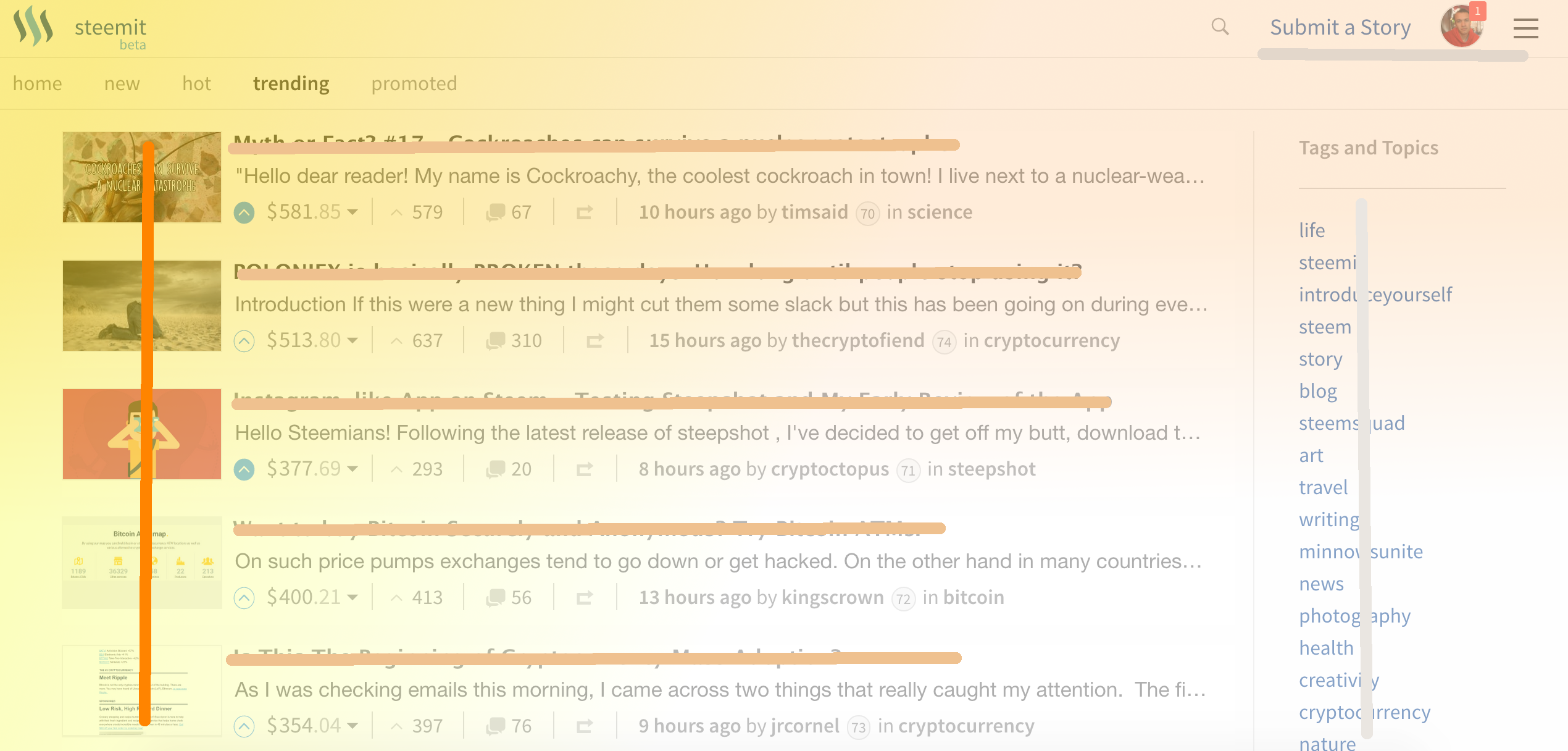 ---
If it takes slight effort and moves your attention from one spot to another which means design/flow is not working properly and can use improvements. Even if it was intention of design, is it emphasizing or showing right things to user to keep them on site... Let's find out...
Feel free to share screenshot to illustrate your attention movement OR explain with few words where have your attention diverted, I am sure it will be helpful to improve site...
Steem on!