Social Media 1.0 Collapse Underway - Advertisers in Revolt
Over the weekend I wrote an article that was rejected by the Seeking Alpha editors for not being 'actionable enough' about how politics was going to begin destroying tech giants like Apple and Google.
In it I described the fight between Google and upstart Twitter replacement, Gab, and how that would open up Google to all manner of restraint-of-trade class action lawsuits.
I also went into great detail about Steemit as a model for where Gab was going with its network, per Gab's one-year anniversary post over on Medium.
I reworked it, added more flavor and political commentary and gave it to my subscribers over at Stocks, Shocks & Rocks. Don't worry, I have plans for this article as a special report for my Patrons at Patreon as well as y'all here.
But, this article from Zerohedge confirms everything that is coming for the tech giants in the coming months.
Global Advertising giant WPP just reported apocalyptic earnings.
In the earnings report they blamed everyone else on the situation -- politicians, fake news, populist politics, etc -- on the lack of advertising.
All of that blame comes down to the same thing... the world is going broke, and GDP statistics - a measure of total spending, not quality of spending -- are worth less and less in places where central bank largesse has boosted those numbers.
Ad sales dropping like a rock in the two most lucrative environments, internet and media, tells you a couple of things.
The advertising rate of return sucks. Procter & Gamble told us this earlier in the earnings season.

Spending may be rising but it is on everyday survival things, recurring purchases that are NOT subject to advertising. Habitual buys are ad-proof.

Companies themselves are in survival mode
So, where is the growth in mobile advertising for Apple and Google going to come from in this environment?
Moreover, do you think this shift from older media to mobile will continue if both companies persist in identity-politics-driven restraint of trade which does nothing but piss off their customers?
No, it doesn't. What it does is hasten the development of alternatives to their platforms that become immune to them while opening their shareholders up to massive class-action lawsuits.
It's one thing to see these things occurring and make predictions. It's another to see confirmation of it in the marketplace. The following image from Zerohedge's article on Facebook yesterday makes it clear that we've likely reached the peak of that platform's popularity.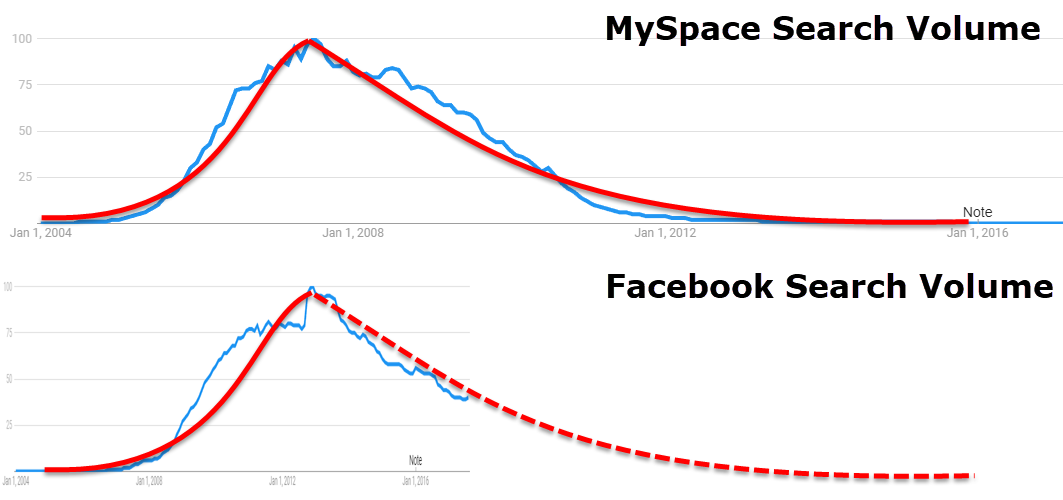 )
If you're looking for an excuse for an eventual equity market crash it will likely coincide with an anti-trust verdict against Google in the next couple of years.
The political climate in Washington is in Google's favor right now, but that could change radically at the mid-terms. And as platforms like Steemit, Gab and others mature and grab new users, the exodus from these services will grow rapidly. When people realize they can reverse the flow of capital and time from us to them, it will change everything about how we view the internet.
Each time they try to stomp out our ability to communicate, mung it up by filling our bandwidth (which we pay for) with their unwanted shout-based crap, acting like feudal kings and communist tyrants, the more we figure out how to end-run them. The whole situation is so obnoxious that when you take ten seconds to analyze it it makes you want to scream.
Rent-seeking is the bane of human existence. It is the one behavior that only the free and voluntary market can minimize the effects of. The mixed economy only shifts power from one group to another as technology changes the profit-maximization point, while the government itself is further empowered.
We're reaching the point of peak Orwell in this society. Companies like WPP can complain all they want, but they have built their businesses on the back of a rent-seeking class not the public which they ultimately serve.
And blaming 'populist politics' on the problem only identifies them as part of the problem and not the solution.