Dear Steemians, I am sharing with you my first impressions of the platform. Short version: A perfect social platform for blockchain enthusiasts and believers.
Long Version:
(Attention: all the critics is ment for improvements not for criticising anyone)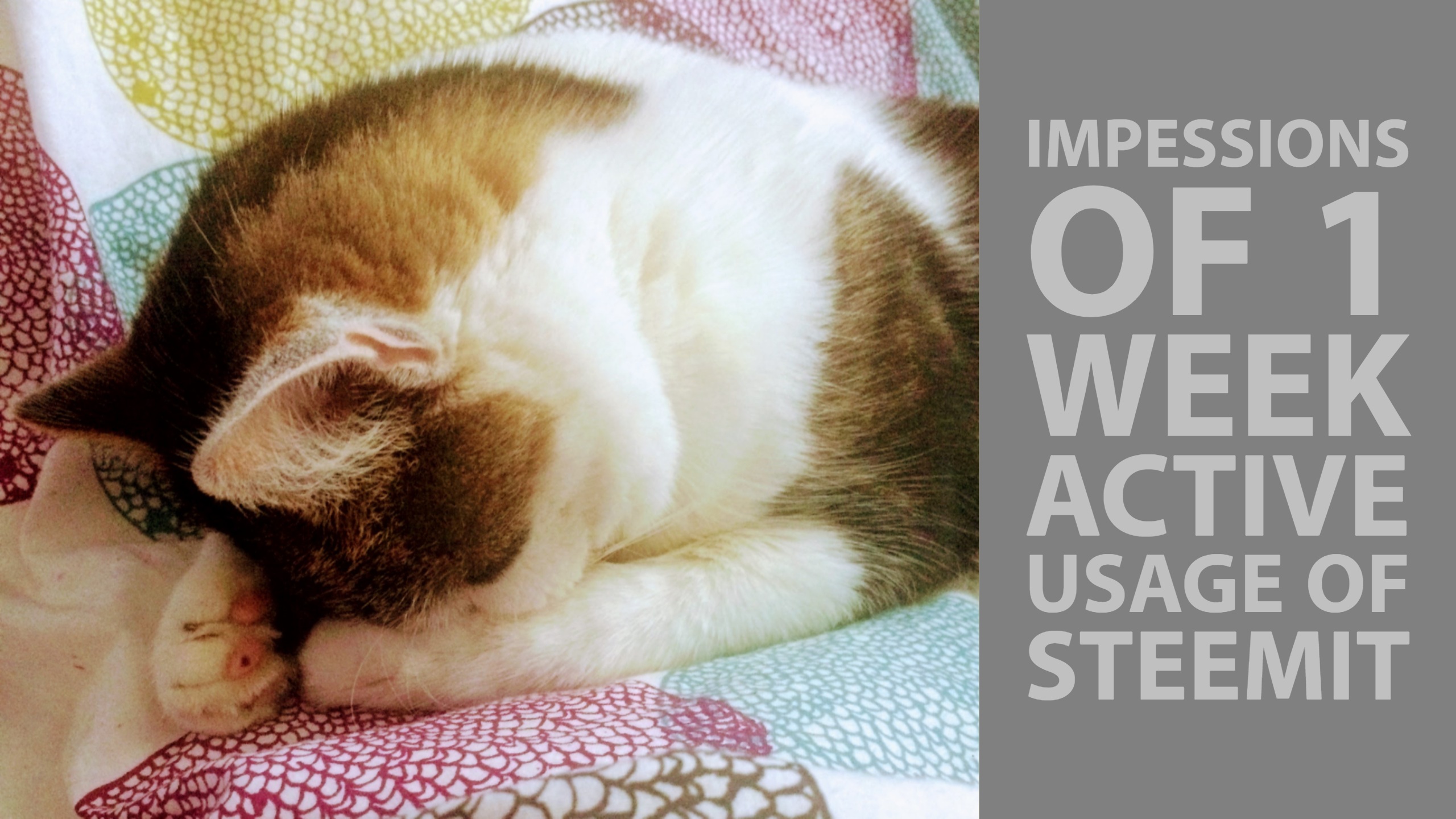 First of all I want to say that I really appreciate the opportunity to be a part of the community. I see a huge potential in transforming todays social media channels to the better. The decentralized approach and valueing the content creators are just two of the pros I want to mention here.
HOW I INTERACTED WITH THE PLATFORM:
posted my own articles on topics I am passionate about
interacted with other users by commenting their posts
upvoted articles and comments I loved
resteemed articles I loved
searched for trending, new, hot and promoted posts on topics I wanted to get an info on
read how-to-articles
asked for help from the community in comments and with my own posts
WHAT I REALLY LOVE:
quick ways of interaction on topics you are personally interested in
possibility to value and upgrade the posts of other content creators
many good and brand new posts on cryptocurrencies which as well appear on search engines (brings new content creators and readers to the platform)
Well, of course I love the concept of getting paid for the content you create (other platforms use it for their own purposes like data trading and targeted advertising)
WHAT NEEDS IMPROVEMENT from my point of view:
There is a lot of inappropriate content on the platform that needs to be filtered (sex related content, inappropriate language being used, ...) in order not to damage the user experience while people are interacting with the platform.

Some users are only interested in getting paid and proceeding with their activity on the platform on the mission of getting as much value for themselves as possible: Liking and interacting with only high valued users for example and/or offering upvotes for upvotes and follows for follows.

With the current concept of "visible for everyone" steemit only attracts bloggers that are willing to create content for everyone and present themselves, but not really users who are willing to share some of their posts only with a selected audience (i.e. people that follow them).

There is no strict separation on languages. In my case I would like to post in three different languages but don´t really know the best practice for it.

There is no best practice on how to get the best support. In my case I had one question on changing the profile url but no one was helping.

Official product accounts are not answering on product related questions. You can see in my comments with which accounts I have interacted.

I would love having a categorization of the posts on every users site. Because people are posting about different topics you need to scroll a lot in order to get the articles you´d like to read.
I really believe in steemit and hope my observations will somehow help the platform grow and make some improvements.
I know: Rome was not built in a day :)
Good luck and keep up the good job :)
Love,
Ira