Gniksivart's 2018 Account Update - Ep. 10 - Success and Failure
Quickly looking through my past posts I wasn't able to find it, but I think one of my goals for 2018 was to become a dolphin, 5000 Steem Power. As you can see I didn't even make it half way which is a little disappointing.
Blog Goals
One learning from this for next year is to not set a Steem Power goal for 2019. Setting a goal in which I have very little control of just leads to frustration and discouragement. For instance, a better goal would be to make 5 posts every week and to make sure 2 of those 5 posts are high-quality value-added posts, such as a post like this.
It's important to set goals that you have control over. I don't have any control over who upvotes my post and how much money on the platform. However, I have direct control over the content I create and the consistency in which I write/create.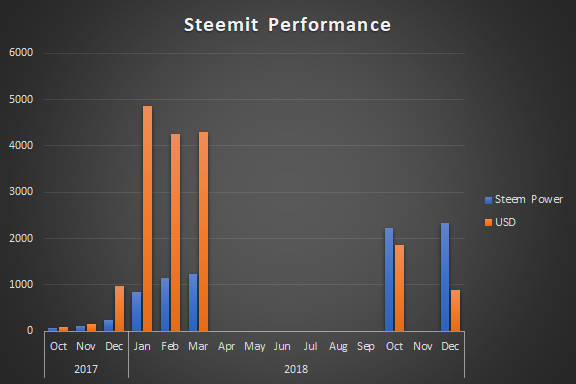 Account Value
The Bear Market had a terrible impact on the value of my account. The highest value of my account was almost $5,000 in January with less than 1000 total Steem Power. Now with almost 2,500 Steem Power the value of my account is almost $1,000.
I've talked about it before, but if you don't think we've reached the capitulation stage in crypto I'd hate to see what happens to the space if we go much lower. Seeing some of the whales leaving the platform and crypto, it's hard to blame them. I've said this before, but I see this as an opportunity to become one of those people I envied when I first joined Steemit with all the Steem and all the "Power".
Posting/Commenting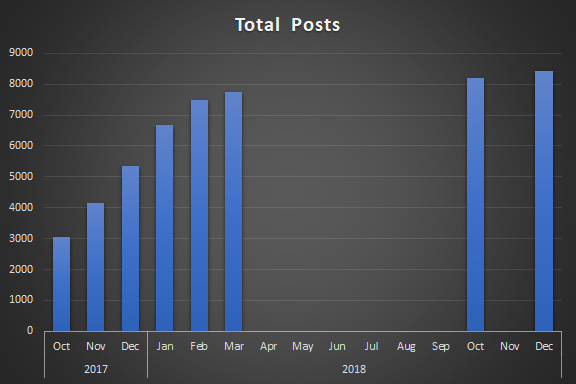 I'm not sure if I want to make a posts goal this year. Looking at the chart from October until about February I was making 1000 Posts (comments and blogs) a month. That is a lot of time and a lot of work. I've noticed that a lot of those I follow as well aren't posting anymore so making 1000 posts a month will be difficult this next year depending on if the market continues on this bear path or bottoms out and stall for all of 2019.
Also, with the new Resource Credit System I'm not sure if I would be able to comment as much as I have done in the past unless I power up more Steem (which I'm trying to do) or undelegating (which I don't want to do).
Looking for New People to Follow
I'd like to find 100 new high-value content creators on Steemit to follow. I've recently purged my follow list to the point I unfollowed everyone and I am slowly adding new people to follow once again. If you know of a great person on the platform to follow it would be great if you tagged them in the comment below so I can check them out.
I would ultimately like 100 new people that I've never heard of to follow before the end of 2019. However, I'm going to settle with finding a few new quality people to follow a month. Don't want to get too over anxious as new sign-ups to Steem slowdown and people leave or take a break from the platform. I know there are hundreds if not thousands of great content creators on the platform I just haven't come across yet.
Topics I would be interested in are:
Crypto
Stock and Crypto Trading
Technology
Gaming
Self-Help
Economics
Finance
Investing
Engineering
Suprise Me
Not making any promises, but may give away some Steem Monster cards for any truly exceptional accounts that are found that I've never heard of before. Maybe even a gold card if I'm truly surprised, so hoping I'll get some great new people to follow.
2018 YTD Performance
I'll be using the Steemit Board Ranking system to see where I rank among other users on the platform. I've done this on my previous monthly and quarterly posts, and I have found this to be a great motivator to keep me pushing ahead on the platform.
Posts / Comments
I ended 2017 with 5,540 posts and ended the year 8,414 posts.
With the Steemit Board Ranking I can now separate the number of blog posts vs the number of comments and wasn't able to do this last year.

I've got a lot of catching up to do as far as posting goes. I was quite the commentor for a long time on Steemit and the below goes to show it.

Steem Power
I ended 2017 with 261.96 Steem Power. I'm kind of glad I do this report because my jaw almost dropped when I've realized how much Steem I've been able to accumulate in about a year. Granted I ended January with around 800 Steem Power, but the fact that I'm finishing around 2,400 Steem Power means I've been able to increase my Steem Power by about 3 - 10x from the beginning of the year.

Since 2nd quarter my rank has dropped from 3,784 to 3,929. Not a suprise since at the end of the 2nd quarter I had around 2,205 Steem Power which is a little depressing considering I'mve only managed to get around 200 Steem Power in the past 6 months.
Reputation
I started the year with a reputation around 56.7. I was hoping to hit 60 before the end of 2017 and didn't hit 60 until the second quarter of this year. I'm ending the year with a reputation score of 61.13. I know I only gained 4.4 reputation this year but hoping to get to a reputation of 70 next year.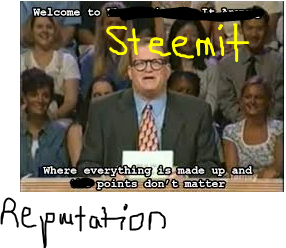 Followers
2nd quarter I ended with 1,925 followers and rank 4,192. I'm ending the year with 1,933 followers and a rank of 4,209. I've gained a couple of followers the past couple of days so hoping these giveaways will help increase the interaction on my blogs and increase my following as well.

It will be nice to do at least 1 Steem Monster giveaway a week for 2019. Thinking about trying to do more giveaways, but 1 giveaway a week should be an easily acheivable goal that can be obtained, but only if I keep focused on this goal.
Steem User Authority
I want to spend a very small amount of time tracking and increasing my Steem User Authority in 2019.

Not sure if this will be important in the future, but can see this metric possibly being used for giveaways like reputation was used for the byteball giveaway. They haven't posted an update in a while so I hope that doesn't mean the project is dead since it has over 300k Steem Power delegated to it, but I'm hopeful this will be a great tool that will keep being developed well into the future.
Communities
Looking forward to see what @contestkings, @archdruid, @ocd, @steemusa, @steemmonsters, and @steemchurch has for the future. As of current these are the communities that I'm active in and hope the SoS (State of Steem) continues because I would like to see where I can get involved and what I can help with in that community as well to keep pushing Steem and Steemit into the future.
If you know of a great community please let me know in the comments below!

If you've been wanting to check out Steem Monsters, but haven't yet, you can do so with my Affiliate Link!
If you haven't created a Coinbase account you can do so here.