Who Are your Top Voters in the last 30 Days?
Would you like to know who are your top voters on Steem for the last 30 days because this might be useful for you if you want to thank them?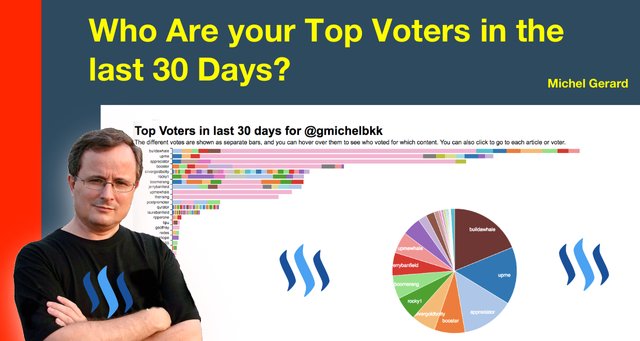 There are different Steem apps that can tell you about your top voters, but I like this one because it is simple and very neat.
Who Are your Top Voters in the last 30 Days?
This is one of the tools on SteemReports located here: http://steemreports.com
When I go to this website I often forget where the top voters stats are, so just follow me and enter your Steem username, then click "Search."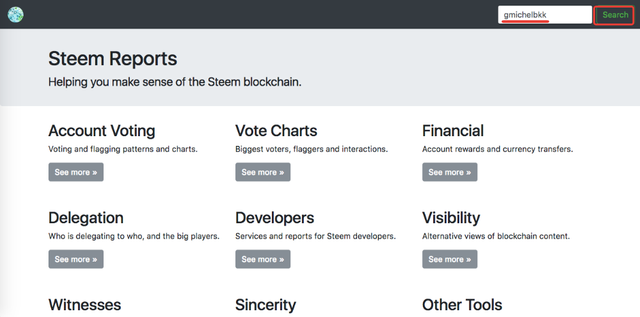 You first will see some interesting stats for your account in the last 14 days.

I am pleased to see that I have a "Human Content Creator Score" of 88% and have no idea how this is calculated.
You might be interested to check this data for yourself.
What we want is to click on the first "Quick Link," which is "Article Voters."

This will go to this page: http://steemreports.com/top-voters/@gmichelbkk
You may just replace my username at the end by yours to see your stats.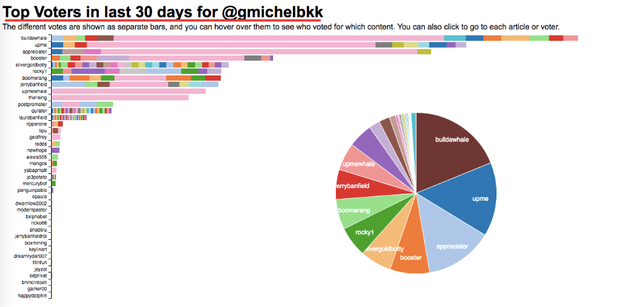 When you hover over the different bars, you will see who has voted and for what post.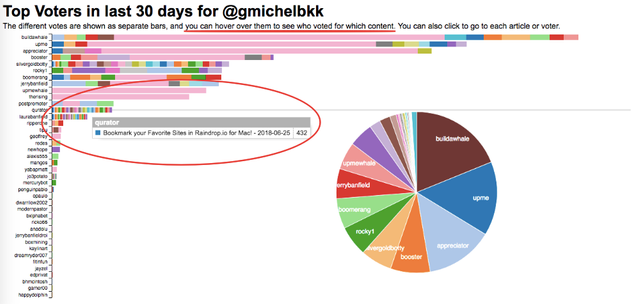 You can also see what is the percent for each top voters you have in the pie chart.
I hope that this easy way to see your top voters for the last 30 days on Steem is useful for you.
Would you upvote this post and follow me for more because this will encourage me to write more Steem tool posts like this one?
I have categorized my posts on Steemit for easy access:
Steemit tools | Steemit strategies | Steem economics | Steem on WordPress | Blogging on Steemit | Steemit posts I curated | Cryptocurrency | Cryptocurrency trading | Mac computer tutorials | WordPress & online marketing | Self-development & motivation | Travel in Thailand | Travel in Japan | Travel in France | Life in Thailand | Fitness challenge | Fruit-veggie juices & smoothies | Education | My answers on Quora | Fundition tutorials & projects | Miscellaneous writing
You may prefer to go to my Steemit Posts Directory.
The most important votes you can make on Steem are for Witnesses. The top 20 witnesses can influence the addition or removal of features in future Steem hard forks. Read my post: What is a Steem Witness, How to Vote and Why?
Michel Gerard