DUDE, WHERE WERE YOU?!?
It hardly seems possible that my last blog post was nearly three and a half weeks ago, but here it is January 3.
December was pretty eventful, for many reasons, and maybe I'll get to some of that in a not too distant post.
Instead, as the world turns to the start of a new year and the hope that doing so brings, I'm still looking back at 2018. Why? For an idea of where I've been, so I can try to improve upon that foundation into 2019.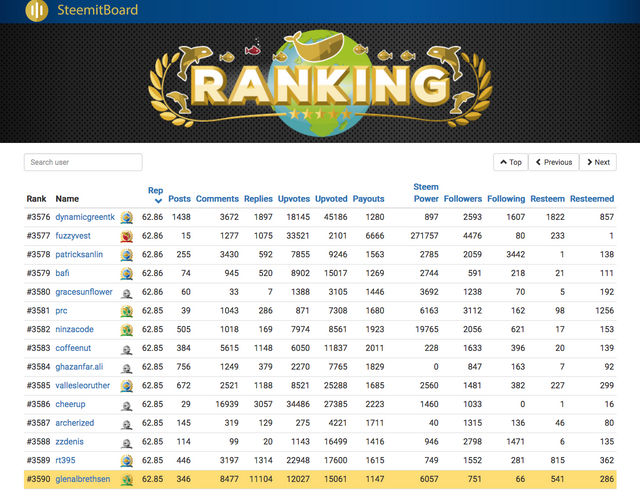 IT'S BEEN A YEAR
I have officially completed one year on Steemit. Again, I don't plan to go into details about that here, but I say it to point out that I no longer (and haven't for some months, anyway) consider myself a newbie around here. In fact, attrition being what it is, I feel like I've moved into the journeyman stage, since I can't really claim oldtimer status yet.
REPUTATION
To prove it to myself, I spent some time looking at my placements on the @steemitboard's ranking pages. As you can see from the image above, at my current reputation ranking of 62.844, I'm now at No. 3,590 of all current STEEM accounts, which as of this sampling, was 1,185,688.
Now, I don't know if that No. 3,590 sounds impressive or not (given what many people think about STEEM reputations, anyway, it probably doesn't matter), but when I started plugging it against all of the other accounts, which includes a dead sea of inactive ones, things get quite heartening.
That's because that No. 3,590 puts me into the top 0.3% of all STEEM accounts. If we go by the 85,737 that is suppose to represent the latest amount of active accounts on STEEM (according to arcange's statistical report), I'm in the top 4.2%.
As someone who has not self-upvoted, used bidbots, or fallen into circle voting, I am quite happy with the reputation number I have obtained, and hope to increase it beyond 70 well before the end of the year.
Reputation is not the only ranking I would like to increase. Here are the other rankings I intend to increase as 2019 rolls forth.
POSTS
I am No. 7,039 in total posts (which were 346 before this one). I need to do some more thinking on how often I want to post, and what about, since I came here with the idea of posting fiction, but ended up spending a lot of my time talking about STEEM and other related activities, in addition to more personal posts that includes my adventures in cooking. I don't know that I really feel like I've found a balance between an audience and writing about what I like, and that has made it difficult at times to decide on topics. So, while I want to increase the number of posts moving forward, I need to find my niche.
COMMENTS
Here's where I actually do the best of all the categories, since I'm in control of what I do. With 8,477 comments, I rank at No. 586. That puts me in the top 0.7% of active users. I feel good about that, while knowing I could have done a lot more. Where I go from here with comments is another thing I need to give some thought, too. It's a lot of work, and while it's pretty crucial to networking, I don't feel like I've actually built any major kind of network. There's a very small core group (around 20-25), with who I correspond with regularly, and a smaller group than that, which actually upvotes my posts. While it's great to have friends on STEEM, it's not necessary to comment into the hundreds each week just to maintain those online relationships.
Especially when so many have been winding down, or getting lost in STEEM Monsters, a place I've yet to go. At this point, I have little interest. It just makes it tougher to find people to engage with, between those who are now lesser active or inactive, and those who are spending more time on STEEM Monsters.
REPLIES
Replies ends up with the highest ranking of all, but while I know I did something to solicit them, there's still a need for others to participate. So, this number is more thanks to all of you who have interacted with me at some point, then it is totally about me.
That said, at 11,104 replies, I'm at No. 116. That makes me part of the top 0.135%.
UPVOTES/UPVOTED
With 12,027 upvotes given, I'm at No. 4,182. Interesting enough, with 15,061 received, I'm at No. 4,175. Very close rankings, despite the 3,000 upvote difference.
While I definitely hope to improve on both those numbers, I feel good about all the upvotes I've cast. I've yet to autovote, so all of those were done manually, by me, after reading and providing some kind of assessment on what percentage of an upvote I should give. The size of the upvote, unfortunately, was driven more by a desire to spread my votes around, rather than trying to upvote what I thought something was worth. I've never had that high of an upvote, anyway, so I try to support as many folks as I can who I believe are doing good work.
PAYOUTS
I'm not exactly sure how this is calculated, but the 1,147 makes me No. 5,048. It would be nice to increase that number if I could figure out a) how to get more payouts beyond just posting and commenting more, and b) knew better how they tally it. At any rate, having payouts is a good thing, and more of them should be even better.
STEEM POWER
The 6,057 SP is mostly investment (4,516.5), with the remainder from rewards on posts, comments, and contest winnings. I doubt I will get to invest as much as I did in 2018, so it's more likely any improvement here will be smaller. At least I made it to a dolphin before the real steep climb began.
The amount of SP I have ranks me at 1,967, which means I'm in the top 2.3% of active STEEM accounts, and the top 0.166% of all STEEM accounts. Somehow, I don't feel that privileged, but it is what it is, I guess.
FOLLOWERS/FOLLOWING
Here's where things fall apart. Instead of following blindly, I have kept the number I track to under 70. Consequently, the number of those who follow me are under 800. That translates into No. 19,442 for followers and a ranking of No. 86,051 for following. Somehow, I'm not upset about that in the slightest. I may even have to pare back again on those I'm following to feel like I'm providing adequate attention to the posts showing up in my feed.
RESTEEM/RESTEEMED
Rounding out the numbers, it appears I've resteemed 541 times, and been resteemed 286 times. Or perhaps it's vice versa. Regardless, that ranks me at No. 2,191 and No. 4,264 respectively. I'm rather surprised by both numbers, regardless of which is which. I do resteem, but not in great quantities, which probably means neither are a lot of other people. I don't feel like I get resteemed a whole lot, either, so again, it's nice to be as high up as I am.
WRAP IT
My monthly report for December will be out in a few days, which will probably include some data for the year, since I did that at six months. This was meant to be more about the rankings, and how it might compare with the active and sum total of STEEM accounts.
If you're interested in finding out how you're doing, you'll need to navigate to steemitboard.com/ranking/index.php, and then type in your name in the search user box on the left. What it pulls up first will be how your reputation ranks among all users. If you click on each category link, it will give you your other rankings. Make sure you've entered your name, or clicking on the links will give you the top 25 of each category.