Announcement: Steem Upvote Marketplace – Get Free Upvotes
Not very long ago I got in touch with steemit and the underlying blockchain technology. Since the end of 2018 I've recognized the full potential of the whole ecosystem and decided to build something big. Of course I had (and still have) to learn a lot about the inner mechanisms of steem and the whole api, before I can start a 'real' project.
That's why I decided to start this small kickoff project to get deeper into this awesome technology and learn the basics, before developing the other project I got in my mind.
And now here we are.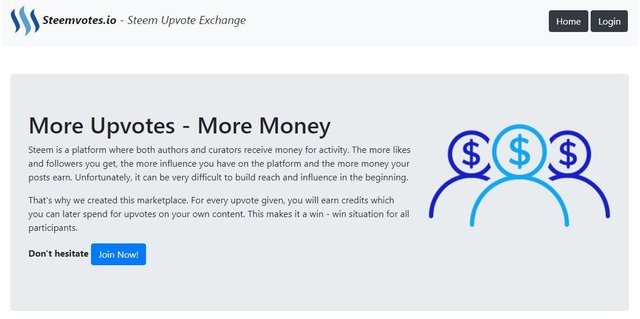 steemvotesis a platform where steem users can earn credits for upvoting other people's content. Especially this is meant for people who temporarily haven't got the time to always use their full voting power (for example if you're in vacation, are writing your exams, or what ever). Then you can login to steemvotes, enable auto-liking and earn credits for your every upvote. These credits are calculated based on the steempower you own and your current voting power. You can spend your credits later to get upvotes on your own content.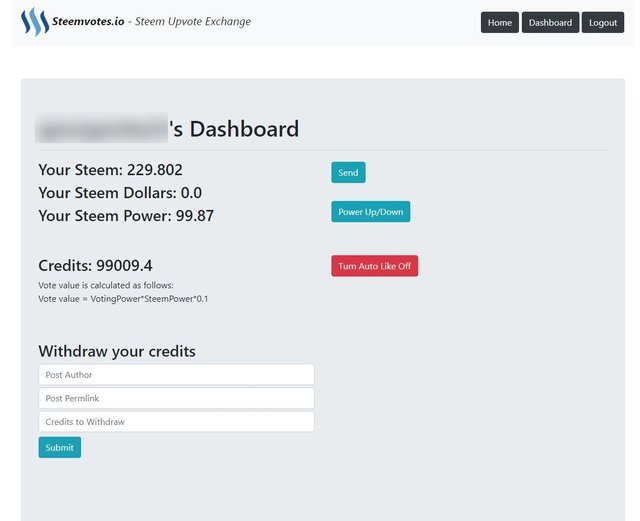 It just takes three simple steps to use steemvotes
Log-in using your steem account name & your private posting key
Go to your dashboard and enable auto liking
Spend your credits on any post you want
If you like steemvotes and/or are interested in my future work for the community, upvote this post and follow me. If you don't, don't😄
Edit:
We're now offering a referral program. Earn credits by referring us to other people.
50 credits per new user
More information on your steemvotes dashboard.