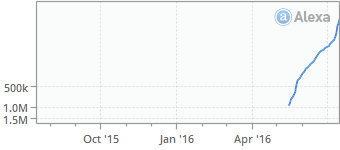 Blogger might know the importance of statistic for their blogs and websites. 
I just checked the numbers for Steemit.com and wow! Skyrocketing! But have a look:

At the moment steemit.com is here:
Global Rank 
48,568  
Rank in United States
19,962   
The users visit steemit.com 7.6 times a day with a daily time on site of 11:09 minutes.
 Percentage of users (from) 
India 6.5% 
United Kingdom 6.4% 
The stats also show that we have a higher number of women in here:
For more Alexa info: http://www.alexa.com/siteinfo/steemit.com
According to worth of web steemit.com has a value of $ 100,000 at the moment. (link:http://www.worthofweb.com/website-value/steemit.com/)
To be updated ;) 
edit: I made a short survey about users which you can find here: https://steemit.com/steemit/@febird/survey-why-are-you-using-steemit-who-are-you-just-1-2-minutes
would be great if some could join it! :)