Last year I wrote a post explaining how I was unable to recover my former account, @jlwkolb.
Here is a summary:
On July 25, I created @fairytalelife with the idea that this new name would be more memorable than @jlwkolb. It was part of a re-branding that resonated more with the kinds of stories I post. My @jlwkolb account was working fine. I had been using @jlwkolb in my Safari browser so I decided to use @fairytalelife in Chrome. While I was switching over I wouldn't need to log in and out of accounts on a single browser because @jlwkolb was still active at the time.
I never signed out of Safari except once when I had to log in again after Safari crashed around July 30. After this, I signed in normally with my posting key password from keepassX with no problem.
However, when I tried to transfer my SBD to poloniex on August 2, I was prompted to enter my active password. This step was not required when I transferred SBD on July 25. I wasn't too worried, knowing I had my passwords safely stored in keypassX.
At first I didn't panic. I had my old passwords, and knew there was some kind of recovery system in place. I tried every single password I had, old and new. According to Steemit's recovery system, they should have worked.
I decided to reach out to the Steemit community for help. The original post is here.
https://steemit.com/steemit/@fairytalelife/incorrect-password
I was so happy to see the support I received. Dan even stepped up and offered to help, as you can see here.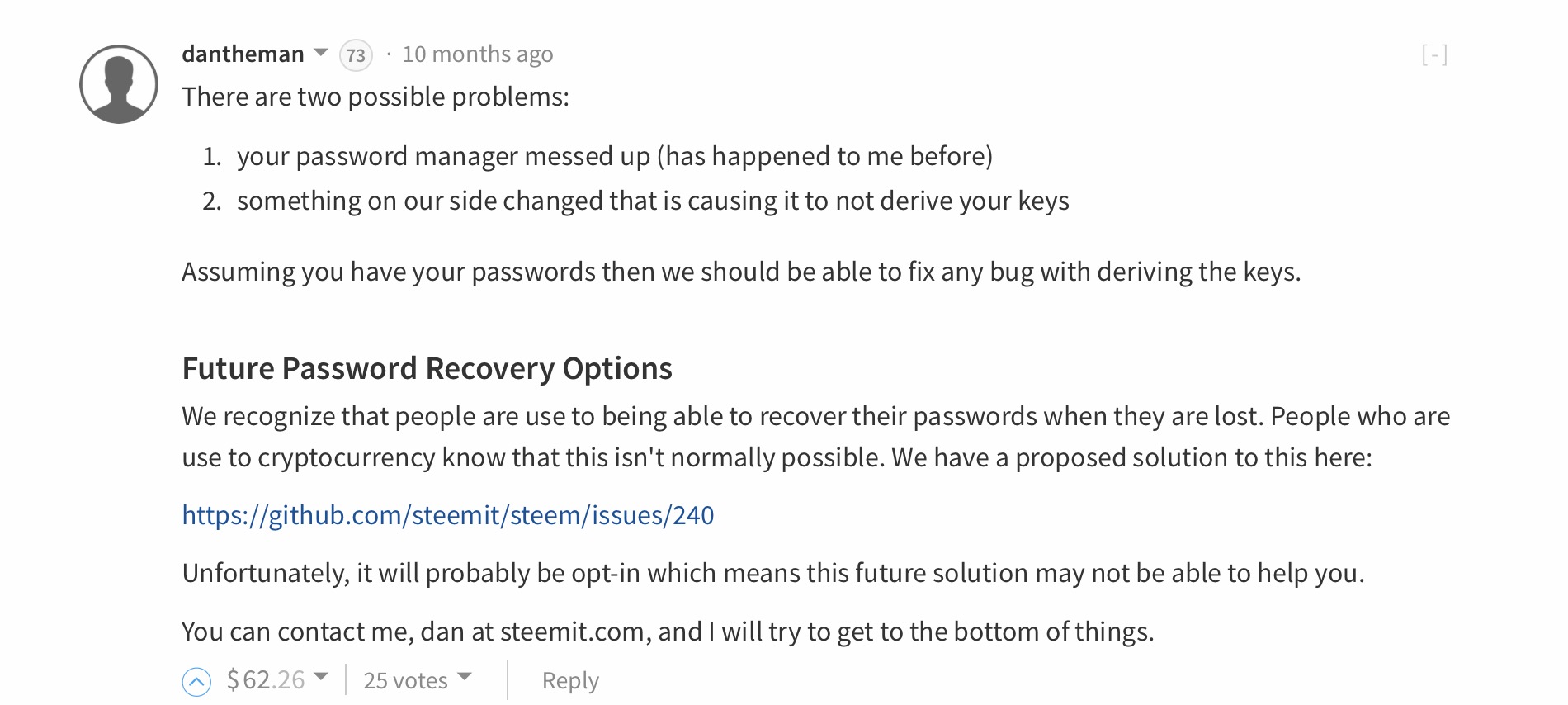 Of course I took him up on it and emailed him. Here is the email I sent.

Sadly, I never got a response.
I refused to let it go. I knew there had to be some sort of recourse.
I worked hard on building up my reputation and managed to acquire a nice balance of both Steem and SBD with my posts. It's horrible to see this stuck here in an account I can not access. I have four children, and my living expenses are considerable. I need these funds for basic necessities that go with raising a family, starting with food, rent, out of pocket orthodontic care, as well as expenses for school which are not insignificant.
This income was a godsend.
The reason I am posting today is that there has been a recent development. I finally found the right person willing to help me, the wonderful witness @jesta.
He did some fancy stuff, trying the passwords I had on the "CLI," as he calls it.
They were the same passwords I tried many times in the recovery input.
When I went back to inquire about account recovery with the password that jesta proved worked, I was told it was impossible due to a 30 day limit in the account recovery procedure. This was not in place when I tried account recovery last summer.
Why is there a 30 day limit to recover an account? What is the reason a 30 day time frame was implemented? It seems rather arbitrary.
I could recover my account right now if it were not for this 30 day time frame limit.
The thing is, I did initiate recovery within 30 days. There is proof to be found in my original Steemit post. You can see the date in the email I sent Dan.
I have absolute categorical proof that I was actively trying to recover my account. This 30 day rule as it stands means I have to be successful within 30 days.
That just messes anyone up who has more difficult problems or experienced some technical issue with the recovery process that was beyond their control.
I clearly demonstrated intent to recover. I opted in to the process. However, within those 30 days, no one responded to my requests for help. What then? If it is day 31 someone can no longer recover something they can prove is theirs without a reasonable doubt?
This rule must be changed. So many others here have had problems with their accounts being locked, I'm sure, for similar reasons. Most of us do not have the computer skills to work through these issues without help from those here who do. That is why companies have support. But if you do not follow up with support, how will this work?
I have been trying to get my account back for 10 months.
It is my hope that by posting my story, Steemit will consider changing the rules to make this platform a more user friendly place for everyone. Technical glitches happen. The issue is, what can or will be done to fix them?
I would like to propose you remove the 30 day time limit, or modify it in some way so that the owner of any locked account has a way to unlock it with proof of ownership. Again, I want to reiterate that while I was actively trying to recover my account, this policy was not in place.
Meanwhile, I am led to believe that I will never be able to access my account, and I have been blamed for being careless with my passwords, and that I learned a valuable lesson.
No I didn't.
I asked the Steemit community for help, and I am still waiting.
There seems to me a misunderstanding that I was asking the overall community here for help. What I was really asking for was help from the Steemit creators. They were the only ones who could have done something to help me recover my account.