Steem Analytics
Hey Steemit!
I recently updated an app I had created for Steemit some time back when I wanted to "get to know" people who were posting.
There is a whole new community here since the last time i posted on Steemit so it might come in handy. Its available for anyone to use but please do give me a comment if you like it or find it useful.
A very brief tour ...
User Posting History
The first page on the site gives an overview where you can see how long the user has been posting and how much they have been earning.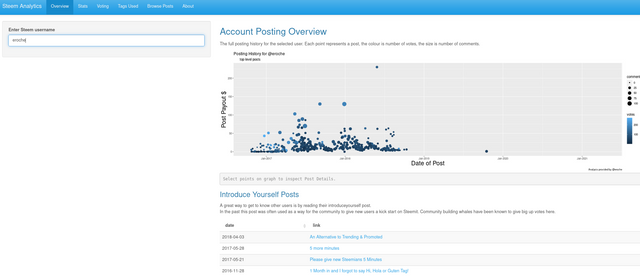 What is really interesting here for me is that you can see the users introduce yourself posts. Read these to get to know the person a bit better.
There are many more features on the site so check it out today and let me know what you think.
https://eroche.shinyapps.io/SteemAnalytics/
I hope you liked this short tour of Steem Analytics and I appreciate any feedback.