Two tips to get upvotes:
First, you can gain an upvote if you reply your post in @ originalworks.
Second, you can resteem your owner post by changing the address of your post;
then you can earn an upvote.
Step 1: send your post.
Step 2: rewrite your post's address which is in the box of your screen.
For example,
original address is https://steemit.com/steemit/@enjoyy/two-tips-to-get-upvots,
cancel the beginning of the address,
cancel "http://" and then add"re" be ahead of steemit, and press the button "enter."
That's ok!
You receive an upvote from @ resteemable .
But there is a condition; you need VPN when you send the resteem post if you are on the mainland of China,
---
获得upvote的两个小窍门:
首先,如果你用@originalworks回复你自己的帖子,你就会得到一个点赞(upvote)。
见下图。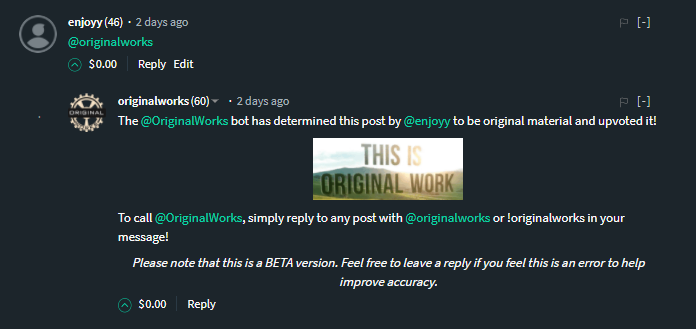 待会我写完这个帖子,就会给自己回复@originalworks,你们可以在留言栏下看到与上图同样的回复,提示我,已经为我点赞了。
第二,改写自己帖子的地址后转发自己的帖子,就能获得一个点赞。
步骤1:发一个帖子。
步骤2:改写屏幕上方地址栏里的地址,譬如:原地址是 https://steemit.com/submit.html,删掉地址的开头,删掉"http://",然后在地址"steemit"前面加上"re",然后按确认键。一切OK!
你会收到来自@resteemable的点赞。
收到点赞后,在留言栏下会有如下提示:

同样地写完这个帖子,我也会resteem我的这篇帖子,你们可以看我之前的几篇post,留言栏下同样有跟上图一样的回复,提示你已经点赞了。
有一个前提是当你发送已经改过地址的帖子时,你要打开"VPN"。这只是在中国大陆需要VPN。在你发送地址之后,会显示一个界面问你要不要捐0.05或多少的SBD来支持这个resteem获得点赞的活动,我因为不太了解,没有选择捐赠SBD,但点赞还是给了我,只是如果一直不捐赠,会不会一直有点赞,就不知道了,如果还合适的话,可以酌情捐赠或不捐赠。
第一个方法不需要VPN。
---
目前还是浮游生物的我们不得已做这样的选择。
如果对这两个方法,大家有更深的理解,也请告诉我。在我们力所能及的情况下,
对给予我们支持的,还是应该提供我们应有的支持和回报。
如能得到大家的支持,将持续挖掘更多好的方法与大家共享。毕竟独乐乐不如众乐乐。
最好的方法是为读者提供价值,点赞就会随之而来,这个我自己也在探索之中,目前没有太多的发言权。敬请谅解,希望跟大家一起进步。
---
----------------------------------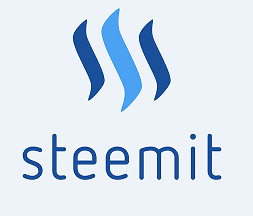 ---