@earnmoresteem: The new Bid Bot that will vote your posts (English Whitepaper)
@earnmoresteem was born from an idea I had in mind for a long time. The owner of this bot is @malonmar and since I discovered Steemit I am hallucinating with the power of Steem and this social network that grows every day.
On January 1, 2018 I started to create this nice project that I had in mind a long time ago and decided to create this account that will help users to earn money in their posts with automatic votes. Not only will it make you earn money, your account will also gain visibility since @earnmoresteem will leave you a comment that many other users will see.

This is a first version that will be introducing improvements, little by little I will try to develop them and I will publish posts with them. When I have time, I will work on these improvements.
This Whitepaper, in which I will explain the operation of the Bot, I will divide it into two parts, a part for the accounts that send funds (SBD) to the Bot to be voted and another to explain how the profits obtained will be for the accounts that give Steem Power to @earnmoresteem.
Let's start with the Steem Power rain !!!
---
In order to be voted, it is necessary to transfer SBD to @earnmoresteem. The minimum amount to send is 0.5 SBD and the maximum amount is 100 SBD. In the transfer, it is necessary to put the URL of the post that you want to be voted by the bot in memo field.
IMPORTANT: Before sending SBD check the profit at 100% voting power and do not send more than that because you will never receive more even if you are the only post voted. You can check it at https://www.steemnow.com
First you must go to the "Wallet" menu of your account, where your Steem, SBD and Steem Power are. You must go to the STEEM DOLLARS section and give the first option to transfer. In the screen that appears you must inform it like this: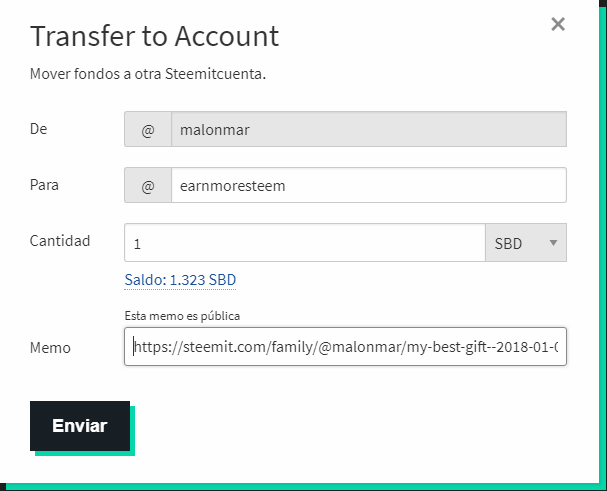 Once you give to send, you will have to introduce your Active Key to transfer the SBD.
The conditions for a post sent to be voted are the following:
Send at least 0.5 SBD and maximum 100 SBD.
The bot only accepts SBD so you must not have to send Steem.
The URL of the post that is put in Memo must be a post and that is correct.
The bot does not vote comments, just vote posts.
The post should can not be voted by @earnmoresteem previously.
No posts longer than 3 days old are allowed.
If all these conditions are not met, the money will be forwarded entirely to the account from which it was received.
How does the distribution of voting power?
Every 2.4 hours the Bot will distribute 100% of its voting power among all posts received correctly. The cast will do so proportionally, this would be the deal if it receives 3 posts with 0.5, 2 and 6 SBD: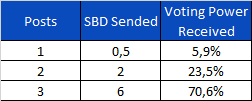 As you can see, with these bets placed, 70% of the voting power will be given to Post number 3.
---
For the Bot to have a lot of voting power, like any other Steemit account, you need Steem Power. In addition to the one generated by him with his votes, Steem Power can be delegated to @earnmoresteem so that his voting power is greater and the users with their bets earn more money when they are voted.
What do you win for delegate Steem Power to @earnmoresteem?
Very simple, 80% of all the SBD collected will be distributed every 2.4 hours proportionally to each of the users who have given Steem Power. The more Steem Power have the Bot, the more users will bet to be voted and the more will be distributed to those who cede Steem Power. This percentage will be invariable, 80% of the SBD will always be distributed.
How do you delegate Steem Power to @earnmoresteem?
To delegate Steem Power to the Bot, the simplest and what I recommend is to use the steemconnect tool from @busy. In the following post of @timcliff is very well explained how it is done, and for any questions you can leave a comment in this post that I will answer you very happy.
https://steemit.com/delegation/@timcliff/tutorial-how-to-delegate-sp-to-another-user-using-the-steemconnect-tool-from-busy-org
To recover what you have delegated, you have to delegate to @earnmoresteem 0.000000 VESTS, and in a week you will have your Steem Power again.
---
Server
As information, comment that @earnmoresteem is installed in a Linux VPS, of 2 cores, 4 GB RAM, 200 GB SSD with a bandwidth of 100 MBit/s and with unlimited traffic.
---
I hope you find it interesting to be able to participate in this project and that together we can take it very high and that you earn a lot of money thanks to @earnmoresteem, it will make me very happy.
I want to thank Steemian @yabapmatt who has helped me and supported the installation and commissioning of this fabulous Bot. The world needs more people like that, it would be much better.