It was a very nice surprise to see this morning STEEM hovering briefly above 5k satoshis on Binance:
---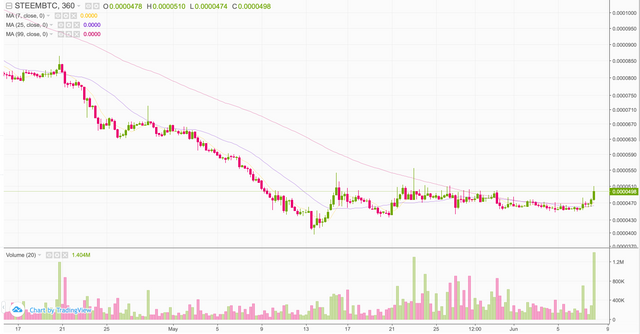 ---
Even nicer was the volume, which seems to be the highest in the last 3 weeks.
STEEM was staying flat for almost a month, playing in the 4k - 4.8k satoshis corridor, on very small volume. The upside break is promising, on this context, as it may signify the beginning of a new influx. Bitcoin seems to stabilize around 8k USD, and, every time when Bitcoin stabilizes, there is an influx of value into alts - Bitcoin holders are buying back the alts they sold when Bitcoin was on the rise. At least this is how it worked during the 2017 bull run.
Of course, this may signify also nothing and STEEM can continue to stay at this level, or even go south.
As always, this is not financial advice, do your own research when you trade and never trade more than you can afford to lose.
---
I'm a serial entrepreneur, blogger and ultrarunner. You can find me mainly on my blog at Dragos Roua where I write about productivity, business, relationships and running. Here on Steemit you may stay updated by following me @dragosroua.


---
Wanna know when you're getting paid?
I know the feeling. That's why I created steem.supply, an easy to use and accurate tool for calculating your Steemit rewards
It's free to use, but if you think this is a useful addition, I'd appreciate your witness vote.
Thank you!
Psst: new to Steemit? Start Here