Top 10 Cryptos
At the moment of writing, top 10 assets were predominantly bearish, with 8 of them in red and 2 in green.
---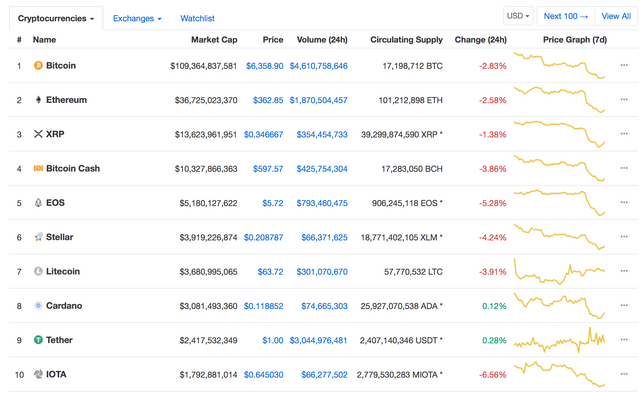 ---
Bitcoin stopped from its free fall around $6,300 and it shows a small bounce. The rest of the assets are following the same pattern but still to early to tell if the dive has ended.
STEEM And SBD
At the moment of writing, STEEM was trading, on average, at $1.04 on Coinmarketcap, down from yesterday in fiat but up in BTC
On the 1 hour chart, STEEM is conserving the position it gained a few days ago, trading at around 16k satoshis
---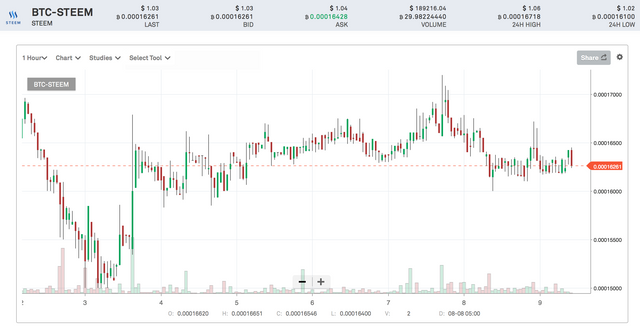 ---
The 1 day chart is flat for the last 5 days around the same level
---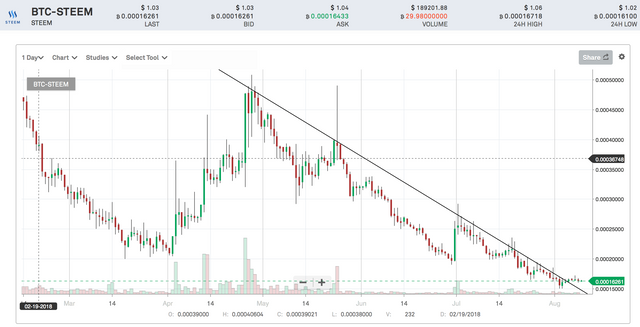 ---
SBD was trading, at the moment of writing, at $1.05, almost identical with yesterday, in fiat but up in BTC.
The 1 hour chart shows that SBD is appreciating in Bitcoin (which is normal, since the USD value of BTC is going down).
---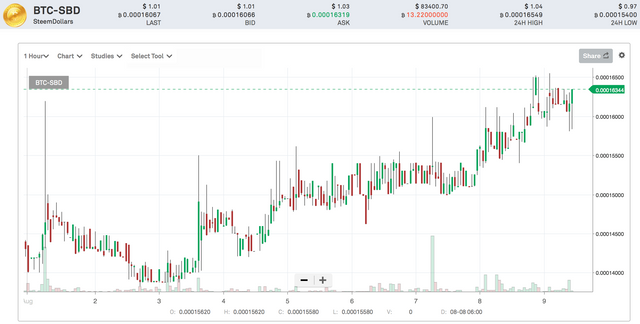 ---
The 1 day chart is again very stable
---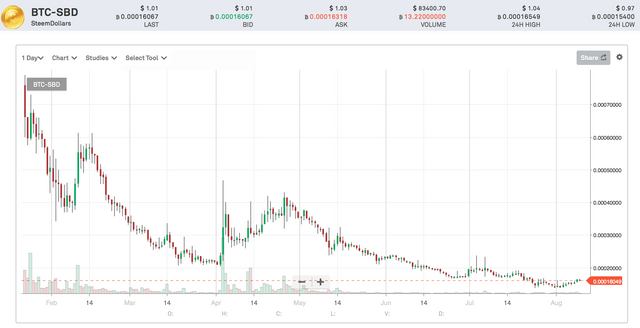 ---
SBD to STEEM Ratio
At the moment of writing, according to steem.supply you could get 0.980 STEEM for 1 SBD, up from yesterday, and still under parity. SBD printing rate is 7%, down from yesterday.
---

---
Overall opinion: Yesterday's market move seemed extremely irrational to me and I still think it was a huge speculative move from some whales piggybacking the "bad" news from SEC (which wasn't neither bad, or news, for what matters, it was just business as usual). So, I believe the market will bounce back rather sooner than later. The fact that STEEM and SBD are reacting in a very healthy way to this situation is also positive, in my view.
Disclaimer: I'm not a trader and this is not trading advice. I'm writing these articles for my own educational purposes and they are not meant as an investment foundation. Please make your own due diligences when investing and never invest more than you can afford to lose.
---
I'm a serial entrepreneur, blogger and ultrarunner. You can find me mainly on my blog at Dragos Roua where I write about productivity, business, relationships and running. Here on Steemit you may stay updated by following me @dragosroua.


---
Wanna know when you're getting paid?
I know the feeling. That's why I created steem.supply, an easy to use and accurate tool for calculating your Steemit rewards
It's free to use, but if you think this is a useful addition, I'd appreciate your witness vote.
Thank you!
Psst: new to Steemit? Start Here