As I was looking at the crypto charts for the last 3 months, I spotted a very interesting detail. For the last 3 months, Bitcoin was traded pretty much at the same level, which is $6,500. There were of course some variations (the most important ones being upwards), but if you really look at the entry price for these 3 months period and the current price, they're almost identical (source: Coinmarketcap)
---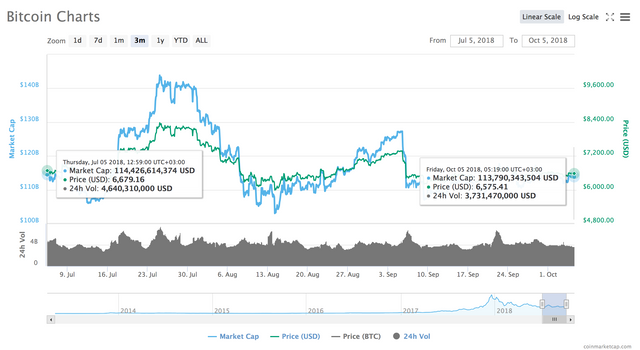 ---
So Bitcoin is down less than 1.5% since 3 months ago, which is, however you look at it, good news.
But what happened to the rest of the market? Were all the crypto assets stagnant? Were there any losers or gainers?
In order to understand this we must have a look at the dominance chart (again, taken from Coinmarketcap)
---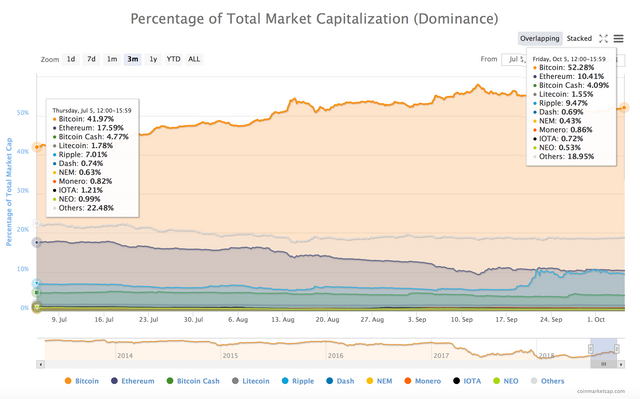 ---
And here's where tings are starting to get really interesting.
But let's see the rough numbers first:
| Asset | Start % | End % | Relative Change % | Absolute Change % |
| --- | --- | --- | --- | --- |
| Bitcoin | 41.97 | 52.38 | + 10.31 | + 19.08 |
| Ethereum | 17.59 | 10.41 | - 7.18 | - 40.81 |
| Bitcoin Cash | 4.77 | 4.09 | - 0.68 | - 14.25 |
| Litecoin | 1.78 | 1.55 | -.0.23 | - 12.92 |
| Ripple | 7.01 | 9.47 | + 2.46 | + 35.09 |
| Dash | 0.74 | 0.69 | -0.05% | - 6.75 |
| Nem | 0.63 | 0.43 | - 0.2 | - 31.74 |
| Monero | 0.82 | 0.86 | + 0.04 | + 4.87 |
| Iota | 1.21 | 0.72 | - 0.49 | - 40.49 |
| Neo | 0.99 | 0.53 | -0.46 | - 46.46 |
| Others | 22.48 | 18.95 | - 3.53 | -15.70 |
The table columns are relatively easy to interpret: "start" / "end" represent the dominance, in percentages, for each asset at the beginning and at the end of the 3 months period. "Relative change" means how much the dominance of a certain asset changed relative to the entire pot, while "absolute change" means how much the asset changed relative to itself.
In other words "relative change" is the difference between start and end, while "absolute change" is how much, in percentages, the end value represents from the start value. I don't know how appropriate the term "absolute change" is, but I needed a metric to show the dynamic of an asset. Even if the grand scheme of things that asset takes only a small slice from the market, and it changed only a little, if it doubled in order to do so, that says something relevant about that asset.
So, where are we?
First of all, Bitcoin grew in absolute terms almost 20% which is a lot. But this growth is shadowed by the one Ripple experiences, which is more than a third. So, for the last 3 months, it wasn't Bitcoin who was the most dynamic bullish asset, but Ripple.
Second, this growth happened at the expense of some big losers. In terms of relative change, ETH lost about 7%, but in absolute terms, it shaved no less than 40%, which is huge. But as huge as this is, is comparable with two other assets which saw similar absolute change percentages: IOTA and Neo (and, to a certain extent, NEM). So, the most dynamic bearish assets are: ETH, IOTA, Neo and Nem.
Next comes Bitcoin Cash, which, along with Litecoin, saw moderate losses (12-14%).
And there is also another winner, Monero, which grew in absolute terms 4.87%.
Add to this DASH, which lost 6.75% in absolute terms, but only 0.05% in relative terms, and you have a much clearer picture.
So, what can we infer from this?
The ICO frenzy pushed ETH to unimaginable highs, but it seems it's also dragging it down at the same speed. Much of the ETH growth was built on these ICO's and ERC20 tokens distributions, but once the market saw that very few of these ICOs have actual value, the underlying token lost too.
The growth of Ripple seems to be related to institutional interest from investors, I have a hard time explaining this otherwise. Such a big change in such a short time is clearly coordinated and sustained by big players.
A moderate concern for privacy made Monero stick to top 10 and even grow a little, which I find remarkable.
As for the rest of the tokens, they are more or less in a limbo (except Litecoin, which seems to maintain its solidity). Bitcoin Cash is another topic and I won't talk about it here.
Where Is STEEM?
So, what happened to STEEM during the last 3 months? Unfortunately, it lost a lot:
---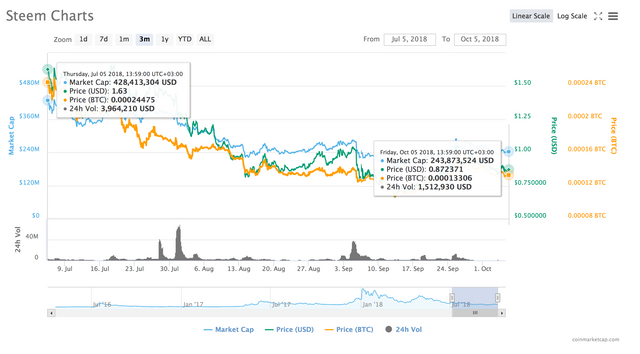 ---
STEEM went from $1.63 to $0.87 and it seems to stabilize around the $0.8-$0.9 corridor for now. In marketcap terms, it went from $426 mil to $243 mil, which is a drastic decrease.
I think there is a combination of reasons for that:
inability to deliver on time on HF 20 and SMT. 2018 was supposed to be the year of SMT, but this didn't happen. Even more, a much needed upgrade represented by HF 20 was delayed for months (and when it was implemented, it was rather bumpy)
competition in the form of STEEM-based clones, like WeKu, or similar platforms built on other blockchains (Trybe, Yours, etc)
the dApp ecosystem plateaued, after a promising start, with some dApps choosing a different platform
On top of that, these coincided with a huge bear market, which amplified the effects.
Where To?
There is a widespread bullish sentiment in the markets regarding all crypto assets now, based primarily on previous historical movements (which are strikingly similar with this year chart patterns,) but also based on institutional money flowing in (mainly through OTC deals). I personally feel the same, but please be advised that feelings don't count in trading. So I think we will see an upwards move soon. How high and how soon? Hard to tell, but I'm thinking 2-3 months and, for Bitcoin, higher than $8,000, potentially up to $10,000.
As for STEEM, we really need to show that something was learned from HF 20. Both in the centralized part of the ecosystem (Steem INC) and in the decentralized one (witnesses, dApps owners, influencers). If that will happen, then next year SMT launch may push the token where it was at the end of last year, namely in the $5-$8 range. And even higher.
Time will tell, but, all in all, I'm remaining optimistic.
---
I'm a serial entrepreneur, blogger and ultrarunner. You can find me mainly on my blog at Dragos Roua where I write about productivity, business, relationships and running. Here on Steemit you may stay updated by following me @dragosroua.


---
Wanna know when you're getting paid?
I know the feeling. That's why I created steem.supply, an easy to use and accurate tool for calculating your Steemit rewards
It's free to use, but if you think this is a useful addition, I'd appreciate your witness vote.
Thank you!
Psst: new to Steemit? Start Here