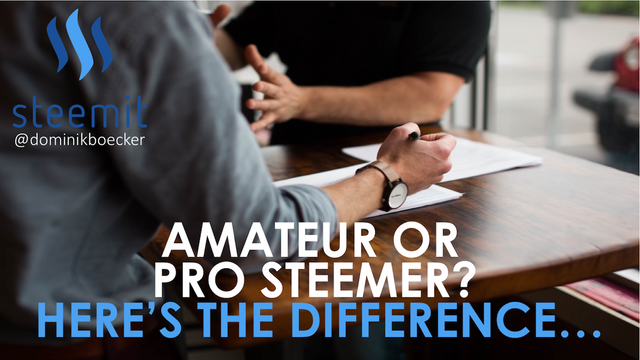 What is it that will truly make a difference to your success or failure here?
To make progress each day with anything the correct state of mind is essential and without any negative thought and preconceptions.
The difference between a pro and amateur is mindset and attitude.
How is your attitude and mindset right now?
Seize the moment to take action today.
This is the day to give 100%.
Make the most of your time in flow.
---
And nobody succeeds without the help of others and I believe this is a truly supportive community here on Steemit. It really is the combined efforts that give greater results with compounding over time.
So stay focused, your goal can be achieved with long term focus. Visualize your success, how do you want your account here to look like in one year from now?
An amateur will continue to make the same mistakes here and with no results to show will leave. A pro will gradually over time see results, improvements and begin to make a difference.
There will be ups and downs and you can battle through adversities as they come and go. If you have the belief in yourself and this platform then that's a great start in moving ahead.
So roll up your sleeves and get to it!
---
Thank you for reading this post because I hope it is helpful for you to become as professional as you can with anything you do in life and business.
If you think this is a helpful post for Steemit users, would you please upvote this because it will help me share more insights to success and meaning for all Steemers.😋
All my hopes and dreams.